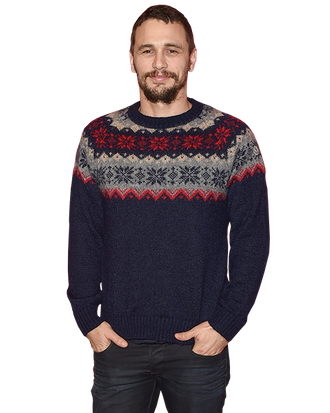 Photo: Jason Merritt/Getty Images
James Franco is no stranger to Sundance, and this past week, he premiered two films at the film festival: True Story, where he stars as an accused murderer who steals the identity of a disgraced journalist (Jonah Hill), and I Am Michael, where he plays real-life figure Michael Glatze, a former gay activist who leaves his boyfriend (Zachary Quinto) behind after declaring himself straight and becoming a pastor. The latter film has gotten audiences talking, especially since it touches on the sort of hot-button issues of sexuality that Franco often seems compelled to. Yesterday, the actor and his I Am Michael director Justin Kelly sat down with Vulture to explain their movie, Franco's homophilia, and the unlikely love scene he almost shared with his Pineapple Express co-star Danny McBride.
James, many people won't be surprised to see you in a movie like this, because as a major male movie star, you've been unusually willing to play gay roles and investigate gay themes in your projects. What is it about the gay experience that you relate to so strongly?
Franco: Some of it's coincidence, or the gay aspect of the project — like Hart Crane in The Broken Tower or Allen Ginsberg in Howl — is secondary. It wasn't like, "We need to do this because he was gay." It's because of their art, and then their art was partially informed by their sexuality. But then with something like Interior Leather Bar or Milk, those are obviously engaging with gay themes, gay rights, gay politics. In the case of Milk, once I did that movie, it kind of opened me up to a lot of things I hadn't really thought about because they hadn't been a part of my life. Lee Daniels says that gay rights are the civil rights of our era, so I like doing a movie like Milk or Interior Leather Bar where I can bring themes and ideas I've been engaged with, and do it in such a way that those ideas are pulled into the mainstream more. I feel like that's my place: I can in some ways lend myself and say that these are important issues of equal rights, though on the other hand, I'm very much about preserving this queer kind of space of defying identity and defying labels. I think there are a lot of those themes in this movie as well.

Justin, this is your feature debut, but you worked on Milk as an assistant editor. What did you learn about James by viewing the entirety of his performance through that lens?
Kelly: That he has an ability to immediately turn on and embody a character. I ran all the dailies on Milk, so we'd watch everything — even the nude scenes.
Franco: No, you didn't get to watch those!
Kelly: I watched them later. [Laughs.] But I was always impressed by how even if something else was going on before the slate comes in, he could snap into character really quickly. We needed that on this film because we had a tight schedule.

James, you're no stranger to gay love scenes, but how do the threesome in I Am Michael — where you're working with gay actors for a gay director — compare with, say, the love scene you directed in The Broken Tower, where you hook up with Michael Shannon?
Franco: It was very different. Michael Shannon is an awesome actor, one of the best actors of our generation, and a good friend of mine who prides himself on being the guy who will do anything, but he was uncomfortable in that scene. I had to take him to dinner before we shot it because he was so uncomfortable … he was like, "We've gotta talk about this." So I went in to New York, and as soon as we sat down, he was like, "Aw, now I feel stupid that I'm such a wimp. All right, I'll do it, I'll do it." Once we got to set, we set up the lights and everybody else cleared the room. It was my DP and focus-puller, and that was it. We did one take, and if you look closely at the scene, you'll see that I am pulling his face close to me because he [refused to get close], and we're supposed to be passionately making out. And he's a strong dude! But in the end, it worked … half-assed love scenes are the worst. Straight or gay! So I was just doing my job on [I Am Michael].

The real Michael Glatze sat in on a Sundance panel with you guys this week, right?
Kelly: He came up about halfway through to answer some questions, and told everyone how much he loved the film. I could kind of feel the vibe from the audience that they were pretty surprised. People definitely expect to see him vilified because of the people involved, but we really went for this nonjudgmental approach — even though I know the film might be different if a Christian pastor had made it. But yeah, he came up and talked about how the film has changed his life. The whole process of development has let him reconnect with his ex-boyfriend Benji, the character that Zachary plays. Benji flew to Wyoming to see him for the first time since 2007.

What went down when they reunited? Do we know?
Kelly: Well, they videotaped everything.

Of course they did.
Franco: It was kind of weird because Benji had such an ambiguous relationship and engagement with the project, and after we finished shooting it, it seemed like Benji opened up a bit more.
Kelly: He made us change the character's name the night before shooting.
Franco: That's why the character's called Bennett in the movie.
Kelly: He had distanced himself. That's why I was pretty surprised to hear that he was going to do this project, and that he had asked for our support first. But yeah, they reconnected, and they did a little documentary on how they feel about their lives since Michael first wrote that pretty hateful article, now that he's changed and become a little less dogmatic.

James, I've seen 20 movies here at Sundance so far, but I hear you've seen even more.
Franco: I've seen 30.

Jesus.
Franco: Well, 30 including my own. So, 29. [Laughs.] I thought The Witch was awesome, I liked Noah Baumbach's Mistress America, I liked Jared Hess's new one, the Cobain documentary is great …

Did you see The D Train, with Jack Black and James Marsden? The way that it deals with sexuality almost seems of a piece with I Am Michael.
Franco: I was supposed to be in The D Train!

You were going to play the James Marsden role?
Franco: Yeah, because Danny McBride was supposed to do it. He brought it to me and I was attached to it, but when he couldn't do it, I was sort of like, ehhh … But it was a cool script.

One thing I liked about The D Train is how it turns that comedic standby of gay panic on its head. What's your queer-theory take on why that continues to be such a source of humor in a lot of the movies that your friends make, including Seth Rogen's The Interview?
Franco: I think it varies from person to person. One of the reasons that I was originally interested in The D Train is because Danny is uncomfortable with that kind of material, so there would be a real situation there, I thought, where he would actually be uncomfortable doing that sex scene and playing out the aftermath.

So the movie would almost be operating on a meta level.
Franco: Yeah. Not that he's homophobic, but just engaging with that himself, he would just be uncomfortable, I know. There are things in Your Highness that he wouldn't do, even for a laugh!

I'm surprised — I usually think of Danny McBride as one of those performers who's game for anything. In This Is the End, after all, he keeps Channing Tatum as his "bitch."
Franco: Yeah, and notice he didn't touch him at all. [Laughs.] But with people like Seth, it's a completely different thing. I think what they're playing on is not so much gay panic in themselves as in larger society. We still kind of laugh at dudes getting uncomfortable with each other because it's a real thing for a lot of people. They're playing on that, rather than any kind of personal discomfort.