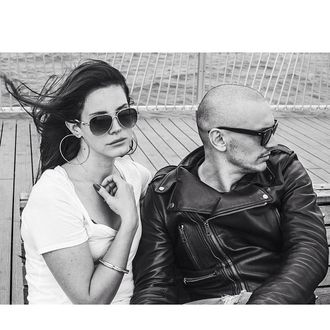 We support this fully: a romance between the indecipherable James Franco and the equally indecipherable Lana Del Rey. They're perfect for each other and he seems to know it, penning an essay (that's bordering on a poem?) about the mysterious singer in V Magazine (in stores only). You know what would be perfect? If they made a movie together …
She has this idea for a film. I want to do it because it's a little like Sunset Boulevard. A woman is alone in a big house in L.A. She doesn't want to go out. She starts to go crazy, and becomes paranoid because she feels like people are watching her. Even in her own house. It's like an awesome B-movie that lives in Lana's head. It's about her, and it's not about her. Just like her music.
Oh yeah, you guys should definitely … do that. Franco hits on the idea that just like he is not any of the parts he plays, Lana is none of the songs she writes. "[She] isn't made for this Earth," he writes. She won't even talk to Franco: "I wanted to interview Lana for a book and she said, 'Just write around me, it's better if it's not my own words. It's almost better if you don't get me exactly, but try.'" And without even saying it, Lana goes ahead and says the Most Lana Del Rey Thing of all time. You two crazy kids belong together.