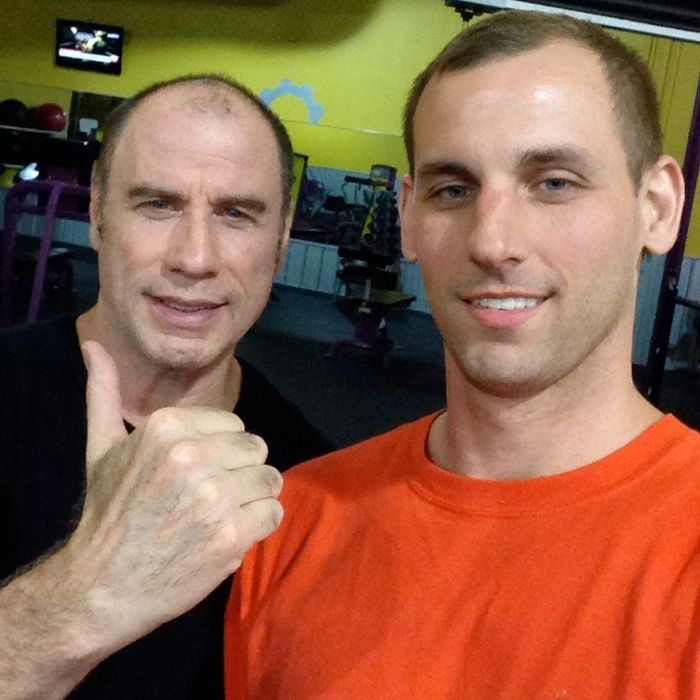 When a Redditor ran into John Travolta (or, someone we are 99.9 percent sure is John Travolta) at a gym at 3 a.m., people once again were thrilled to get a glimpse of the actor without his everyday hairpiece. It's not the first time we've seen the actor's scalp and proof that he is, indeed, bald. But with the excitement surrounding this "reveal," we have to ask ourselves: Why won't John Travolta embrace his beautiful, bald head?
You know what, John? You look good! We're seeing your real head and you should totally own it. Thanks to HD TV, we're all quite familiar with lacefronts these days and can spot a wig or a hairpiece from a mile away. And if you're worried about your career, we'd like to point out that many, many bald men are not only quite successful, but also quite handsome! To prove this point, here's a short list:
Woody Harrelson! (Just call him Bald Detective.) 
Bruce Willis! (This guy's been bald and successful since Die Hard: With a Vengeance.)
Stanley Tucci! (He wears a wig in The Hunger Games and doesn't look as good as he does without it.) 
The Rock! (Just try to imagine him with hair. You can't.)
Vin Diesel! (If you mention the Rock, you gotta mention Vin, who is also bald and beautiful.)
Jason Statham! (Smoldering bald-headed man.) 
Corey Stoll! (This guy's bald and hip.) 
Patrick Stewart! (All-around refined and hot bald guy.) 
See? You can be part of the bald Illuminati, John. All you have to do is burn that hairpiece and introduce that scalp to some fresh air.