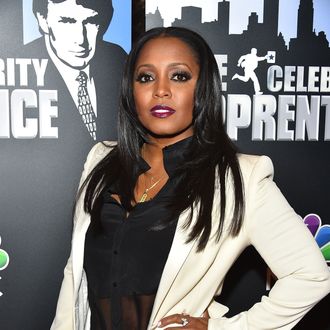 Photo: Theo Wargo/Getty Images
If you watched The Celebrity Apprentice last night, maybe you felt uncomfortable when Keshia Knight Pulliam — who played Rudy Huxtable on The Cosby Show — was essentially fired for not calling her former TV dad for money. Making the postmortem TV interview rounds Monday, the actress told Today and Access Hollywood that putting in that kind of call to Cosby would have been tactless and tacky because she hadn't talked to him in years. Despite the fact the Apprentice episode was filmed in March, before Cosby's sexual-assault accusation maelstrom, Pulliam also addressed the flurry of allegations currently lobbed at the comedy legend.
"I wasn't there. I can only speak to the great man that I know and love, who has been so generous, who has been such a philanthropist and giving back millions of dollars to education and schools. And just the man I grew up knowing. It's really not my place to speak on that," Pulliam said on Access. "Unfortunately, in the court of public opinion everyone has formed their opinion, but we're still in America and you're innocent until proven guilty of any crimes."
She added that Cosby's legacy speaks for itself, and she remembers him as the guy who made jokes with her on set to help her remember her lines. "All I can speak to is the man that I know and I love, the fact that he has been such an example. And you can't take away from the great that he has done. The millions and millions of dollars that he has given back to colleges and education," Pulliam told Today. "That's just not the man I know, so I can't speak to it."
Pulliam was the first to go from the new season of Apprentice, after a challenge that basically involved contacting rich friends to help with a bake sale. She said another reason she didn't make the call to Cosby was that she felt if her other donors and teammates had pulled through they wouldn't have needed the help. Pulliam joins a fairly long list of Cosby's friends and colleagues who have touted the innocent-till-proven-guilty mantra in his defense, including the comedian's wife and daughter.