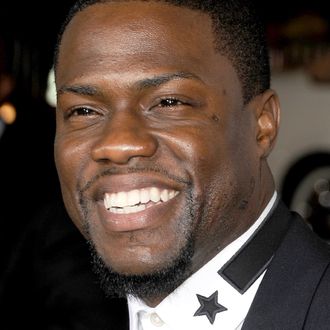 Photo: Kevin Winter/Getty Images
Kevin Hart is not totally comfortable playing gay just yet. During an interview with New York's Power 105.1, he said that he turned down the role of Alpa Chino in 2008's Tropic Thunder, which Brandon T. Jackson eventually played, because he wasn't comfortable with how "flagrant" the role was in its early draft. "The Breakfast Club" host Angela Yee asked him if he would ever play gay for a role. "No — not because I have any ill will or disrespect," Hart replied. "It's because I don't think I'm really going to dive into that role 100 percent because of insecurities about myself trying to play that part. Does that make sense? Like what I think people are going to think while I'm trying to do this is going to stop me from playing that part the way that I'm supposed to." But that doesn't mean he might not get over it eventually. He could see himself evolving on it — you know, like Barack Obama.
You can listen to the full interview here. The above exchange starts at 32:47.