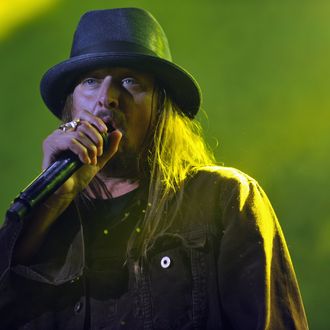 Photo: Stephen J. Cohen/2014 Stephen J. Cohen
On Saturday, The Guardian (for some reason) published an op-ed by Kid Rock that is an assemblage of political stances that mostly skew libertarian, brags, and likes and dislikes. Things he likes: guns, drinking, porn, and the Republican Party. Dislikes: gay people, Barack Obama, selfies. All right, perhaps we're being a little glib, so we'll let the man speak for himself.
His thoughts on selfies are aggressively ignorant:
I don't FaceTweet or whatever people do. I understand that I'm the old guy now. I turn on my computer and look at porn a little bit, see what's going on in the news, but that's about it. I'm comfortable with that.
Politically, he sounds like a libertarian:
I am definitely a Republican on fiscal issues and the military, but I lean to the middle on social issues. I am no fan of abortion, but it's not up to a man to tell a woman what to do. As an ordained minister I don't look forward to marrying gay people, but I'm not opposed to it.
So why did he perform at Barack Obama's inauguration then?
I played Barack Obama's inauguration even though I didn't vote for him. I didn't agree with his policies, but there was an exciting sense of change in the air. That promise hasn't been fulfilled – the country is more divided than ever.
He's so $$$:
I'm not just wealthy, I'm loaded. I can say that because I'm not embarrassed – I've made a fuck-ton of money, but I've never made a dishonest dollar. I try to do right by the people around me.
On "rap-rock" and "real talk":
Rap-rock was what people wanted at the time, and they still love those songs at shows. But it turned into a lot of bullshit and it turned out to be pretty gay… If someone says you can't say "gay" like that you tell them to go fuck themselves. You're not going to get anything politically correct out of me.
Ahem. Anyway, if you want to read the rest, you can mosey on over to The Guardian.