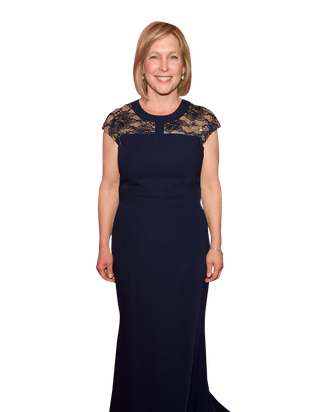 New York senator Kirsten Gillibrand sat quietly in the middle of the Marc theater yesterday at the Sundance premiere of The Hunting Ground, the latest documentary from director Kirby Dick and producer Amy Ziering, which explores sexual assault on college campuses. Joined by California senator Barbara Boxer, the pair was a rare dose of Washington at a festival dominated by Hollywood publicists, sales agents, and film critics. Gillibrand had previously taken on sexual assault in the military — the subject of Dick and Ziering's last film, The Invisible War — and she makes a brief appearance in The Hunting Ground. Vulture caught up with the senator after the film screening and asked about inviting artist and anti-rape activist Emma Sulkowicz to Washington, the challenges she faces addressing this issue, and if she'll work with survivors at her alma mater, Dartmouth, which has one of the highest rates of sexual assault reported in the Ivy League.
In an ongoing effort to bring awareness to the issue, you co-sponsored the Campus Safety and Accountability Act and invited Columbia senior and anti-rape activist Emma Sulkowicz to join you at the State of the Union last week. What was the reason behind that invitation?
I wanted Emma to have the opportunity to be part of the State of the Union. I think her presence alone sends a message to my colleagues and to the White House that this issue is important, and as the film shows listening to survivors is really important. We have to change the system from the bottom up, and these women and men have been extraordinary advocates for change, and I think their voices really matter. 

What's the biggest challenge in facing this issue? I know you have a bill that you are bringing forward.
I think that we have to continue to build support on a bipartisan basis across the country, and I think it's important that people understand the depth of the problem. These aren't issues of "he said, she said," or issues of dates gone badly. These are circumstances where you have predators who are often recidivists, and we have to understand that campuses are required to be safe for all students. We need more transparency and accountability, and what I'm working on is trying to flip the incentives so universities do a better job of maintaining safe campuses. 

The individual that Sulkowicz has accused of sexual assault says that this is a defamation campaign against him because he hasn't actually been found guilty of anything. What is your response to that?
This is an issue that campuses are struggling with across the whole country. If you listen to the survivors, this is an issue that hasn't gone away. There is enormous prevalence. And survivors have a right to be heard and to be able to tell their stories and to be able to get justice and to have a reform in the system so that the incentives aren't to shove this under the rug. Schools have no incentive to report these incidents of sexual assault and rape. The survey done by the Senate showed that 40 percent of schools had never reported any rapes. Obviously they are not reporting, and so we have to have an ability to flip the incentives to hold schools accountable and to incentivize them to not only report but to meet their Title IX requirements. We also have to be able to have online surveys where all students can report whether or not they feel safe in a confidential way and what has happened to them. 

But is it okay for his name to be out in public if he hasn't been formally charged?
My job is to talk about reforms and be able to talk about the stories of survivors. My job is to create legislation that reforms this issue across all schools and to make sure that it doesn't happen to someone else. 

Your alma mater, Dartmouth, has been in the news in regard to this topic. Have you thought about reaching out and working with survivors at Dartmouth? 
We work with survivors from all schools. Andrea [Pino] and Annie [Clark] were the ones that came into my office asking for a meeting, and when I heard their stories I was so inspired that these young women were starting a movement, and so that includes all schools and that includes survivors at Dartmouth and survivors at every school in the United States, and we are going to continue to fight for those survivors and continue to fight for the kinds of reforms that make sure campuses become safer places.