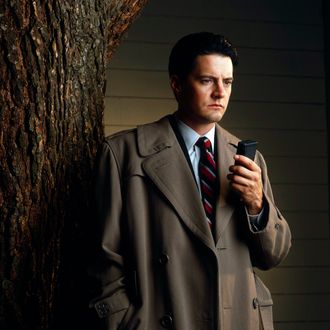 Photo: ABC Photo Archives/2011 American Broadcasting Companies, Inc.
Kyle MacLachlan will not just appear in, but star in, Twin Peaks' limited-series return to Showtime as Special Agent Dale Cooper. Deadline reported that MacLachlan, damn good coffee and all, made the announcement at the network's Television Critics Association panel on Monday — and the show's director David Lynch quickly confirmed the news via Twitter afterward. "I'm very excited to return to the strange and wonderful world of Twin Peaks," MacLachlan said. "May the forest be with you."
Lynch and co-creator Mark Frost will write and produce nine episodes for the series, which will premiere in 2016 (25 years after it finished on ABC). The Showtime series will reportedly pick up in present day, more than 20 years after the events of the first two seasons. Essentially, it's the same storytelling/hurdling tactic as Linklater's Before saga, just  … you know, more, Lynchian and full of those wonderfully weird dreamscapes, voice-distortion scenes, and Log Lady–esque characters (fingers crossed, at least).