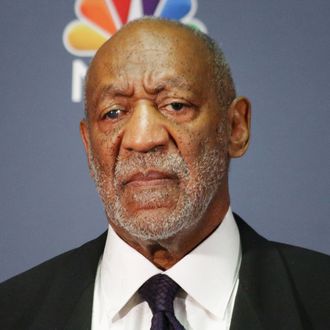 Photo: Andrew Toth/Getty Images
The Los Angeles Police Department is now looking into sexual-assault claims brought against Bill Cosby by a Las Vegas model. The Hollywood Reporter writes that Chloe Goins, 24, went to LAPD headquarters with her attorney to file a statement Wednesday morning about a 2008 incident that involved an alleged attack at the Playboy Mansion. "[The allegations] will be investigated," an officer told THR. "That is all that we are commenting." Goins's attorney, Spencer Kuvin, said that since the incident would have occurred six years ago — when she was 18 — his client could be the first woman whose case falls within California's complex statute of limitations.
Goins alleges that during one of Hugh Hefner's parties, Cosby gave her a drink and everything became foggy. She says when she woke up she was naked in one of the bedrooms, and Cosby was licking her toes and masturbating. The LAPD has already said it was planning on searching the Mansion (as part of a separate filing), but so far Cosby has not been charged with any criminal offenses as a result of any prior claims or investigations.