Larry David regarded a brown leather messenger bag on the floor of a studio above West 42nd Street and announced, to no one in particular: "I never had a purse before in my life. Now all of a sudden I have a purse."
"It's not really a purse," his co-star Rita Wilson assured him. "It's a satchel."
"No," David insisted, "it's a purse. There's stuff in there that's purse-y."
"It has a long strap," Wilson countered.
"How far do you ever really have to carry it?" Anna Shapiro, the director, asked. "It would be a purse if you ever had to carry it to a car."
Not finished with the subject of personal carriers, David moved on to discussing the backpack on wheels he now takes with him when he travels and his policy of always checking bags on airplanes, so he won't have to lift a bag into an overhead bin (a movement he pantomimed dismissively, as if it revealed its own deficiency).
It was a recent Thursday afternoon, and David, Wilson, and the rest of the cast were rehearsing Fish in the Dark, David's debut as both playwright and, excepting fifth- and eighth-grade turns in school plays, stage actor. David got the idea for the play two years ago from his friend Lloyd Braun, an entertainment executive whose father, a powerful music lawyer in Beverly Hills, had just died after a three-day hospital vigil. "We're sitting shiva," Braun recalls, "and Larry's over the first day at my house, and I was telling him a whole bunch of stories of what had gone on for the last few days, because some were crazy and hilarious, like a relative flying in from wherever 'cause they want to be in show business. It's an outlet for me. We start talking about how it's incredible material. Larry says, 'It's a Broadway play.' " One might wonder why David, having mastered the half-hour sitcom as co-creator of Seinfeldand auteur of HBO's Curb Your Enthusiasm, immediately thought of doing a play. For one thing, the limited number of settings—hospital room, shiva, etc.—suggested a stage production. But David had also been intrigued watching his friend Nora Ephron's play Lucky Guy, imagining the thrill of live audience laughter. He went off and wrote Fish in the Dark.Later, he got an email from the producer Scott Rudin: "You wrote a play? Hello?"
It wasn't David's intention to star in it, but Rudin persuaded him that audiences would want him in the role (his fellow cast members include Wilson, Rosie Perez, Ben Shenkman, Lewis J. Stadlen, and Jayne Houdyshell). The producer ultimately paired David with Shapiro, who'd proved her ability to take non-theater animals like Chris Rock, in The Motherfucker With the Hat, and Tavi Gevinson, in This Is Our Youth, and make them Broadway-ready. David has already drawn her into his reality bubble, asking her, for instance, why he needs to change his clothes when he gets to the theater. Why can't he just be wearing the first of his five or six costumes when he arrives? "At first, I thought it was the silliest question," Shapiro says. "But then I thought, Why couldn't we give him a rack of clothes at his hotel? He said, 'Yeah, I don't like getting undressed in places.' "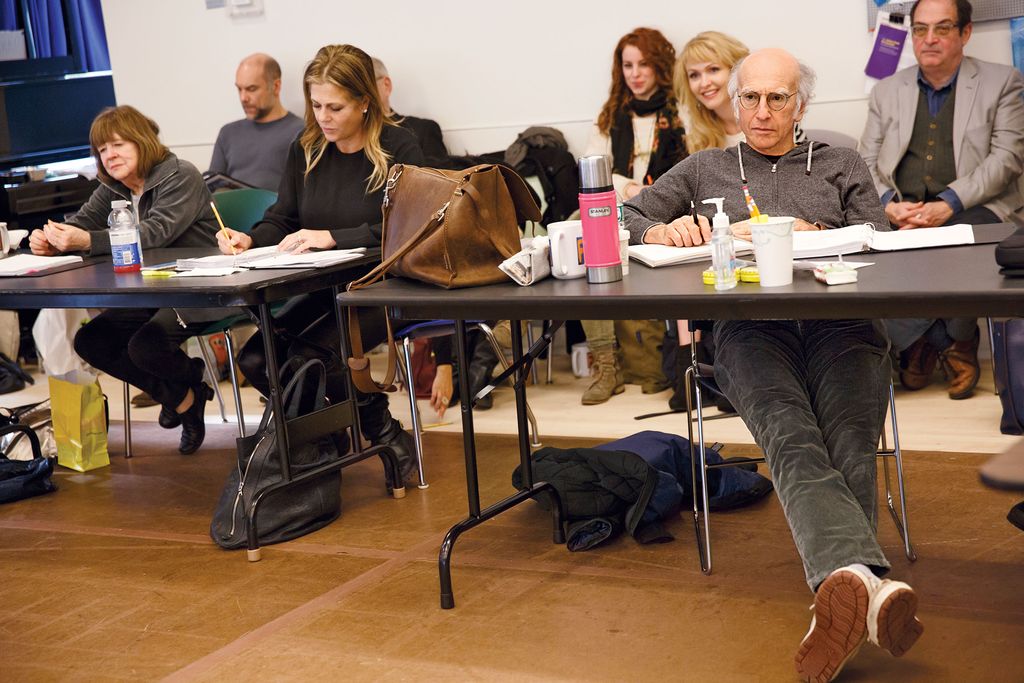 David is lanky and kinetic. At the rehearsal, between reps of a scene set around the hospital deathbed, he was restless, chewing gum, shifting his weight from side to side, pacing in circles, removing his corduroy jacket, stretching his scarf behind his head as if it were a TheraBand, and making trips to a table on which he had an array of things to put in his mouth: a pack of Trident White, a box of licorice Altoids, a yellow tin of Rescue Pastilles lozenges. David was playing a character named Norman, but he might as well have been starring in a theatrical adaptation of Curb. So pronounced is David's comic voice, so singular his mannerisms and cadences, and so pervasive the cultural residue of Seinfeld and Curb, that pretty much anything he says or does seems like the character he's been cultivating for years, that alternately fretful and oblivious guardian of his own idiosyncratic vision of the social contract. Jason Alexander, who made a close study of David when he was playing his alter ego, George Costanza, on Seinfeld, found that it was a physical tic of David's that unlocked the character for him: "What Larry does is when he hears something that stops him in his tracks, he drops his jaw, takes his tongue and rather firmly presses it against the base of his bottom teeth, his head will cock to one side, he'll do an intermittent nod, and his eyebrows go up each time he nods, as if considering the veracity of what was said to him and a number of potential responses or nonresponses."
David is anxious about Fish in the Dark's plot being spoiled by early disclosure, but Rudin summarizes the play, which opens for previews next month at the Cort Theatre, as being "about a guy who, with the death of a patriarch they didn't entirely relate to as a patriarch, leaves all the internal family relationships unmoored, and he's pinioned between his wife and his mother." In David's hands, this means a cascade of metastasizing pettiness during what should theoretically be a period of sober grief. The scenes I watched him rehearse managed to squeeze in many of David's obsessions, including greed, selfishness, dishonesty, aggrievement, and the awkwardness of tipping. But besides lots of his familiar comic alienation, the play will also feature more of a traditional dramatic arc than Seinfeld,where the on-set credo was "No Hugs, No Learning," or Curb, which was similarly distinguished by a lack of character growth.
That afternoon, as he prepared to rehearse a shiva scene, there was one point he needed to resolve. Shapiro had told him that a moment in the play, where Norman receives a "bad hello" at a funeral, was a repeat of a scene from Seinfeld. David disagreed and had checked with a writer from the sitcom, who didn't recall it either. "I can tell you the episode, I can tell you the exchange," said Shapiro, who knows her Seinfeld. "You do not want to mess with me, Larry David."
"That's funny," David said, " 'cause I remember when I wrote the idea for it, and it was at Nora Ephron's memorial, and that was way after Seinfeld."
"You know what," Shapiro said, "your humor speaks to the collective-­unconscious experience. I don't know what to tell you." David was still unconvinced, so Shapiro launched into a detailed recitation of the episode's plot, while a member of the crew confirmed her memory via Google.
David shook his head and said he now couldn't rehearse that part. "I had the same idea again," he acknowledged later. He would cut the scene from the play.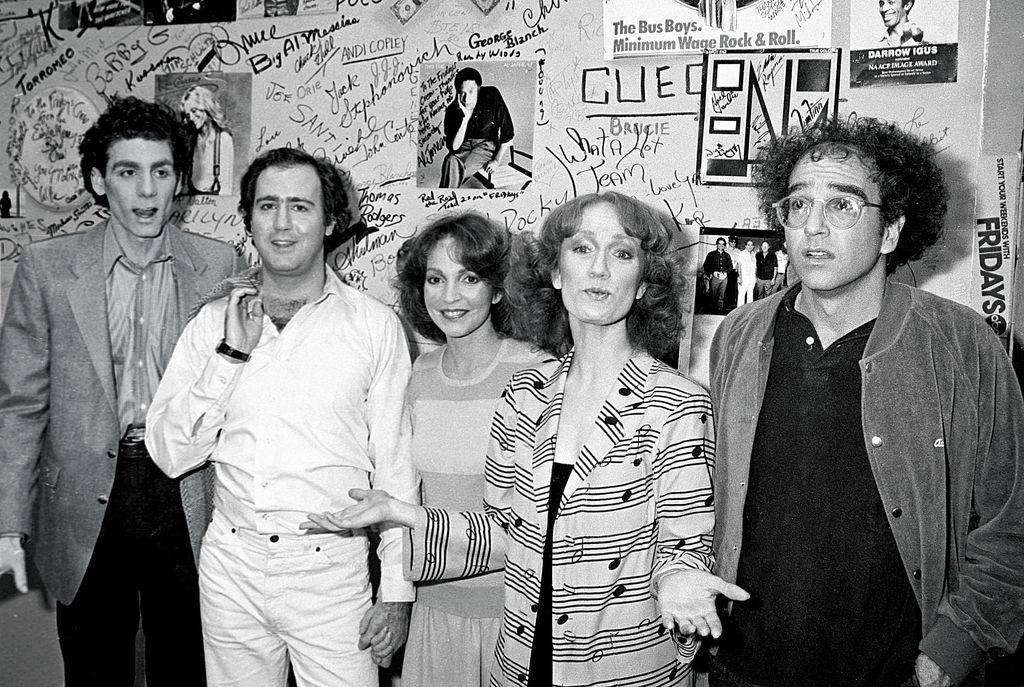 After rehearsal, David and Shapiro shared an Uber to the Upper East Side. "This is my old building," David pointed out as we passed a subsidized-artists' high-rise at 43rd Street where he'd lived in the '80s.
This was during the arctic blast of early January, and as the car sped past billowing steam pipes and bundled-up, speed-walking New Yorkers, Shapiro checked a weather app on her phone, reporting that "right now, it is 4 degrees," but "it feels like it's negative-9."
"See, I don't buy all 'what it feels like,' or this and that," David said.
"Okay," Shapiro said, "but this is spoken like someone who's now spent too much time in warm weather."
"You can give me the temperature, and that's the temperature. Four degrees is 4 degrees."
"If it's 4 below, and the wind is not blowing, it's 4 below," Shapiro said. "But if it's 4 below and the wind is blowing, it's not 4 below."
"Oh, at 4 below you can picture wind," David said.
The semantics of temperature got David thinking about a therapist he'd gone to, years earlier, whom he'd told about a dream in which he was driving himself in a bus. "And he says, 'Well, the bus is your house.' I said, 'Well, then, what's my house?' " (It was a misleading story, insofar as David has had hardly any therapy and "can't stand" it. "Give a guy a girlfriend and a great job, he doesn't need therapy, that's my theory," he told me.) Cackling wickedly now, David said, "These publicity people are so scared of me."
"I can't imagine why," Shapiro said. "You make me look amenable, so thank you for that."
The Larry David of Curb Your Enthusiasm is a curmudgeon and misanthrope unconcerned with niceties. David himself conceives of the character as the person he'd like to be, if he weren't impeded by social constraints. But his friends are used to having to explain that he's not really the guy on the TV screen. They'll describe him using shockingly off-brand words like "tremendously sweet" (Jason Alexander) and "kind" (Jeff Garlin) and "so generous in every way" (Steve Adams). Shapiro says she was initially wary. "I thought he would be neurotic in a not-amusing way. I thought I would encounter the darkness behind his humor. And I just haven't had that. I find him to be incredibly warm, very friendly, really nice, and in the relationship really respectful, really generous. I can't say enough about him as a person."
David is someone whose mind snags on those glitches in social interaction that a lot of people barely notice or choose to ignore; he sees the comic possibilities and jots down the idea in the leather-bound notebook he carries with him at all times. "You can watch Larry David walk down the street and look at something," Ricky Gervais says, "and laugh because you sort of know what he's thinking." The real David "perceives the slight and insult and diminishment, he just doesn't always act on them," Alexander says. In real life, David will say "Nice to meet you" and go out of his way to put an apple core in the proper trash bin. He also, unlike his character on Curb, has children, two college-student daughters with whom he loves FaceTiming.
Much of David's artistry consists of his intricately structured, complexly orchestrated, many-stranded plots that resolve in a single, cluster-bomb dénouement, but the observations and incidents that are quintessentially Davidian derive both from his life and his lens on the world. "The Contest," the Seinfeld episode about a masturbation contest that won the show an Emmy, was something David had actually done. When George Costanza quit his job in a huff, then went back into work the next day as if nothing had happened, it was based on David having done exactly the same thing. The show was filled with the real names of friends of his aunt in her Florida retirement community, who'd be buzzing the morning after a new episode aired about who'd been name-checked that week.
David has a knack for identifying and extrapolating the disaster potential of mundane situations. "What he is is a savage Edith Wharton," says writer-director Larry Charles, who has worked with David off and on for more than three decades. "If I'm with him and we're having a meal, and it's unraveling for some very Larry David–esque reasons, which almost always happens, he's also very conscious of it happening, and he's riffing on what could happen, so it's like three-­dimensional comedy chess. He's theorizing the quantum scenarios of consequences that could happen." Robert Weide, who produced the first five seasons of Curb, remembers "so many times where that little book came out, and he'd write down an idea based on what could go wrong."
And David, as Jerry Seinfeld has said, is also someone funny things just seem to happen to (even if sometimes he provokes them). Weide recalls waiting with David in a line at a bank, when, after ten minutes, David noticed that the line hadn't been moving and started wondering aloud what was going on. "I thought, Oh no, here it comes," Weide recalls. David began scrutinizing the teller stations and, seeing that a customer was shooting the breeze with a teller, started getting worked up. "Excuse me? Excuse me? Are you just going to chitchat all day? We'd all like to chitchat, but we have things to do." In the 1970s, the comedian Richard Lewis brought David to group therapy with him and then to a gathering afterward at the Upper East Side apartment of one of the members. "I see Larry squirming," Lewis remembers. "He stands up, says, 'I can't take you whiners, I don't need to hear anyone's problems, this is crap.' I was laughing but saying, 'Larry, sit down.' " David fled the apartment, pursued by the group. "He starts running down Second Avenue, then this whole group of needy Adlerian patients is chasing him, thinking we're the Lone Ranger for him, like if he left the group, that would be it." David took refuge in a phone booth. "There were nine people pounding on the booth, and he's saying, 'Leave me alone, I don't need therapy.' We're screaming, 'We love you, come back.' "
The convoluted border between the real David and his fictional alter egos has flummoxed even David. When the character "Larry David" organized a Seinfeld reunion on Curb and "Jason Alexander," reprising his role as George Costanza, walked off the set, "Larry David" decided to step in and play the Costanza part, which was, after all, based on him. But during filming, real David called real Alexander and asked him to come down to the set to help him with the Costanza line readings. "The irony of which," Alexander recalls, "was apparent to everyone but him. I said, 'George is you, you schmuck.' "
By his own account, and that of others, David wasn't a funny kid. But once he began to develop his comic voice in his 20s, finding his groove in the absurdities of social infractions and in an abiding expectation of doom, he had a wealth of childhood material to draw on. "It's amazing such a functional human being came from that household, honestly," David's ex-wife, Laurie, says of the Sheepshead Bay apartment where Larry and his older brother, Ken, the children of Rose and Morty David, a clothing manufacturer, grew up with little privacy. There was an aunt next door, a grandmother upstairs, a cousin who moved in. Their father worked long hours. "Mainly what I remember," Ken David recalls, "is his left hand sticking out of the bathroom door, perpendicular to the ground, and him saying, 'More toilet paper, Larry!' "
Their mother was another story. She was "loud and overbearing and timid at the same time," Laurie says. Once, when Morty was on a long business trip, he returned to find that his wife had retired to Florida, unilaterally. It wasn't the end of their marriage, just a weird incident. Rose didn't think Larry was going to amount to anything and even wrote a letter to the New York Post's advice columnist, Rose Franz­blau, seeking counsel about her younger son. Larry: "My mother used to say to me—this was after we're No. 1—'Do they like you? Are they going to keep you? Do they think you're doing a good job? Did they tell you you're good? Did they tell you you're doing well?' " David's wealth has been estimated in the hundreds of millions of dollars, but when Larry and Laurie would book his parents first-class plane tickets and a room in a nice hotel when they came to visit L.A., Rose would downgrade the tickets to coach and, seeing the price of the room, refuse to stay there, checking in somewhere cheaper. The Davids were proud of their son, but Rose would say, "Larry, don't spend your money."
The success of Seinfeld was still a long way off in the early 1970s, when David was floundering with a series of odd jobs (bra salesman, chauffeur) and living in a roach-infested tenement his father owned in midtown. His mother urged him to see a psychiatrist, saying she'd pay for it. After he decided to become a comedian—he'd taken an acting class and found that when he improvised, the other students laughed—Rose was not reassured. "My mother was terribly worried about him," says Ken, who has the more mother-friendly job of computer consultant. He channels Rose: " 'Larry, why don't you get a job with the Board of Education? You'll have a pension and be taken care of. What are you doing this for? Are you crazy?' "
From the early days of David's stand-up, his preoccupation with manners and the ethics of everyday life was evident. He did a bit about Jonas Salk's mother, imagining what an insufferable braggart she must have been about "my little Jonas." Another bit began: "Every morning I wake up and thank God I wasn't born a wealthy Spanish landowner," because of the awkwardness of choosing when to use the tu form versus the usted form.
His comedy was unstudied. Peers like Jerry Seinfeld and Chris Rock and Ricky Gervais are deeply versed in comedy's history. David was more like an outsider artist. "Larry has no conception of anything that preceded him in the comedy world other than Abbott and Costello and Sergeant Bilko," Weide says.
But the purity of his point of view got him a reputation as a brilliant comic among fellow comics, who'd gather at the back of the room to watch him. Part of the draw was his chemical instability. He wouldn't engage in the ingratiating stand-up boilerplate of "How's everybody doing tonight?" He didn't care how they were doing. He would get in fights with the crowd and storm off before his act was over. Once, preempted at the last minute by Rodney Dangerfield, who told the crowd that "Larry David" sounded like "a fag hairdresser," David went on afterward, saw that the crowd was inattentive, said "Fuck you, you people are too stupid," and walked off. "It was like watching Johnny Rotten sometimes," Larry Charles remembers.
"I did not take heckling well," David allows. "It upset me so much, I couldn't be funny about it. I just couldn't believe, just because it's on a stage, that that separation could embolden someone to be such a prick. The disrespect was staggering. It was like, 'What? How could you talk to me like that?' "
David's sensitivity to slights was undulled even after he caught a break in 1979 and joined the cast of Fridays, a short-lived Saturday Night Liveknockoff. He moved to L.A. for the show and bought his first car, a convertible Fiat sports car (albeit an automatic, because he didn't like to shift). He drove it out of the showroom and put the top down. Fifteen minutes later, as he pulled up at a red light, a guy at a bus stop yelled, "Your show stinks!" David put the top up and never put it down again. Later, during his one season writing for SNL, where he managed to get only a single sketch on the air (with a discernibly David-esque focus on whether elevator operators should have stools and under what conditions they should use them), he quit in a huff after yelling at producer Dick Ebersol (this was the job he'd return to as if he'd never quit).
Even back then, David had unapologetic convictions about what he thought was funny. "He was pumping out Larry David stuff," recalls his friend Steve Adams, who worked with David on Fridays, "but it wasn't Larry David time yet." Although other comics loved him, and his best friend (and future wife) Laurie was a booker for David Letterman, she could never get him on Late Night. "Letterman didn't get his humor," Laurie says. "Larry didn't stand up and tell jokes. He did, but it was more stories and persona and all that kind of thing." David didn't even want to travel for out-of-town gigs, which "is bordering on insanity," she says. "It's like a pilot who doesn't want to travel." Weide was a young development executive when David's screenplay Prognosis Negative, about a commitment-phobic man for whom the perfect mate turns out to be a terminally ill woman, given her built-in expiration date, crossed his desk. David came in for a few meetings, whereupon a more senior executive told David he thought the script was very funny, but the main character wasn't likable or sympathetic and could David do something to make him more so. "Larry thought about it and thought about it and said: 'No, I don't think so.' So he became my hero."
David knew where his unwillingness to compromise might lead him. Walking around New York, he'd scout grates and awnings that might prove useful should he become homeless. "I literally had conversations with other friends of Larry's in L.A.," Weide says, "where the subject was: What are we going to do when Larry can't afford a roof over his head? Do we all take turns letting him stay with us, or gather funds to help him make his monthly nut?"
What changed everything, of course, was his once-in-a-millennium partnership with Seinfeld, whom he knew from the clubs and who had become a close friend. Laurie thinks the spark happened at a birthday party for the comedian Carol Leifer, where David's gift was two pages of material he wrote for the occasion and Seinfeld read them aloud to riotous laughter. In any case, Seinfeld was a hugely successful headliner by the late '80s, and NBC had approached him to develop a show. At a Korean deli one night, they started riffing on the random, unlabeled items near the cash register that looked like they'd been made in someone's basement. They agreed it was exactly this kind of talk, about "nothing," that the show should be about.
The television phenomenon that followed owes much to the ways in which Seinfeld served as insulation for David, rendering his comedy palatable to a network audience and David himself palatable to network execs. David routinely threatened to quit in the show's early days and would flatly reject network notes. NBC didn't want to run an early episode that took place entirely while waiting in line at a Chinese restaurant—which became one of the show's defining ­episodes—but David didn't care. Moving the show from Wednesday to Thursday paved the way for the show to become the giant hit that it did, but David was annoyed, objecting that if someone couldn't be bothered to watch the show on Wednesdays, why would he want their patronage on Thursdays.
As the show was taking off, David's life changed in another significant way. His relationship with Laurie had at last escaped the friend zone. "He finally made a move and leaned over and kissed me," she says. "That had only taken him like six years." They fell in love and got engaged, but the engagement stretched out for another three years. "Every time we talked about getting married, or even an engagement ring, his neck would break out in huge red hives. Finally, I kicked him out, he came back, he started stalking me in restaurants in L.A., moping, following me around. Finally, we got on a plane to Vegas. He wanted to go to a Las Vegas drive-through. I said, 'You're getting out of the car. That's the least you can do as a concession.' "
David felt uncomfortable with the perks of his mounting success. In the early '90s, Seinfeld, who collects Porsches, encouraged his co-creator to get one. "He was extolling the virtues of them," David said, "and he told me about the Tiptronic, which was an automatic one they just made. I thought, What the hell?" He immediately regretted the purchase. "It was like a bad suit. It didn't fit. It was a bad fit for me. I felt very self-­conscious. I didn't like what I was saying to people. When I pulled up to restaurants, I'd pull up two blocks away and park so I wouldn't have to get out in front of anybody." Within two weeks of buying the car, David had returned it for a $12,000 loss.
Since getting divorced in 2007, David has lived a comfortable but not overly lavish or complicated existence in a house a few minutes' drive from his ex, who calls him "my best friend, again."
"I wasn't really an ideal husband," David told me.
"He's a creative, brilliant writer-­producer-performer who lives in his head a lot," Laurie says. "And when you live in your head a lot, that's not necessarily the best way to have a relationship. It can be a little lonely."
Though Laurie says he is "the best ex-husband you could possibly wish for," David still lives in his head a lot. Jeff Garlin, who plays David's manager on Curb, considers him a comedy monomaniac. "I could be 100 percent funnier than I am if all I did was look at the world for what's funny and didn't pay attention to anything else," Garlin says. "I'm not saying that he doesn't pay attention, but he doesn't pay attention." Echoes Laurie: "We'd be walking down the street in New York City, and we had to turn left, and he'd go three blocks before he realized I wasn't with him. That's a true story. I'd let him keep going and be amazed to see how far he'd go."
The paradox that the most unemployable comic of his era co-created the most profitable sitcom ever is not lost on David or his friends, but while he has allowed himself certain comforts (he owns a BMW i3 electric car and belongs to a fancy golf club), David has never been a things person. He mostly enjoys his fame, though, not least because he has willed into existence a public context for his private self. Thoughts and behaviors that might once have seemed merely antisocial are now perceived as funny; Curb has given him permission to be more aggressive. Gervais suggested to David that he just say "Nah, guys, I don't do that" when paparazzi ask him to pose, and he reported back that he'd tried it and it worked: Instead of being antagonized, the photographers just laughed. Alexander recalls watching as a friend who hosts a radio talk show in L.A. asked David to come on, and David said, "No, I don't want to, why would I do that?" Laurie says their children yell at him to be friendlier on the street, "but he's like, 'I don't have to be, 'cause everyone knows who I am.' " David doesn't deny this. "Exactly," he says. "Being Larry David on Curb was the best thing to happen to Larry David in life."
Fame has also made dating a lot easier than it was pre-Seinfeld. I asked whether he dates only age-appropriate women. "No," he said, laughing. "It all depends on whose idea of appropriate … Here's the thing … When I'm talking to someone, I don't know what I look like, you know? I know I'm old, but I don't have a sense of being old. You know what I mean? I'm just inside my face, not being able to see. If I saw my face, I'd go, 'Get away from her!' but I can't see my face, so I don't know what I look like as I'm doing this, because nothing feels differently. It's just a personality talking to another person. Only later, when you see a picture of yourself, you go, No, no, you can't do that. It's an odd sensation … that suddenly people are off-limits."
As he said this, he was sitting near the back of a French bistro on East 66th Street, which was a loaded scenario. What vaginas were to Georgia O'Keeffe and depressive thinking was to David Foster Wallace, restaurants are to Larry David. Much of Curb played out in restaurants, including an entire season centered on his character opening one. No aspect of the restaurant experience has escaped David's consideration. Laurie describes a restaurant meal with her ex as "major eye-rolling time … a thousand questions, what's in each dish, then all the angst about the tipping." (David used to argue against going on family vacations because he didn't want to worry about the tipping challenges. "At Christmastime, who he tips, who he doesn't," says Laurie. "I still take care of some of it for him, the FedEx guy, the gardener. Every Christmas is just torture.")
It was 3:30 in the afternoon, and David was drinking sparkling water but not eating. "This is a terrible food-consumption time," he explained. "No-man's-land." We'd already switched tables once, to put us out of earshot of other diners. "Are we in hearing distance here?" asked David. "We'd be much better off at a noisy kind of diner." Now David told me he's not as inclined as he used to be to get into drawn-out discussions with waiters. "Before, if the food was cold, you know, I'd send it back without even thinking about it, and now it's, 'Oh, Larry David's an asshole.' " Tipping, too, has been affected by his fame. "Tipping is a major obsession," he said. "Now I have more tip pressure than I ever have … I've got to be tip-ready at all times."
In the few weeks David had been in New York, he'd done little beyond rehearsing and having some dinners with friends. That coming Sunday, he'd get together with Seinfeld, with whom he's still friendly. And he was still working on the play. Shapiro had felt there was a structural problem with the last quarter of the script, and David would spend the following day rewriting it. David had also been diverging from the script during rehearsals. Curb's dialogue was all improvised, and now David found himself unable to stop ad-libbing during rehearsals. Some of this has resulted in improvements to the script, but Shapiro has also had to rein him in. "It's been humbling," David said. "But she and Scott have been pushing me."
Suddenly, he'd lost track of whose water glass was whose. "Is this mine? Are there bubbles?" He held it up and eyed it suspiciously. "Ah, whatever." He took a sip. "It tastes like tap water. Nah, it's okay."
Did Larry David just say "whatever"?
I had glanced down at my notes for a moment when I became aware of a drumming sound and looked up. David's hands were positioned as if on a keyboard, and he was pounding his fingertips on the table, loudly, as if playing something by Rachmaninoff. He saw me looking at him. "Oh, no, no," he said. "No, no, that's not like a hurry-up." I must have looked at him skeptically, because he held up his index fingers like goalposts. "That—you misinterpreted. You misinterpreted. That was not a hurry-up. It was not a yawn. It was nothing like that. I was looking at the shadow of my fingers. You know, it had nothing—it wasn't that. It was not that. I swear to you. Children's lives."
*This article appears in the January 26, 2015 issue of New York Magazine.