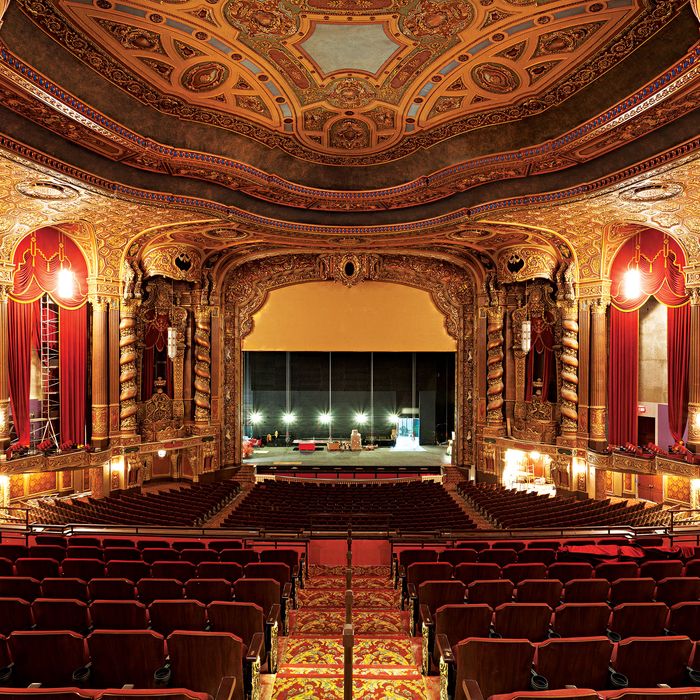 There were five of them, called the Wonder Theaters. It was 1929. The new exhibition palaces had pipe organs, like cathedrals, and some of the pictures even talked, all by themselves! And when you set foot in a golden auditorium that seated 3,600, you too could feel imperial, at a cost of 25 cents. With candy, 30 cents.
Brooklyn's Wonder Theater was even called the Kings — the Loew's Kings. "It's huge," says the architect Gary Martinez, whose firm, Martinez + Johnson Architecture, has been restoring it. "Huge! Even for those of us who have seen hundreds of theaters, the first time you walk down onto the orchestra level, it's just a massive room." In 1929, a building like this was already retrograde, gaudy, overwrought. But that was the point: The Kings was built for architectural escapism along with cinematic escapism. Spending a day at "the Lowies," as it was curiously pronounced, was a pretty far cry from sitting around your parents' apartment on Avenue P. Being one of the only really big auditoriums in Brooklyn, it also hosted dozens of high-school graduations. Chuck Schumer crossed its stage in cap and gown. So did Carole King. So did my mother.
What happened next is dank and familiar. The neighborhood grew seedier just as the movie-­exhibition business started to favor multiplexes over giant single screens. The Kings had opened with Dolores Del Rio in Evangeline, a silent film played in sync with shellac records; it closed in 1977 with a cheap Bruce Lee biopic. The building was abandoned, the roof buckled, and the interior got wet. Scavengers stole the copper pipes and the fixtures. But it didn't burn. The Kings was down, but not out.
After decades of what-do-we-do-with-this-thing inertia, the Kings has been overhauled by the city's Economic Development Corporation, to be run under contract by the Ace Theatrical Group. It cost $94 million to dry it out and get it fixed, and just about every over-the-top detail has been meticulously put right. Diana Ross will reopen the hall on February 3.
All five Wonder Theaters made it out of limbo, although only the Loews Jersey, in Jersey City, regularly shows movies. The economics of film still cut against enormous rooms like these. In fact, the other three — in Washington Heights, on the Grand Concourse, and in Jamaica, Queens — are now churches. Each provides, in its way, uplift. Enter, and you can convince yourself that you are both at the center of the world and transcending it, in the presence of either God or Miss Ross.
*This article appears in the January 12, 2015 issue of New York Magazine.