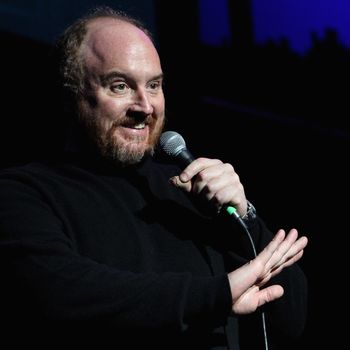 Photo: Monica Schipper/Getty Images
Louis C.K. is such a cultural bellwether that when he's mostly just messing around, as he does in his new on-demand stand-up special Louis C.K. Live at the Comedy Store, the looseness reads as a bit too loose. Don't worry; this is a very funny collection of bits, with two or three brilliant moments. But for better or worse, C.K. has gotten to the point where if he doesn't do something innovative enough to provoke think pieces or troublesome enough to spark arguments, you start measuring him against the giants of stand-up and finding him lacking.
His last two specials were masterful, almost good enough to put in the weight class with Chris Rock and the late, still-missed George Carlin, whose specials were so intricately written that they felt like one-man theatrical shows rather than "routines"; they boasted a deft interplay of absurdist boundary-pushing, social commentary, and straight-up clowning. C.K. has described this new special as a tribute to the workshop tradition of comedy-club material, but when he introduces an idea but doesn't really elaborate on it (such as the difference between racism and sexism, or the primordial fear experienced by children when their parents catch them messing up), that description starts to feel like a clever way of lowering our expectations so that we won't nitpick it to death, as I'm doing here. (A routine built around repetitions of the N-word isn't nearly as funny as it needs to be in order to justify the use of the word.)
Still, when C.K.'s brain starts buzzing and his mouth follows the firing synapses, the result is marvelous. He's one of those comics who can be very good when the material is intellectual, theoretical, or rhetorical, and there are a few stretches here that fit that description; my favorites are his very Louie-like discussion of how pets can be used to prepare children for the reality of death. (When a dog dies, you can tell them, "Yeah, well, Grandma now.") But he soars when he goes off-book (or seems to) and starts riffing, or seems to riff. You can tell when this is happening. C.K.'s eyes seem to almost literally light up, and a thrilled and demented grin appears on his face. This is the signal that he's seized on a marginal aspect of whatever he just said and is about to grab hold of it, take it apart, and see if there's a more ludicrous or surprising notion hiding inside of it.
He does this several times in the new special, and the result is always a highlight. The best is an account of staying with his daughters in a country house and being terrified by a burbling dishwasher (which he assumes is a witch), and a bat that swoops down on him afterward with the timing of a cheap horror-movie fake-out shock. I don't want to give away exactly where he goes with this routine, except to say that his impression of a bat's sneering, snouty face is perfect, and that he concocts a drama around a subsequent visit by a bat-removal expert that's infused by the spirit of Carlin and Richard Pryor, both of whom had a nearly unparalleled knack for diving into imaginative rabbit holes and following them to the heart of madness.