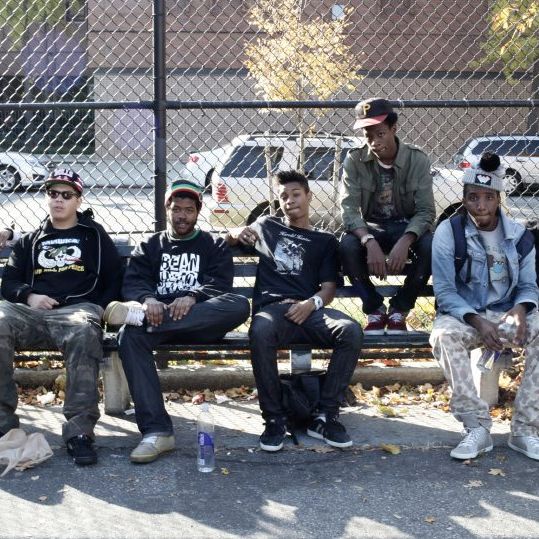 Photo: Courtesy of Pro Era/Facebook
Brooklyn rap collective Pro Era got an unexpected shot of PR on Monday when what appeared to be a photo of Malia Obama wearing one of the group's T-shirts popped up on Instagram. It's impossible to know whether the wearer in question is a Pro Era aficionado or just liked the way the shirt looked, but in case it's the former — and for the curious among you — we assembled a listener's guide to the key releases from the PE universe.
The crew took the rap world — at least the fraction thereof that lives online — by storm following Joey Bada$$'s 2012 breakthrough mixtape 1999. All that familiar rebellion and all that teenage invincibility was channeled into '90s revivalism — a time most PE members spent in short pants. But their brief run has been more than Clinton-era playacting. Admittedly, any group comprised of nearly 50 members in various musical- and non-musical disciplines can get unwieldy. But here's where you can start.
Nyck Caution, The Pursuit, Vol. 1 (2011): Surfacing in the middle of 2011, the first Pro Era release of note is markedly amateur. Lots of great rap is, sure, but Nyck Caution's bedroom project is stocked with then-contemporary beat jacking, rote aspiring-rich-rapper aphorisms, and clumsy bloodletting — the flip of Adele's "Someone Like You" misses all the original's emotional beats.
Pro Era, The Secc$ Tape (2012): Here is where the aesthetic starts to emerge. Though it leans on Bandcamp-sourced production in a way future releases wouldn't, The Secc$ Tape is a passable mission statement for the kids who made it. With only one foot in the revivalist lane, Joey Bada$$ still drops delightfully De La lines, like "Lord knows that I'm a good Christian / We could do it in the tub or we could do it in the kitchen."
Capital STEEZ, AmeriKKKan Korruption (2012): Jamal Dewar took his own life on Christmas Eve of 2012. Only 19 at the time, the rapper better known as Capital STEEZ was already well-versed in the occult and conspiracy theory; in his America, backroom handshakes determined elections 30 years down the line. The tragic circumstances surrounding STEEZ's death have only fueled this kind of thinking among his followers; in reality, his tragic end stands as a warning for those in hip-hop whose friends and collaborators may be suffering from mental-health issues. His 2012 mixtape AmeriKKKan Korruption is a stark reminder of how potent a mix hunger and paranoia can be.
Joey Bada$$, 1999 (2012): The catalyst for Pro Era's rise, 1999 was at first a point of curiosity. Who is this kid from Brooklyn who sounds like he's stuck in Gen X amber? When 1999 finally hit the net, Bada$$ had evolved into the kind of syllable-obsessed chameleon ready to make a collage of recycled DOOM and Dilla beats sound new and vibrant.
Pro Era, P.E.E.P.: The aPROcalypse (2012): Because teenage rappers are not always governed by reason, the collective decided to capitalize on their new buzz by releasing 70 impenetrably dense minutes of music. Fortunately, The aPROcalypse catches the crew at their sharpest and most balanced: Catch CJ Fly on "Like Water" or Dyemond Lewis on "School High" for star turns from the bit players.
CJ Fly, Thee Way Eye See It (2013): Again erring on the side of completism, CJ Fly's debut effort clocks in far too long and is, at points, too sloppy — "Too Paid" is a staid game of rap Mad Libs, and a Phife Dawg feature can't save "Seek Well." But "FLintroCK" and "Eyetalian Frenchip" betray a charismatic streak stronger than anyone in Pro Era, including Joey Bada$$.
Joey Bada$$, Summer Knights (2013): Although detractors found 1999 rigid in its reverence, Joey himself was swift and changeable throughout. On Summer Knights, however, he ostensibly dropped the (small e) era-specificity but clung to the post–Native Tongues sound. Furthermore, Pro Era's jump on their '90s-born peers was dissolving; Joey's Pokémon references on opener "Alowha" didn't hit the same way after Robb Bank$ and other millennials turned to similar fare and surrounded it with more forward-leaning production.
Pro Era, The Secc$ Tape 2 (2014): Oddly, what appeared to be a tossed-off EP proved to be a return to form for the crew. Dessy Hinds and Kirk Knight positively shine on the crude "Chocolate Strawberries," the best Valentine's Day song you might get slapped for playing on Valentine's Day. Joey sounds revitalized, too; "Pantie Raid Pt. II" catches him at his slipperiest and most playful. Secc$ Tape 2 is brief but vital.
Pro Era, The Shift (2014): Another half-hour EP from 2014, The Shift feels like a grander undertaking than Secc$ Tape 2. That doesn't mean it's better — Pro Era is often at their best when the stakes are low and the blunted vibes aren't as apparent. But this is another startlingly solid offering; Kirk Knight and Dyemond Lewis prove to be the dynamic duo this go-round, their opener "Extortion" the highlight. Special nod to Dirty Sanchez's turn on "Come Come," too.