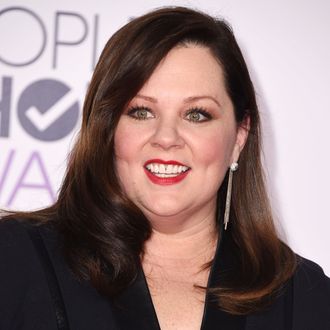 Photo: Steve Granitz/Getty Images
The new Ghostbusters reboot is looking for four hilarious women to anchor its cast. Melissa McCarthy is the top female comedy star in Hollywood. The new Ghostbusters reboot is being directed by Paul Feig. Melissa McCarthy has been in three of Feig's movies already. This isn't rocket science: Melissa McCarthy is probably going to be in Ghostbusters. But, according to The Hollywood Reporter, she has a few things to work out first. Namely, her schedule: Like Chris Pratt before her, McCarthy has managed to ascend to the top of her field while still being shackled to an okay-rated sitcom. Add the upcoming Michelle Darnell (directed by her husband, so she really can't drop out) to her contractually mandated Mike & Molly duties, and it's possible McCarthy simply won't have enough days in the week to step into the Ghostbusters coveralls.
Elsewhere in Ghostbusters rumors, Emma Stone is reportedly still "available" for a role, while Jennifer Lawrence and Rebel Wilson are no longer being considered. Cecily Strong, whose name was dropped in Feig's leaked pitch for the movie, is also said to be a possibility, as is Jillian Bell. As always, our dream casting choices for the all-female Ghostbusters are right here.