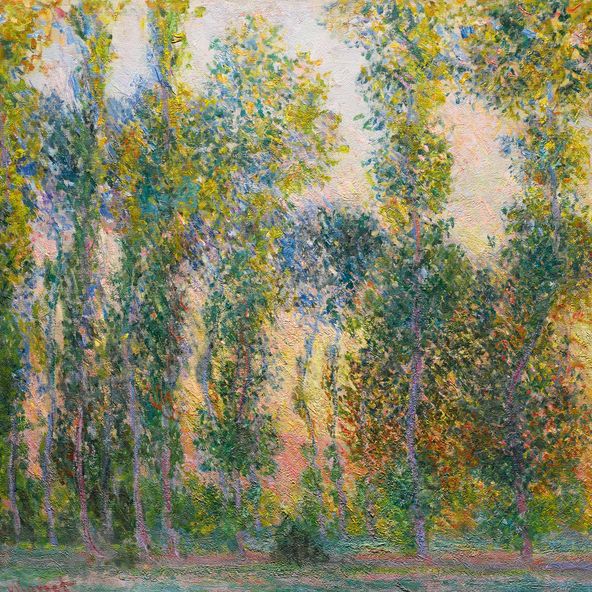 Claude Monet, Les Peupliers à Giverny, 1887.
Photo: Sotheby's
It's sad to say that the art world is no longer surprised when the Museum of Modern Art does something that barely passes the smell test. The institution's latest off-putting move is the imminent auction, on February 3 at Sotheby's, of a Claude Monet from its collection. The painting, Les Peupliers à Giverny, is from 1887, was donated to MoMA in 1951 by New York collectors William and Evelyn Jaffe, and once belonged to the Art Institute of Chicago. The work is estimated to fetch around $13.8 million.
MoMA has decided to auction off to the highest bidder a work in the museum's collection for over a half-century, a painting by an artist who may have produced more "masterpieces" than any artist in Western art history, to "benefit the [museum's] acquisitions fund." Why this particular Monet? MoMA reports, "This painting is an example of an Impressionist style that precedes the starting point of the museum's painting collection." But MoMA collects and exhibits work from before this date, including art by Seurat, Degas, and Rodin. Two of the museum's beloved van Goghs are dated just two years after the Monet. The painting that has long held the pride of place as the first work seen in the museum's vaunted permanent collection is Cezanne's tremendous Bather. It is dated 1885 — two years before the Monet.
I grant that Les Peupliers à Giverny isn't a showstopper. Yet it's a fascinating link between Monet's Impressionism and his post-Impressionism, a glowing orange, violet, pink, and purple depiction of trees with the powdery presence of eye makeup, exuding the unstable flux of every moment. Brushstrokes flicker, sky and ground flip-flop, atmosphere and nature merge; the horizon line and logical perspective dissolves as the whole little picture becomes unmoored, seems to double and reflect itself in centerless space. Worth holding onto, you'd think.
Making the sale all the more irritating, the market is now so distorted and tilted toward contemporary art that $14 million raised from the auction of a Monet is less than the cost of a large work by a contemporary art star like Gerhard Richter, Jeff Koons, Christopher Wool, Peter Doig, and many others. Some works are considerably more than that. Is it really worth trading a Monet for a slice of Koons's hanging locomotive?
Of course it's impossible to reason with MoMA about things like this now that every criticism of the institution is met with a blithe, platitudinous, one-size-fits-all dismissal that goes something like, "The Museum is trying to be many things to many people," and "MoMA serves many constituencies and can't please them all."
Let me put this as simply as I can: While I don't buy the MoMA's claim that the Monet is "an example of an Impressionist style that precedes the starting point of the museum's collection," I totally concur that museums must always be culling their collections. Not to do so would produce rot. What's most disturbing about this sale is how it's taking place. I believe that once a work of art enters a museum collection, it should be out of play for private collections. A work in a museum collection should only be sold or go to another museum collection, where it can remain in public view and circulation. Museums can no longer vie with millionaires, billionaires, and high-profile art advisors at auction, so it's doubtful that this little painting will ever be seen again in public. Good-bye, Les Peupliers à Giverny. You were sweet.