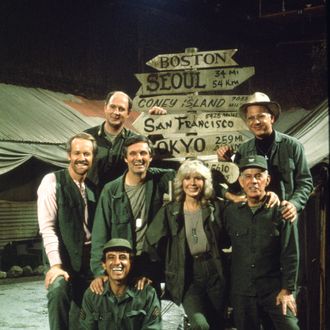 The cast of M*A*S*H.
Photo: CBS Photo Archive
At the beginning of (and throughout) every month, Netflix Streaming adds new movies and TV shows to its library. Here is a quick list of several that you might be interested in. Some of these may have previously been on Netflix, only to have been removed and then added back. We will update this list as more titles are added closer to the end of the month.
MOVIES
February 1
Bleach the Movie: Hell Verse (2011)
Dark Ride (2006)
Gimme Shelter (2013)
Gucci: The Director (2013)
Hot Pursuit (1987)
Houseboat (1958)
Into the Blue 2: The Reef (2009)
Joe (2013)
King Arthur (2004)
Naruto Shippuden: The Movie (2007)
Now: In the Wings on a World Stage (2014)
Proof (2005)
The Brothers Bloom (2008)
We Could Be King (2014)
We're No Angels (1989)
Zapped (2014)
February 5
The Little Rascals Save the Day (2014)
February 6
Ever After High: Spring Unsprung (2015)

February 7
Dead Snow: Red vs. Dead (2014)
Elsa & Fred (2014)
February 8
Blood Ties (2013)
Catch Hell (2014)

February 10
Dwight Howard: In the Moment (2014)

February 11
Mr. Peabody & Sherman (2014)
February 12
Young Ones (2014)
The Two Faces of January (2014)
Scary Movie 5 (2013)
February 16
Save the Date (2012)
February 17
The Overnighters (2014)
February 18
Earth to Echo (2014)
In Secret (2013)
The Fluffy Movie (2014)
February 19
White Bird in a Blizzard (2014)
February 21
RoboCop (2014)

February 24
1,000 Times Good Night (2013)

February 26
Open Windows (2014)
Russell Brand: Messiah Complex (2013)

February 27
Ralphie May: Unruly (2015)
Boys (1996)
TELEVISION
Departures (Season 12, February 1)
Magic City (Seasons 1–2, February 1)
M*A*S*H (Seasons 1–5, February 1)
Spartacus (Complete series, February 1)
Danger 5 (Season 1, February 6)
Mako Mermaids (Season 2, February 13)
Richie Rich (Season 1, February 20)
Hawaii Five-0 (Seasons 1–4, February 24)
House of Cards (Season 3, February 27)