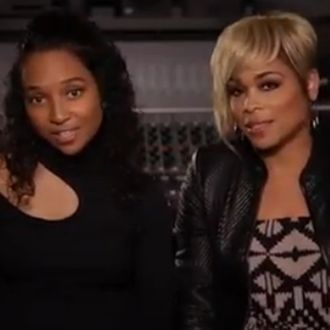 Did anyone else hear the news that TLC is attempting to raise $150,000 on Kickstarter to fund their next, and supposedly final, album? Let me be clear: I want TLC's final album Kickstarter to be fully funded — if you are a TLC fan, you should definitely give them money — but why, exactly, are TLC's two remaining members, T-Boz and Chilli, going the Kickstarter route? And why, if the two already have experience making albums ("Over 65 million sold!" boasts the Kickstarter video's intro), would they ask for a mere $150,000? And, hey, we get that Kickstarter is cool now, but TLC are famous. I repeat: 65 million albums. 
Currently, the girls have hit $71,000 of their goal — a whopping 29 days before their end date — so it's likely that they'll get their $150,000. But if you're a diehard TLC fan, you know how much an album costs. Left Eye famously broke it down in a very memorable episode of VH1's Behind the Music (Never forget: "Lisa burned the house down!"), quite literally doing the math of a typical label album: "This is how a group can sell 10 million records and be broke, and everybody get ready to do your math." At the end of the math, each member of TLC is left with a mere $300,000. And while the album Chilli and T-Boz are hoping to Kickstart is no doubt made with a much lower budget, all of the factors (production costs! collaboration fees! perhaps even a marketing budget!) are still there. You know, they plan to sell this thing, not just give it as an award to the Kickstarter backers.
Not to mention, the cynic living deep inside us all cries: "It's not the same without Left Eye!" And, yes, nasty little Cynic Monster, you are correct. The fact that they are going to Kickstarter, opposed to the traditional route, reinforces the idea that this is not necessarily something the people want. Sure, the girls have tried to match the power of TLC without "L" for some time now: Their short-lived reality show, R U the Girl?, even tried to "replace" her for a single and tour; a song called "Crooked Smile" alongside J. Cole; the single "Meant to Be" on a compilation album with Epic Records; the well-received VH1 TLC biopic that the girls executive produced. But nothing matched the legacy of the band. Will the newsiness of a "final album" suddenly change the tide? Will TLC's longtime songwriter and producer Dallas Austin (who notably dated Chilli and fought with the band) reunite with the girls? Are we really supposed to buy that this will indeed be the last we hear from TLC? Perhaps, instead of selling this as "TLC's final album," Chilli and T-Boz switch things up and celebrate a newfound collaboration. No doubt, TLC fans will support them either way.