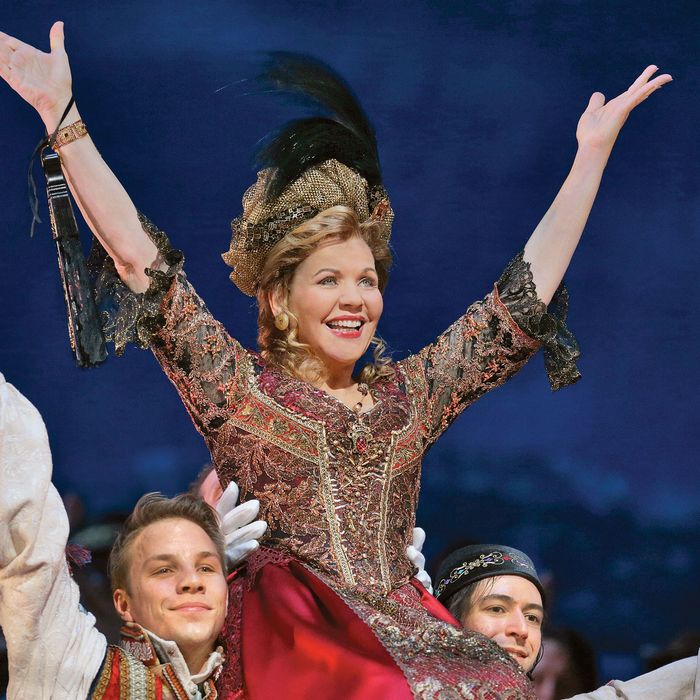 It takes so long for the Metropolitan Opera's new production of The Merry Widow to warm up that it barely reaches the temperature of day-old bathwater before the final dose of foam. How could Franz Lehár's weightless meringue of charm, wistfulness, melody, and dance yield a performance so clotted and dense? How could so much onstage talent work so hard and produce so little? Why does a gig at the Met discombobulate so many confident directors? Susan Stroman, the genius of Contact, has strewn the stage with such sad mysteries.
The answers may lie partly in insufficient rehearsal, misjudged chemistry, or a rigid operatic schedule that doesn't permit previews or midcourse adjustments. But one glaring cause of this show's dysfunction is its miscast star. Throughout her career, Renée Fleming has often glided around the lyric stage in a bubble of self-absorption so shiny and seamless that her partners could shave in its surface. When it works, it's because a role enriches that magnificent isolation, or because from within her mandala she dispenses singing of irresistible refinement.
In The Merry Widow, though, she sings Hanna Glawari, the flamboyantly manipulative peasant's daughter whose plutocrat husband survived their wedding but not the honeymoon. Rich, beautiful, young, and gauche, Hanna enjoys being admired. Fleming, on the other hand, seems to find the role a slightly embarrassing ordeal. Bewigged as if for an evening of mah-jongg in a Boca Raton retirement village and gowned in a way befitting a tasteless rustic with limitless funds, she simpers strenuously for her own benefit. Nathan Gunn, one of the hardest-working men in the opera business, sings the role of the wooden-brained Count Danilo, so out of touch that he can't bring himself to say "I love you." Actually, Gunn spends the whole evening knocking at Fleming's invisible carapace, trying to get through. He flourishes his natural seductiveness, buffs his velvety baritone, coos, insinuates, dominates, and withdraws, doing a passable Cary Grant. He'd make a fine Danilo for another Hanna, but as for Fleming, he might as well be wooing a hologram.
With the end of her stage career flickering on the horizon, Fleming can be forgiven for sounding less limber and glossy than the ideal Hanna. It's hard to swallow her sluggish singing, which makes her merriness suspect. Her great moment should be the "Vilja Song," which lilts prettily through the golden center of Fleming country, now curling into downy lows, now wafting to wispy high pianissimi. In concert, she has regularly amped up the aria's faux-folk melancholy and ignored its undertone of light mockery. (This is a tune from the kind of nonexistent Balkan nation that Groucho Marx might have been delighted to lead.) Onstage, Fleming seems suddenly unconvinced, as if trying to remember what it felt like to love singing and coming up with dutiful impersonation instead.
The Met has cushioned its fragile diva in largely ineffectual luxury. Sir Thomas Allen, still a master of diction and dignified comedy at 70, sings the role of the warmhearted, softheaded diplomat Baron Mirko Zeta with his customary class. But he and the rest of the cast are stuck with an English translation by Jeremy Sams that does little to juice the operetta's wan wit, and with sets by Julian Crouch that make Vienna in its opulent heyday look like a pasteboard diorama. Conductor Sir Andrew Davis evidently relishes Lehár's floating, flexible score—all those inhaled upbeats and weightless waltzes, the breezy, caressing tunes. But while the orchestra responds, he doesn't always have the cast at his side, and the ensemble numbers have a tendency to blur.
The production's greatest riddle is that Stroman seems bored by this lovely operetta, at least until the final act at Chez Maxim, a café dansant out of a Toulouse-Lautrec. There, she finally finds her natural elements: bodies in motion, graceful legs, swirling skirts, and clouds of perfume, sex, and glee. Kelli O'Hara comes alive in the finale as Valencienne, a nobleman's wife who wishes she had the nerve to be a chorus girl, or at least somebody's honest-to-goodness mistress. Having spent the previous acts politely declining to upstage Fleming, O'Hara finally unleashes her inner hoofer, dancing and singing with almost enough desperate good cheer to resuscitate a dud. Alas, on the night I attended, the ensemble's men had just hoisted O'Hara onto their shoulders for the high-kicking climax when a piece of scenery misbehaved, shutting down the performance for nearly 30 minutes a quarter-hour before the end. That's showbiz, and O'Hara did her best to lighten the mood with a couple of choice ad-libs, but on this night the interruption felt like a suffering show's final indignity.
The Merry Widow, by Franz Lehar and directed by Susan Stroman, is at the Metropolitan Opera through May 7. 
*This article appears in the January 12, 2015 issue of New York Magazine.