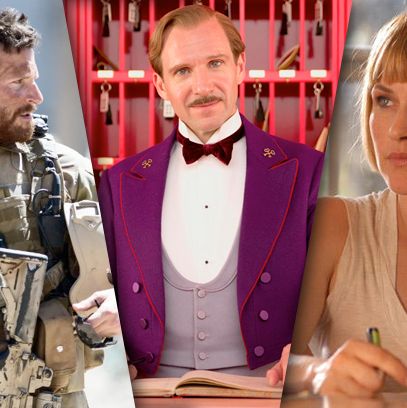 Tomorrow morning the Oscar nominations will be announced, so we are republishing Kyle Buchanan's predictions.

Every week since the end of September, Vulture has consulted its crystal ball to determine the changing fortunes in this year's Oscar race, and now we've reach the end of the line: The nominations will finally be announced this Thursday, January 15. With all the other awards precursors having weighed in, which films have the most momentum going into nomination week? Which actors do we expect to make the short list, and who could get snubbed? Read on to find out for whom this final week of campaigning has paid dividends, and which contenders we expect to be nominated in each category. 

Best Picture

American Sniper
Clint Eastwood's war drama has been over-achieving in limited release, racking up some of the best per-screen numbers ever, and it also had a gangbusters week with the guilds, landing nominations with both the PGA and WGA. The former laurel, in particular, suggests pundits may have been sleeping on its long-term awards prospects. Suddenly, it seems like Sniper could sneak onto the Best Picture shortlist.

Unbroken
What the PGA giveth, the PGA taketh away: Unbroken was snubbed by the Producers Guild, even though that's an awards-giving group predisposed to liking large-scale studio movies. If Angelina Jolie's film couldn't even make that top-ten, does it have a chance with the more discerning Academy?
Current Predix
Birdman; Boyhood; Foxcatcher; Gone Girl; The Grand Budapest Hotel; The Imitation Game; Nightcrawler; Selma; The Theory of Everything; Whiplash
Best Director

Richard Linklater, Boyhood
Boyhood was feted at an insanely crowded Chateau Marmont party this past week and the crush of people waiting to kiss Linklater's ring was telling. Voters like to back a winning horse, and it's clear now that Linklater is going all the way.

Ava DuVernay, Selma
Rocked by allegations of inaccuracy, Team Selma has spent the last two weeks playing defense, and that's before the film was blanked by both PGA and BAFTA. DuVernay's once-assured nomination is now in jeopardy, and she'll have to rely on the directors' branch — an awards body that often goes its own way — to put her over the top.
Current Predix
Damien Chazelle (Whiplash); Ava DuVernay (Selma); Alejandro González Iñárritu (Birdman); Richard Linklater (Boyhood); Morten Tyldum (The Imitation Game)
Best Actor

Ralph Fiennes, The Grand Budapest Hotel
Wes Anderson's film has performed strongly in most precursors and even managed to squeeze Ralph Fiennes into BAFTA's Leading Actor final-five. Yes, BAFTA is partial to British actors, but Fiennes surmounted some heavy competition in that category, suggesting a base of support.

David Oyelowo, Selma
It was startling that BAFTA utterly snubbed Selma, especially in this category, where you would have expected a nod for the British Oyelowo. Last week, I asked who the big Best Actor omission would be at the Oscars; now, with momentum not on Selma's side, I'm sadly convinced it will be Oyelowo.
Current Predix
Steve Carell (Foxcatcher); Benedict Cumberbatch (The Imitation Game); Jake Gyllenhaal (Nightcrawler); Michael Keaton (Birdman); Eddie Redmayne (The Theory of Everything)
Best Actress

Amy Adams, Big Eyes.
Since Cake wasn't eligible for BAFTA attention, stalwart campaigner Jennifer Aniston left a spot open in the Leading Actress category, and Amy Adams took it.

Julianne Moore, Still Alice.
Still, it doesn't matter much. Julianne Moore still has this sleepy category on lockdown.
Current Predix
Jennifer Aniston (Cake); Felicity Jones (The Theory of Everything); Julianne Moore (Still Alice); Rosamund Pike (Gone Girl); Reese Witherspoon (Wild)
Best Supporting Actor

Robert Duvall, The Judge
BAFTA voters unexpectedly slotted Foxcatcher's Steve Carell in the supporting category, which pushed Duvall out of the final five. I would agree that he's the most vulnerable candidate in his Oscar category, too, but is there an on-the-bubble contender strong enough to displace him?

Christoph Waltz, Big Eyes
Waltz has won two BAFTA trophies but he didn't manage to make the list this time, even though his costar Amy Adams snagged a nomination.
Current Predix
Robert Duvall (The Judge); Ethan Hawke (Boyhood); Edward Norton (Birdman); Mark Ruffalo (Foxcatcher); J.K. Simmons (Whiplash)
Best Supporting Actress

Rene Russo, Nightcrawler.
Hooray for Rene, who earned a well-deserved Supporting Actress nomination at the BAFTAs. We'll lift a margarita to that!

Meryl Streep, Into the Woods.
What happened here? The BAFTAs shafted A Most Violent Year's Jessica Chastain — understandable, since the film is small and she's not the most hotly tipped competitor in this category — but Meryl Streep was also snubbed for the widely seen Into the Woods. British voters don't always get these things right (last year, they excluded eventual Oscar winners Matthew McConaughey and Jared Leto) but it's still a puzzling omission.
Current Predix
Patricia Arquette (Boyhood); Jessica Chastain (A Most Violent Year); Keira Knightley (The Imitation Game); Emma Stone (Birdman); Meryl Streep (Into the Woods)