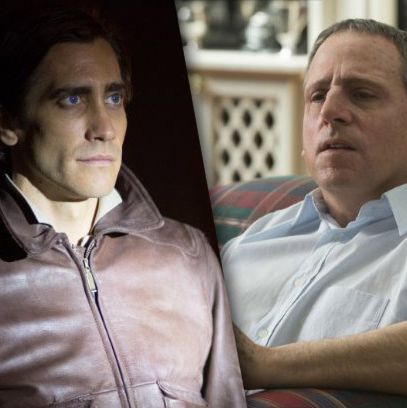 Photo: Chuck Zlotnick, Scott Garfield/Fairfield
Every week between now and January 15, when the nominations are announced, Vulture will consult its crystal ball to determine the changing fortunes in this year's Oscar race. Check back every Friday for our Oscar Futures column, when we'll let you in on insider gossip, confer with other awards-season pundits, and track industry buzz to figure out who's up, who's down, and who's currently leading the race for a coveted Oscar nomination.
Best Picture

Boyhood
You couldn't read a year-end top-ten list that failed to mention Richard Linklater's coming-of-age epic, further anointing Boyhood as the rare title in this year's Best Picture race that can claim critical bona fides yet still feel like the populist consensus pick. Currently, it's the film to beat — but will the Golden Globes flip for it, too?

Unbroken
Like Louis Zamperini himself, Unbroken staggered into release having suffered more than a few punches, but defied expectations to top the Christmas box office with an impressive $62 million in the till so far. That's exactly the headline this movie needed to climb back into Oscar contention, and in a category that's lacking a wide-release blockbuster (aside from the on-the-bubble Gone Girl), Unbroken may have just nabbed its Best Picture slot.
Current Predix
Birdman; Boyhood; Foxcatcher; Gone Girl; The Grand Budapest Hotel; The Imitation Game; Selma; The Theory of Everything; Unbroken; Whiplash
Best Director

Morten Tyldum, The Imitation Game
The Weinsteins are rolling this one out in steady limited release in a manner that recalls their treatment of The King's Speech, but it's actually doing even better than that eventual Best Picture winner. Like most of the year's biopics in Oscar contention, The Imitation Game has had to weather recent claims of inaccuracy, but it's doing so well with audiences that it has to be considered a potent dark horse in several categories.

Ava DuVernay, Selma
As though they'd been lying in wait, a strong oppositional team emerged this past week to take down Selma, claiming one of the movie's central conceits — that Lyndon B. Johnson dragged his feet on the Voting Rights Act — is a fallacy invented by DuVernay. The helmer got out in front of the accusations (the savvy DuVernay is a former publicist) and forcefully rebutted them on Twitter, but there's no denying that Selma got dinged a bit this week.
Current Predix
Ava DuVernay (Selma); Alejandro González Iñárritu (Birdman); Richard Linklater (Boyhood); James Marsh (The Theory of Everything); Morten Tyldum (The Imitation Game)
Best Actor

Jake Gyllenhaal, Nightcrawler
Once considered a long shot, Gyllenhaal has picked up so much juice over the past few weeks that the new question is "Which high-profile contender will he push out of the Best Actor race?" Michael Keaton and Eddie Redmayne appear locked in, but everyone else should be sweating. Benedict Cumberbatch stars in a strong contender, but is he this year's Tom-Hanks-in-Captain Phillips, overlooked for being solid but not showy? David Oyelowo is titanically good in Selma, but is the film too late-breaking for him to be a sure shot at a nomination? And then we come to …

Steve Carell, Foxcatcher
More than most of the men up for Best Actor, Carell is regarded as the vulnerable fifth pick who could fall to Gyllenhaal. His Foxcatcher role couldn't be more Oscar-friendly on its surface — voters love a physical transformation almost as much as they adore a comic actor gone serious — but the movie isn't for everyone and can now count among its detractors the real-life Mark Schultz, who's played by Channing Tatum in the film. Schultz pulled an about-face on social media and let loose on Foxcatcher this week, vowing to take down director Bennett Miller. More likely, he just torpedoed Carell.
Current Predix
Benedict Cumberbatch (The Imitation Game); Jake Gyllenhaal (Nightcrawler); Michael Keaton (Birdman); David Oyelowo (Selma); Eddie Redmayne (The Theory of Everything)
Best Actress

Reese Witherspoon, Wild.
The movie is doing well in semi-wide release and will soon overtake The Theory of Everything as the Best Actress vehicle with the second-biggest box office haul (behind Gone Girl, pushing Rosamund Pike). Still, Witherspoon would seem a more potent threat to category front-runner Julianne Moore if Wild was generating some Best Picture heat, which it confoundingly isn't.

Amy Adams, Big Eyes.
Adams is an Academy Awards stalwart but her minor-key performance was lost in the Christmas rush, as Big Eyes did disappointing business in its debut. I still live in fear that her scenery-chewing co-star Christoph Waltz may find his way into contention, though.
Current Predix
Jennifer Aniston (Cake); Felicity Jones (The Theory of Everything); Julianne Moore (Still Alice); Rosamund Pike (Gone Girl); Reese Witherspoon (Wild)
Best Supporting Actor

Tom Wilkinson, Selma
As LBJ, Wilkinson has a great arc in this film and a killer pair of final scenes, but he's also the most likely to be hurt by claims that Selma has stretched the truth.

Josh Brolin, Inherent Vice
Of Inherent Vice's sprawling ensemble, Brolin once seemed like the movie's best shot at an Oscar nod, but this campaign hasn't really caught fire. More important, now that the movie is out there in the world instead of cosseted by critics, I'm hearing absolutely poisonous buzz.
Current Predix
Robert Duvall (The Judge); Ethan Hawke (Boyhood); Edward Norton (Birdman); Mark Ruffalo (Foxcatcher); J.K. Simmons (Whiplash)
Best Supporting Actress

Meryl Streep, Into the Woods.
Disney's Stephen Sondheim musical did pretty great business in its opening frame, boosting Meryl Streep's chances in this category. It still doesn't feel, though, like anyone launched a campaign potent enough to dislodge Boyhood's Patricia Arquette, who's been sitting pretty as the Best Supporting Actress front-runner since Oscar season began.

Keira Knightley, The Imitation Game.
Her movie continues to amass power, but the nomination may be as far as Knightley can go. Still, it'll be her first Oscar nod in almost a decade.
Current Predix
Patricia Arquette (Boyhood); Jessica Chastain (A Most Violent Year); Keira Knightley (The Imitation Game); Emma Stone (Birdman); Meryl Streep (Into the Woods)