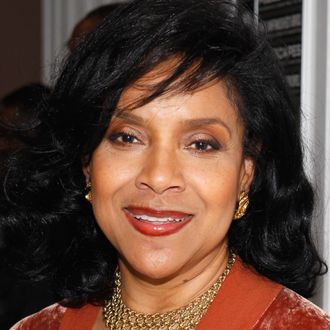 Photo: Mark Von Holden/2012 Getty Images
Not long after The Cosby Show's Keshia Knight Pulliam spoke up about Bill Cosby (after an uncomfortable firing from The Celebrity Apprentice), another Cosby Show alumna has come to the comedy legend's defense. Phylicia Rashad, who played Cosby's wife on the sitcom, told Roger Friedman's Showbiz 411 that she loves Cosby and stands behind him. The sexual misconduct that her former co-star has been accused of is unrecognizable, she contended, and is purportedly a result of someone trying (successfully) to keep Cosby off TV.
Regarding the allegations, she said:
Forget these women. … What you're seeing is the destruction of a legacy. And I think it's orchestrated. I don't know why or who's doing it, but it's the legacy. And it's a legacy that is so important to the culture.
When asked about the legacy of a show she helped shape, too, Rashad said:
This show represented America to the outside world. This was the American family. And now you're seeing it being destroyed. Why?
Cosby has been notoriously silent with regard to the Costco-size bulk of allegations he's dealing with. Rashad thought maybe that's because he's too proud to raise a defense. As of now, Cosby has not been charged with any crimes stemming from the accusations, but CNN has reported that two more women, Linda Traitz and Therese Serignese, have joined Tamara Green's December defamation suit, which takes issue with Cosby's accusers being publicly labeled liars.