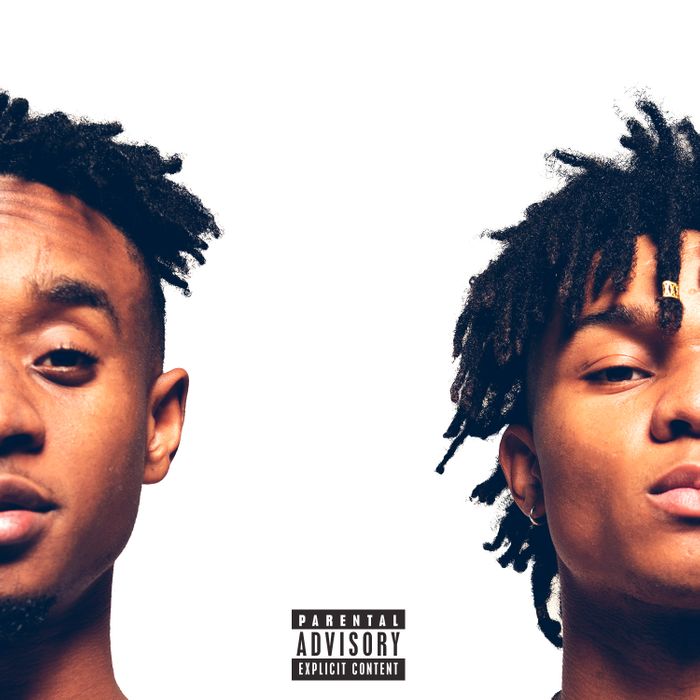 It was one of 2014's great, unexpected success stories: At the beginning of the year, you would have been hard-pressed to find someone who could correctly pronounce the name of Tupelo, Mississippi, hip-hop duo Rae Sremmurd, and by the end … well, that was still true, but there were a lot more people trying. (For the record: "SHRI-murd.") For the past six months, the pair's giddy, hypnotic "No Flex Zone" has been inescapable, from the A-list to the underground (as in: whether you heard it at Solange's wedding or just followed along on the internet). The charms of "No Flex Zone" are obvious and immediate. It's bouncy, irreverent, and playfully childlike. That plinking, four-note hook made every car bumping it at a red light this summer sound like a very swagged-out ice-cream truck. 
Rae Sremmurd is actually two people, brothers Slim Jimmy and Swae Lee. Lee has a lilting, candy-coated croak; Jimmy sounds like a bullfrog with emphysema. Both dress like Willow and Jaden Smith the day after they Google Image–searched PM Dawn. The two used to make music in Mississippi under the name Dem Outta St8 Boyz until they moved to Atlanta and linked up with ubiquitous producer Mike Will Made It; their current name is Mike Will's label "Ear Drummers" spelled backwards. Much like fellow Atlanta weirdos Migos, Rae Sremmurd's sound relies on a kind of ecstatic repetition, where a single word or phrase (unlock the swag; lit like Bic; up like Trump) is chanted so many times that it moves past annoying, transcends catchy, and takes on the glow of some kind of divine if spiritually questionable mantra. The Tao of Sremm is almost exclusively about partying and having fun — a concept succinctly summed up in the song title "Safe Sex Pay Checks" — but they wield their positivity so assertively that it takes on a quality of defiance. In a recent interview, a journalist asked Lee and Jimmy about a period in their teens when they were homeless, clearly expecting them to answer with the kind of gravitas that would square with a traditional rags-to-riches narrative. "It was fun!" Jimmy responded instead, and waxed nostalgic for their days of throwing parties in abandoned houses and playing their self-recorded demos as the soundtrack. "It is what you make it," he said. "You can have nothing and be sad, or you can have nothing and be like, positive and look at it in a good way and try to make your circumstance better."
Though Sremmlife, their debut LP, has arrived punctually enough to ride the unexpected success of "No Flex Zone" (61 million YouTube views) and their latest single "No Type" (which rose to No. 19 on this week's Billboard Hot 100), the record feels fully realized rather than rushed. The best songs — "Unlock the Swag," "Up Like Trump" — rely on that proven Rae Sremmurd strategy: Come up with a catchy phrase, chant it in a goofy voice, repeat until it's permanently drilled into the listener's subconscious. There's a glimmer of young Weezy about them — especially Jimmy's reckless ebullience on "Lit Like Bic" — but the fun of listening to Rae Sremmurd doesn't have to do with clever wordplay or inventive flow so much as the seemingly more superficial but equally important fact that it's just really fun to hear them say shit. (This is a gift they share with Young Thug and Nicki Minaj, both of whom appear on Sremmlife and feel right at home in its bizarre atmosphere.) Their deliveries are full of wonderful surprises: For some reason, Lee sings the hook of "Unlock the Swag" like a senile grandfather with a mouth full of dip, while, even more impressive, Jimmy raps part of "Up Like Trump" like he's burping each word.
As he was on Future's Honest and Miley Cyrus's Bangerz, Mike Will Made It is credited as executive producer on Sremmlife. The record feels reminiscent of Compton rapper YG's DJ Mustard–produced 2014 debut My Krazy Life, if only because it is in equal measure a snapshot of an up-and-coming artist's gate-crashing energy and a unique young producer hitting his prime. (Mike Will's recent mixtape, Ransom, is spottier; too many of the guesting veterans bring their B- or C-game, while Jimmy and Lee emerge as two of its more memorable stars.) Over the past few years, as the producer behind hits like Juicy J's "Bandz a Make Her Dance," Miley Cyrus's "We Can't Stop," and Rihanna's "Pour It Up," Mike Will has added a viscous, post-Timbaland surreality to mainstream pop and hip-hop, doing to your radio roughly what Dalí did to clocks. The watermark of Mike Will's production is a sense of slurry darkness and even melancholy that bubbles up at unexpected moments. Listen to "We Can't Stop" without Miley's vocal, and the song sounds not like a Solo-cup anthem but a haunting, player-piano melody resounding through an empty mansion. Which means Will's great with artists like Future and Rihanna, whose voices already convey an overwhelming sense of pathos, but also that there's an interesting tension that arises when he works with artists as irrepressibly exuberant as Miley or Rae Sremmurd. Sremmlife is more "We Can't Stop" than "Bandz a Make Her Dance." There's something menacing about its positivity, militant about its fight for the inalienable right to party.
At 11 tracks, Sremmlife is terse enough that Rae Sremmurd's lack of range hasn't yet become a problem (though the final song, the free-shots-for-everybody anthem "Safe Sex Pay Checks," is the only one that veers dangerously close to corniness). And there is a string of songs in the middle of the record ("My X," "This Could Be Us," "Come Get Her") that make me wish — as Future too often does — that the New Weirdos weren't still so stuck on the Old Misogyny. Yawn. But in pretty much every sense, Sremmlife is the kind of record that asks to be taken at face value, and what it gives us on that level is plenty: a fun but pointed rebuttal to the skeptics who thought Jimmy and Lee were nothing more than a novelty single. Learn to say that name — Rae Sremmurd aren't disappearing anytime soon.