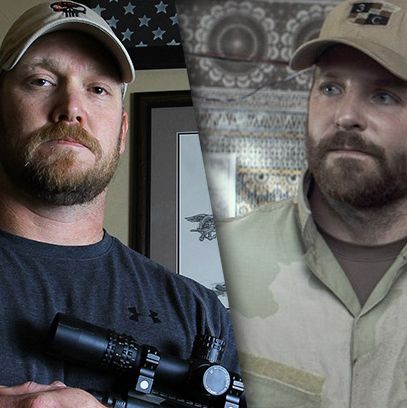 Moviegoers love Chris Kyle's story, that much is certain: American Sniper, the movie version of the former SEAL's same-named 2012 memoir, earned a record-smashing $90.2 million over the weekend. But did they get the whole story? As Clint Eastwood's movie tells it, Kyle — the deadliest sniper in U.S. military history, played on film by Bradley Cooper — was a hero despite a few faults. But one of the faults that the film ignores is that Kyle was sort of a fabulist. Though his accomplishments on the battlefield have never been in dispute — he's credited with 160 confirmed kills — a few of his tall tales are. Here are Kyle's five biggest whoppers.
He punched Jesse Ventura in the face, knocking him to the ground.
The most famous of Kyle's lies. According to his book American Sniper, a celebrity who used to serve in the military showed up at a San Diego bar in 2006 during a wake for a fallen SEAL. In the book, Kyle refers to the celebrity as "Scruff Face," but later identified him as Ventura on The O'Reilly Factor and "The Opie and Anthony Show." A former SEAL himself (though some dispute that), Ventura allegedly railed against the war and said the Navy SEALs "deserved to lose a few guys." That's when he got punched.
Ventura denied it happened and then sued. After Kyle was tragically killed in 2013, Ventura refused to drop the suit and last July he won. A jury ruled that Kyle defamed Ventura and awarded him half a million dollars in defamation damages along with $1.35 million for "unjust enrichment." Though Kyle didn't live to see the verdict, he defended himself in a deposition he gave a year before his death. But that didn't do him any favors. According to a report in the Star Tribune, Kyle told a story that was full of inconsistencies and admitted that some of the details in the book were not true. Still, he maintained that he punched Ventura.

He killed dozens of looters during Hurricane Katrina from atop the Super Dome.
According to Nicholas Schmidle, a reporter for The New Yorker, Kyle once told a group of fellow SEALs about the time he traveled to New Orleans after Hurricane Katrina and, according to Schmidle's 2013 article, shot "dozens of armed residents who were contributing to the chaos." When Schmidle tried to corroborate the story with SOCOM, he was told no SEALs from the West Coast were sent to New Orleans after Katrina. Kyle's officer told the writer he "never heard that story" and another SEAL told him Kyle's story of murdering Americans on American soil "defies the imagination." It's hard to argue with that.

He shot two guys who were trying to steal his truck.
Unlike the previous two stories, it's less obvious that this one is a lie, but plenty of people have called it that. It happened in January 2010 when Kyle was filling up his gas tank outside Dallas. Two men approached Kyle and demanded his keys, the SEAL told a reporter for Dallas's D Magazine. Instead, Kyle deposited two bullets in their chests. Then the story goes off the rails. Police allegedly let Kyle go because they were told by "someone high up in the government" what a valuable asset he was. The only reminder of the incident, says Kyle, was the occasional email he received from law enforcement thanking him for "cleaning up the streets." The Fort Worth Star-Telegram tried and failed to corroborate the story. So did The New Yorker.

Protesters called him a "baby killer."
In Kyle's book, he claims he saw war protesters carrying signs that said "baby killer" — which is a bunch of bull according to Michael McCaffrey, who combed through American Sniper for inaccuracies. McCaffrey questions the story because, "That would also make not only the local news, but national news. And other vets would have reported the same thing on their own websites or chat rooms. None of that happened." Instead, McCaffrey alleges, Kyle is repeating an "urban myth from the Vietnam era."

He found chemical weapons in Iraq that came from France and Germany.
Another allegation from McCaffrey centers on a short passage in Kyle's book in which he writes "we found barrels of chemical material that was intended for use as biochemical weapons," and "writing on the barrels showed that the chemicals came from France and Germany." McCaffrey writes that this story is lie because "there is no proof or evidence that this incident occurred." Makes sense.