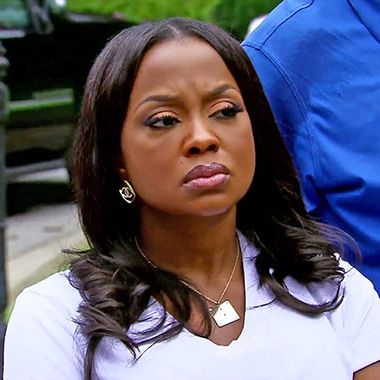 Just in case the memory of Martin Luther King Jr. hasn't been sullied enough by Madonna's endless shenanigans, Cynthia and Peter compared their desire to move BarOne to a different neighborhood to his "I Have a Dream" speech just because his body was briefly interred in a funeral home across the way before he was buried. "He had a dream, and we have a dream!" Did Ava DuVernay put that in Selma?

I have a dream that one day this nation will rise up and live out the true meaning of its creed: Let every horrible business-owner try again and again to compare massive racial brutality and injustice to their inability to keep money in the damn bank.
I've watched enough HGTV to know that they could turn this garbage dump of a property into something special with enough time and effort, but the real question is: Why? Why are they still trying to make Sparkle Motion happen? I no longer care about Cynthia throwing good money after bad to keep Peter's drunken dreams afloat, but why is she chasing opportunities to turn a polished turd into a good business decision? Cynthia might be seeing South Beach or swanky New York, but that back patio looks like a tire fire waiting to happen. She's digging her heels in but in all the wrong ways. There's nothing wrong with having some backbone, but that doesn't mean you have to just stand by every dumb idea that floats through your head. She did say that her dealings with the now-defunct Uptown Supper Club caused her fibroids, so if you want to flirt with karma and take your health into your own hands, ya get what ya get.
Claudia showed up to the Kandi Factory in a dress made of Band-Aids to turn Kandi (wearing a shirt with zippers strategically placed to air out your sideboob) into her smart friend. Kandi welcomed her to the new set of Kandi-Koated Nights, which almost has one to many Ks for my liking, and once they worked out that Claudia is incredibly open and honest, concocted the idea for some sort of sexy girls-night hangout session. My question is: What is going on in Atlanta that makes constant throat congestion a regular affliction? Is the simple answer just allergies? Because Claudia seems confounded, and Kandi seems to think it's just the way things are. Claudia swears she and Porsha share "African friends," which seems like code for a sex act until you realize she's just talking about Porsha's Nigerian boyfriend. The party is a whole big mess that we'll get to in a minute, but when Claudia came back to guest on Kandi-Koated Nights, Kandi led with a question about the rumor that Claudia gave a blow job to Jamie Foxx, so my gag reflex is now permanently engaged.
Apollo shows up like a bad penny whenever possible, this time choosing to interrupt Phaedra's meeting with three different contractors about reinforcing the gate surrounding her home. She wants to keep "the kids in and the crazy out," which makes sense for a well-known, soon-to-be-single woman, but Apollo of course feels like he's been on the receiving end of a personal assault because he wasn't invited. You're never home! How the hell is anyone going to invite you to anything, Apollo, when you're in the middle of your never-ending farewell tour? Also, it's really none of his business what kind of fence she puts up because he's not paying for it, and he's not going to be there to use it. Ask about that fence when your ass gets out of jail and can't figure out how to get back in the house! It makes no sense when he says that Phaedra should wait until he goes to prison to put up the gate, but of course it feeds into his delusion that the world should revolve around him. Your pretty face doesn't fool me, man — you're a chump, Apollo! Phaedra gets over it by accepting an award for Best Lawyer Ever™ or something at one of Atlanta's nonstop white parties. Between my love of queso and hatred of laundry, I would never be able to socialize in Atlanta. Mayor Kasim Reed ignored the memo and just accepted his award in all gray, though, so maybe I'd be able to sneak into a few parties. Phaedra's acceptance speech was basically, "I'm honored that you honored me," and she looked cute despite still making me feel uneasy. I just don't think either she or Apollo come out looking great lately, you know?
Kenya took her Aunt Lori for a bullshit facial in order to squeeze some validation out of her for taking the high road with Porsha and NeNe, and the best part was that Aunt Lori's hair was warmly and gorgeously dyed to look like a bucket of tricolor Christmas popcorn. 

I still cannot handle Nasty NeNe this season, but it was sort of hilarious to watch her turn up her nose at the Broadway role she ended up taking anyway when her agent called with some offers. Gregg great-grandpa'ed all over the place by asking if African Black Soap was soap for black people, and I continue to hate it when people say they order so much stuff online, they can't remember what they're getting in the mail. What are you, the Queen of Zamunda? I can account for every square of toilet paper I order on Amazon, and you'd better believe I'm waiting at my mailbox to high-five the UPS person when it arrives. Housewives used to showcase their opulence with lavish shoe-shopping trips, but now they just make us seethe with their cavalier attitudes about shipping.
Okay, this party. Are they trying to make Demetria happen as a housewife or something? We're already full up! Kandi invited Demetria, a girl named Toby, and a little Oompa Loompa I'm calling Goji Berry to break up the terminal hatred of the other women. There was a lot of food, a woman lying on a table for no discernible reason, and NeNe acting like a straight-up asshole right away. Remember how she "made up" with Kenya and gave Cynthia a two-year rain check last week? This week, she physically recoiled from them both when they said hello and acted like she had goddamn amnesia. What is her game? It makes no sense to keep the feud going, and no one is interested in her antics. Kandi later said she ruined the vibe of the party, and my only question is: Why do y'all keep inviting her, anyway? NeNe tried to pull the same "I don't know you" stunt with Claudia, whom immediately pulled aside and said, "I felt your cold shoulder." I love her so much! NeNe's only defense is that Claudia associates with people she doesn't like, but that logic doesn't work when it applies to all of Atlanta. Kandi decided to move the party into the inner sanctum, which was a many-curtained room with two naked men in black ski masks flanking the entrance. So far there is nothing sexy and everything terrifying about this entire operation!

Not even sexologist Rachel Ross can save them with her bondage game. Did they ever actually play the game she was describing? After NeNe refused to be strapped to Cynthia, Kandi switched up the pairs, but all they did was watch her awkwardly mount Kenya on the floor and roll over. How many points do you get for that? How many years off of your life? The next icebreaker involved everyone telling the room how long they've been with their partner, and all hell broke loose when Goji Berry revealed that she dated Roger Bobb two years ago, right after Demetria said she'd been with his "exquisite dick" for eight years. Demetria was embarrassed, which I don't understand — she's known for a long time that their relationship was hidden as well as on-again, off-again, and she even said so herself! It wasn't cool of Kandi and Carmon to laugh at her right to her face, but it's definitely funny that these two ended up in the same room despite Kandi's desire to have a drama-free gathering. Demetria took her pantsuit and left, with Cynthia nipping at her heels, only to admit that she doesn't even believe Goji Berry. Is there a gas leak in Atlanta that's specific to women giving men the benefit of the doubt (looking at you, NeNe and Phaedra)? At least a million people saw Roger Bobb out on the town with other women, whether Demetria is willing to admit it or not. It's not even a matter of whether you believe Goji Berry or not! I resent that we're even spending time on this non-Housewife malarkey when there's plenty of beef between the actual crew to tide us over. Thank God Dr. Ross got out some pixelated dildos to end the night on a high note.
The only thing you need to know about next week is that NeNe yells, "Your clit has left your body!" while they're all on vacation in Puerto Rico, so I'd better see you here!