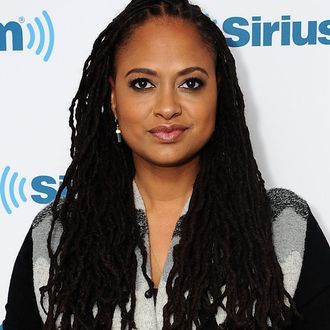 Like many Best Picture contenders that have come before, Selma is being dinged for its supposed historical inaccuracies, with director Ava DuVernay being criticized by Lyndon B. Johnson scholars and his former aides for depicting the president as being pressured by Dr. Martin Luther King Jr. into introducing the Voting Rights Act of 1965, instead of the other way around. There's also some uproar over the film's possible suggestion — if you're reading a lot into the editing of a particular scene — that LBJ was involved in the FBI disparaging King. Yesterday, the uproar seemed to have won, with Selma getting snubbed by the Producer's Guild, perhaps the best predictor of which film will eventually take home Hollywood's top prize.
How is it possible that the conversation surrounding the only major film to have been made about Dr. King's legacy is now centered on someone who is not King?
"Every historical film has poetic licenses. I mean, this is not a documentary," said Henry Louis Gates Jr. at a luncheon today for the film held at the once-male-only Metropolitan Club on Manhattan's Upper East Side. "This is a feature film, and I think both the script and the direction are masterpieces, and any attempt to make this about the Great White Father is misdirected." Gates thinks the issue is that no one, including African-Americans, are used to seeing black people represented onscreen as heroes in historical dramas, and that there seems to be an instinct to try to shift that focus back onto typical historical figures and back to the traditional storytelling, which in this case means railroading the perspective of a black female director telling the story of black activists. "I mean, nobody's given Steven Spielberg shit about what he changed in the actual Schindler story," said Gates. "And no one should. Or Lincoln. There are all kinds of things that happened in the film that didn't actually happen in reality." And, Gates points, out, historical accuracy in film is impossible. "Only God knows what literally happened in an historical event," he said. "I think actually it's a compliment to the film because it's so powerful it's forcing people to think about it and they're debating about it and that's all to the good. This will pass. It's a tempest in a teapot."
Common, who performed his Oscar-contender original song "Glory," with John Legend, was more diplomatic, saying that he respected the opinions of LBJ's defenders, but said about the accusations, "I understand that they've got to be addressed, but I wouldn't focus on it too long, because this film is a positive force in the world."
For her part, DuVernay also tried to stay on an even-keel, but did defend her film during a Q&A with moderator Gayle King, Selma star David Oyelowo, and Gay Talese, who covered Selma for the New York Times in 1965: "For the film to be, I think, reduced — reduced is really what all this is — to one talking point of a small contingent of people who don't like one thing, I think is unfortunate."
Here are her full remarks:
I think everyone sees history through their own lens and I don't begrudge anyone from wanting to see what they want to see. This is what I see, this is what we see. And that should be valid. I'm not gonna argue history. I could, but I won't. I'm just gonna say that my voice, David's voice, the voice of all the artists that gathered to do this, [and] Paramount Pictures which allows us to amplify this story to the world, [are] really focused on issues of justice and dignity. And for this to be I think reduced—reduced is really what all this is—to one talking point of a small contingent of people who don't like one thing, I think is unfortunate, because this film is a celebration of people, a celebration of people who gathered to lift their voices, black, white, otherwise, all classes, nationalities, faiths, to do something amazing. And if there's anything that we should be talking about in terms of legacy, it is really the destruction of the legacy of the Voting Rights Act and the fact that that very act is no more in the way that it should be protecting all voices to be able to be heard and participate in the electoral process. That is at risk right now. There's been violence done to that act that we chronicle its creation in our film. So I would just invite people to keep their eyes on the prize and really focus on the beautiful positives of the film. And that was our intention.