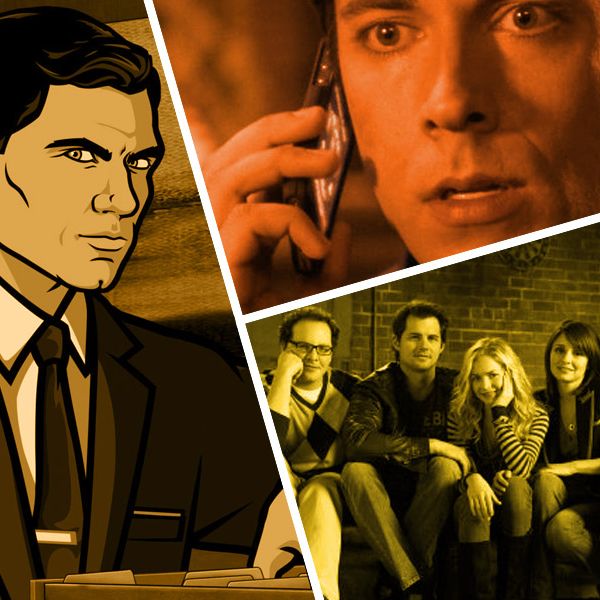 Welcome back to Stay Tuned, Vulture's TV advice column. Each Wednesday, Margaret Lyons answers your questions about your various TV triumphs and woes. Need help? Have a theory? Want a recommendation? Submit a question! You can email staytuned@nymag.com, leave a comment, or tweet @margeincharge with the hashtag #staytuned.
I've been rewatching The League recently while waiting for my newfound love You're the Worst to return. What would you recommend that I watch for comedy/rom-dramedy to hold me over until next season? I've watched Californication, but it didn't really charm me as much as those other two. HIMYM and Happy Endings just aren't cutting it for me in the meantime. —Sadie
If you like the bouncy nihilism of The League and YTW, you'll probably like Archer, which shares a similar set of dark values and quick humor. I'd say start at the beginning, just for completeness' sake, but you don't really have to. The show has that same snap that early seasons of The League had, though it doesn't have the romance of YTW. Along the same lines, BoJack Horseman has more emotional integrity than The League, plus a doomed love story and lots of bitter, broken spirits. If you want even darker, Eastbound & Down and It's Always Sunny in Philadelphia are both masters of the genre. (They are both way too bleak for me, though; I respect both shows tremendously, but I don't actually enjoy them. I'm too soft.)
On the brighter side of things, Broad City is much kinder and more genuine, though it still includes some unwonderful behavior — and occasional romance. If you're looking for more scrappy charm and warmth, Raising Hope is on Netflix and is all kinds of lovely, plus it has a substantial romantic subplot. If you really want rom-com style, Playing House has a sweet little will-they-won't-they, and after watching all these misery-tinged shows, you might need a happier comedy as a break.
Finally, try Veep. It's not an obviously rom-com-y show at all, but nothing is more romantic than Big Feelings, and Veep only ever portrays Big Feelings. I'm the kind of person who wants all characters to eventually kiss, and Veep fits nicely in my smooch-iverse.
I sometimes like to fall asleep watching TV. Usually on nights where my brain won't shut up and I need the distraction or I will be awake for ages, then sleeping for a few fitful hours where I mostly just dream that I am late for an exam for a class I never took at the college I graduated from nine years ago. What are some good shows to help my brain power down, that won't give me nightmares (or be so gripping that it keeps me awake)? —Jenn
I fall asleep to The X-Files a lot, which probably won't work for you, since many people consider it "scary," but at this point I've seen it so many times it's like a soothing balm calming my antsy spirit. But if you don't want to fall asleep to your favorite shows — not sure why you wouldn't, but okay — I consider these gentle enough to help you unwind. They're not boring or soporific, though; this isn't meant to be an insult to these shows, all of which I love very much. I just mean they're calming and inviting in a way, oh, The Wire is not.
Your first pick should be Life Unexpected, a short-lived CW show from a few years ago (two seasons, but only 26 episodes). It centers on the soon-to-be-16 Lux (Britt Robertson), a girl who's bounced around Oregon's foster-care system, and the loving but ill-equipped birth parents she never knew, who are now back in her life. Mom Cate (Shiri Appleby) is now a morning-radio host, and dad Baze (Kristoffer Polaha) is a bar-owning man-child; the two were teens when Lux was placed for adoption, and they haven't seen each other since. The show is emotional and charming, and though season two has a hot-for-teacher story line I abhor, overall the series is a real treat. It's also pretty gentle, with limited violence (like, one episode) and an emphasis on honesty, forgiveness, and asking for help. Those are good values! It's also not a very propulsive show, so it's not going to wind you up in any way.
In a completely different vein, have you tried Chuck? The show, about a geeky guy who suddenly becomes a CIA asset, is action-tinged and occasionally violent, but only in cartoonish ways — I mean, the show's called Chuck, so you know Chuck isn't going to die. Seasons four and five get a little complicated, but secretly you can ignore the layers of espionage double-agenting and just go along for the ride. Bonus points for an excellent mid-'00s soundtrack. Actually, Sadie from question one, Chuck is also a terrific rom-com in many ways. Try Chuck! Scrubs and Gossip Girl both fit the bill, too, since they're both dialogue-heavy (so you can close your eyes but still follow along) and pretty standardized, i.e., on any given episode, you know what you're going to get.
But if you want something further from your everyday viewing, my most recent obsession is India Alaska, a PBS web series that spotlights a variety of Alaskan residents who are doing something interesting, be it running a roadhouse or making barrels or living in a commune or working in a puppet theater or founding a distillery. The episodes are short but captivating and often inspiring, and they have that gentle public-television everything-is-safe vibe that you may find relaxing. There are worse things to dream about than living your best life in beautiful, majestic Alaska.
Is Mom actually any good? Or is it the new Two and a Half Men in that it will continue to get ridiculously high ratings and make me question the sanity and intelligence of the average American? Should I be concerned for the legacy of the fabulous and irreplaceable Allison Janney? —Sawyer
It's pretty good! Two and a Half Men is a serious cultural ill, I agree with you there, but Mom is a fine part of Allison Janney's legacy. (She won an Emmy for it, too, which doesn't hurt.) Janney plays Bonnie, and Anna Faris plays her daughter Christy, herself a mother to two, including a teenage daughter who placed a child for adoption last season, making Janney a great-grandmother and Farris a grandmother on the show. Eek! But also, fine. I like that the show is primarily about women, and I like that it treats addiction recovery as a part of life — not a punch line, but also not sacrosanct and too precious to ever joke about. If you liked Grace Under Fire, you will probably like Mom. I did and I do.