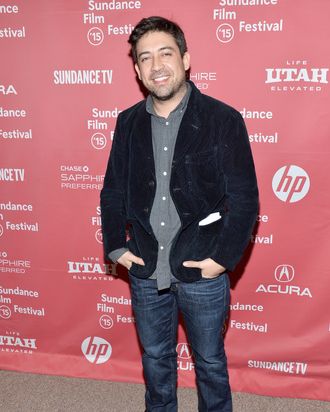 There are more dying-teen love stories on the horizon. One of the most admired films to premiere at Sundance is Alfonso Gomez-Rejon's Me & Earl & the Dying Girl, adapted from a young-adult novel of the same name. The film stars Thomas Mann as a witty, creative, but isolated high-school senior named Greg, who is forced to visit his classmate Rachel (Olivia Cooke), who has just been diagnosed with leukemia. Needless to say, Greg and Rachel don't just hang out that one time. From standing ovations to audiences sobbing in unison, director Alfonso Gomez-Rejon's highly personal film is generating highly personal responses. Gomez-Rejon spoke with John Horn, host of Southern California Public Radio's new arts and entertainment show, "The Frame," about the highly personal nature of the film, sparking a bidding war, and rushing to complete the film just hours before Sundance started. (Listen to part of the interview below, and subscribe to "The Frame" at iTunes or Stitcher.)
We just finished the movie Wednesday morning. I saw the final DCP at 7 a.m. in New York, exhausted and been working all night, pulling all nighters just to make the deadline.
The DCP being the—
Yeah, the final print. And so I flew straight here. I didn't sleep for three and a half days just because I'm an introvert. So the anxiety of having to go up and introduce the movie, no idea how it was going to be received. We haven't had a big screening, a big test screening. We didn't do any of that. We did friends-and-family screenings, but we never had a big 1,500-seater theater, and so we were all a little nervous, but people rose to their feet. And there were a lot of tears and a lot of love. Every crew member, every actor, everyone put their heart and soul into this movie and I think people are feeling that I think. I don't know.
Well, if you are in a theater, which I have been, where the movie has played, people are absolutely feeling it. You mentioned the standing ovations the film has gotten at each of its screenings. And then on top of all that, you spark a bidding war, with Fox Searchlight winning your movie. I mean, are you able to separate each little, distinct thing out, or are they all kind of blended together?
It all happened very fast, and it all happened at the same time. There's a lot of laughter, too, and I think that's finding a balance between the bitter and the sweet, and sometimes the funniest moments come from great despair. That's just the way life is. And so the idea was try and incorporate loss into your being and be able to move on. That's the reason for making the movie; [it] was for me to process something and come out of it stronger and a happier person. But as far as the deal stuff, it just kind of happens and it's in the hands of Fox Searchlight, and they handle these movies quite well.
You mentioned processing something. The very first credit at the end of the film is a dedication to your father. Is that what you're processing through this film, and how did that play a role in the making of it?
Yes. Thank you for asking. That was a reason for making the movie. My dad was my best friend, the most incredible person I'll ever meet and the funniest person I'll ever meet. And so losing him quite suddenly about a year before I read the script, I was little by little just kind of becoming a shell of who I once was and who I wanted to be, and I was dying to do something personal and dying to say something and dying to express myself the only way I knew how. And when I read the script, I was laughing and laughing and then that wonderful scene with Jon Bernthal, where he says, "Sometimes when people die, their stories continue to unfold. You just have to pay attention." That was such a beautiful idea, such a simple idea, but one that I really, really needed to believe at that point. And from that point I was hooked on the script. And I said, "Well, then now I can make this big movie, [it] will be for him." My dad. Then maybe I would come out the other end a better person and putting on the weight and kind of putting myself back together. It's not about loss, but of my great love, and if I could do that with the movie, then maybe I'd have something.
In this movie, Greg is challenged by the obligation and the opportunity that he has to create a film for Rachel, and it's something that weighs heavily on his mind. As a filmmaker who is also making a movie for another real person, are your emotions at all similar to what Greg is going through in the film?
Absolutely. That's what was so terrifying about making the movie and why I needed to make the movie, because if you're scared, it's always a good thing, you know? It means you're growing, hopefully, and that's why I took it on. It was going to be autobiographical. It's about an emotion that I was trying to process, and so if I could make a movie that was very, very funny, that was hopefully an honest journey of mine that other people could relate to. I could indirectly make it about what I was going through. I could bury myself in this character and hope that by the end, the journey would be an honest one. And I hope that it is.
What would it have meant to you if your father could have been with you in Park City to see the film?
Well, it's hard. I'm not even going to look at you because it's such an emotional time. And this is what's so beautiful about this: We're talking about him. So his story is unfolding. So the fact that we're discussing him and that people are asking me about him, it's an opportunity to tell the world how much he meant to me, and there are no words to describe that. You can't find the words. And the only way I can really express myself is through images and through movies, and hopefully, people would feel the love that I have for him and that kind of underscores the theme of the movie that people's lives continue to unfold, and so here we are in Park City talking about him. I think it's kind of beautiful.
So much of the Sundance experience is racing from screening to screening, going from interview to interview, talking to your sales agent about how the deals are going. It's a whirlwind. And part of the message of this movie is that in all this scurrying about and all the worries about college applications and grades and who your friends are and who your peers are, you have to stop, step back, and look at what is happening to you in that moment. Are you able to do that in Sundance, to step back and look at everything that's happening to you this week?
I'm constantly being reminded by the people closest to me of taking a step and really kind of savoring every second, because this isn't the type of thing that happens that often and they know I've been working very, very hard to get to make a personal film and to be here at Sundance. So I am trying to relish every second, and I'm surrounded by the people I made the movie with and we became so close and we're going through this part of this phase of exhibiting the film for the first time. We're doing this together. I don't really worry about the deal. I just know that it looks like it's going to have a chance to be seen. Now things are quieting down and I'm going to get a chance to actually see the movies, which is what I really, really, really want to do and try and catch up and get into some of these.
Alfonso Gomez-Rejon is the director of Me & Earl & the Dying Girl. It is based on the novel and adapted by Jesse Andrews. Alfonso, thank you again.
Thank you. This has been a total pleasure and surreal, but it feels great. Thank you.