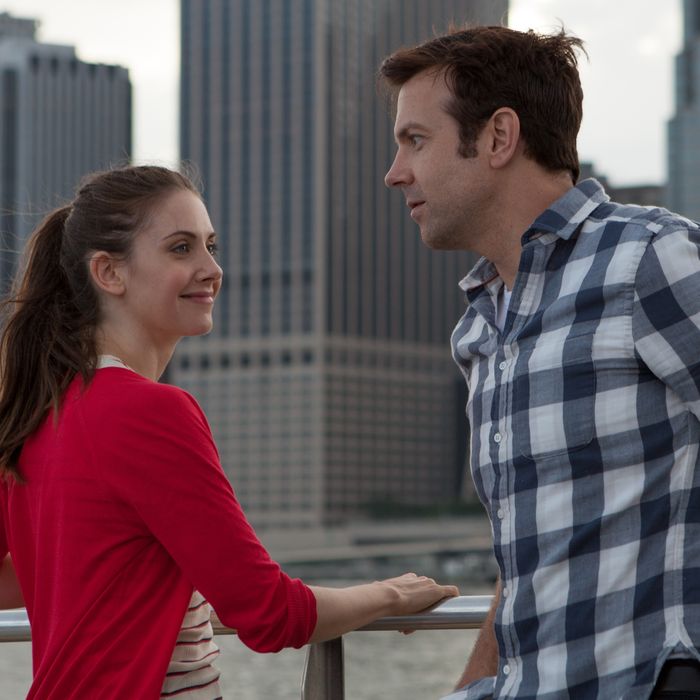 Given that this has been such a sexually charged Sundance, you might expect Leslye Headland's R-rated rom-com Sleeping With Other People to be among the most risqué of the movies showing here in Park City, especially since it stars Jason Sudeikis and Alison Brie as sex addicts. Certainly, Sleeping has a lot of dirty talk and even a briefly glimpsed encounter or two, but this is still the sort of mainstream-skewing movie in which recognizable actresses keep their bras on during the love scenes, as opposed to the sort of Sundance entry we've been getting this week that's chock-a-block with all sorts of full-frontal. What it does have, however, is Jason Sudeikis giving Alison Brie a memorable masturbation tutorial by fingering an empty bottle of green tea for several minutes.
"I let Jason pick the bottle," Headland said after Sunday's screening, when she brought her actors onstage after a rousing reception. "We brought three bottles and I was like, 'Which one do you wanna use?'" She turned to Sudeikis. "And then you bought the glass bottles dinner, and the best woman won."

That green-tea scene is certainly the centerpiece moment of Sleeping, which Headland fashioned as a modern homage to When Harry Met Sally — "but with assholes," she said. Sudeikis plays the rakish Jake, the sort of Lothario who'll sleep with a woman, boff her best friend, then defuse the following fight by blaming her jealousy on "culturally infused female competition." Brie is the neurotic Lainey, who's still sprung on the married doctor (Adam Scott) she's been carrying on a years-long affair with — and once again, Scott's endowment comes in for scrutiny in a Sundance picture, though at least it's now been upgraded to "average," as opposed to The Overnight's more meager member.

Jake and Lainey lost their virginity to each other in college before quickly parting ways, and when they reunite years later in New York City, the sparks are still there. But they're determined to keep things between them platonic: Like Harry and Sally before them, they're exploring whether men and women can truly be friends. They're screwed up in similar ways, so maybe each can be the ribald confidante the other needs — Lainey can probe Jake's commitment issues, while Jake can help Lainey get over her doctor ex.

The latter mission is what leads to the green-tea scene, as Jake encourages Lainey to masturbate her troubles away, but Lainey reveals that she's never really sparked to self-pleasure. Jake's determined to make Lainey a better, more satisfied masturbator, so he picks up an empty tea bottle, declares it his demonstration vagina, then prods, pokes, and strokes it to Lainey's aroused astonishment. Jake's final, trademark move? The "dirty DJ," where he rubs the clitoris — and the upper rim of the green-tea bottle — like a DJ might scratch a record. 

Headland scripted and shot the much-talked-about scene, but she still admitted to having second thoughts: "I was like, Oh my God, my dad's gonna kill me," she said at the screening. (If Headland's father could make it through her last film — the outrageous, naughty Bachelorette — without turning murderous, something tells me he'll weather this one just fine.) "Even going into it," said Brie, "Leslye was like, 'All right, guys, I hope this doesn't turn out super creepy.' But the more we did it, the more it ended up being sweet and romantic. And educational!"

A middle-aged woman in the audience raised her hand, quick to co-sign on the impact of the masturbation tutorial. "I wanted to thank you for the sexual instruction," she told Headland. 

"Just go home and draw a nice bath," replied the director.