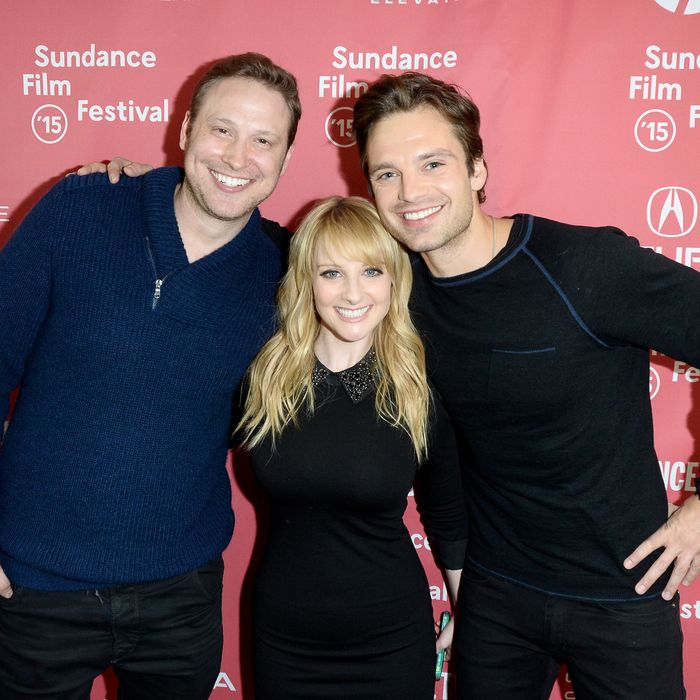 This year is proving to be an awfully horny cinematic one right off the bat, with all sorts of acrobatic sex scenes in store for audiences well before spring arrives to send us into full-tilt twitterpation. This weekend, for example, Jennifer Lopez is banged out by the world's oldest teenager in The Boy Next Door; that should satiate frisky audiences until Valentine's Day, when lips are bitten and backs are arched in the S&M fantasy Fifty Shades of Grey. Fittingly, this year's Sundance Film Festival is just as aroused, with seemingly every movie teasing an outrageous sex scene that will have everyone talking. They'll be hard-pressed to outdo The Bronze, though.
This year's opening-night entry, The Bronze, stars The Big Bang Theory's Melissa Rauch as Hope Greggory, a venal former gymnast who still clings to the 15 minutes of fame conferred by her Olympic bronze medal. Reluctantly, Hope is forced to coach up-and-coming gymnast Maggie (Haley Lu Richardson), who idolizes her, but Hope is so threatened by Maggie's incipient celebrity that she instead tries to sabotage the girl … until a run-in with her old rival, Olympic recruiter Lance Tucker (Sebastian Stan), spurs Hope to finally shape up.
Best known for playing the Winter Soldier in the Captain America movies, Stan is quite funny as the preening Lance, but his big moment comes much later into the R-rated comedy, as Hope and Lance tear each other's clothes off in a bout of hotel sex that brings new meaning to the term "floor exercise." Both characters are former gymnasts, and the positions they put each other in would add several extra pages to the Kama Sutra. Is it possible to cartwheel flip oneself into a woman's vagina? Can creative use of some gymnastic rings provide the leverage lacking in conventional doggystyle? Perhaps, but I'm not sure what the prudish Olympic committee — or the even-more-straitlaced Captain America — would make of Stan and Rauch's vigorous routine.
Rauch co-wrote the film with her husband Winston, and the latter immediately fielded questions about his wife's sex scene at the premiere's Q&A. "We just wanted to show people what goes on in our bedroom," he deadpanned. "We didn't know there was anything special or unusual about it." Added Rauch, peering up at her husband (that's him in the photo above, flanking her on the left), "When you're four ten and a half — and six one — you have to get creative."
Rauch also got creative when it came to the sex scene's overwhelming nudity. "I had a fantastic body double for that," Rauch revealed. "She's a wonderful girl, and so talented, and very free with her body. At the end of the day, she was like, 'Are you gonna tell people that's you or me?' I said, 'Whatever you want,' and she went, 'Well, my dad's a preacher, so … '"
"That said," interjected director Bryan Buckley, "Sebastian did jump in there and do every last bit of that sex scene." And Rauch fondly remembered supervising those shots: "[My husband] was like, 'You've never stood that close to the monitor before. I think you can back up.'"
For his part, Stan was reluctant to talk too much about the sex scene (rest assured, it will surely spur his fans on Tumblr into a GIF-making frenzy), though he did make sure to shout out his personal trainer Don Saladino, who leapt to his feet from the audience. Was Stan nervous about going nude? "I felt like I was in very safe hands, in every sense of the word," he said.
"My hands are very safe, Sebastian," Rauch murmured. "Very safe."