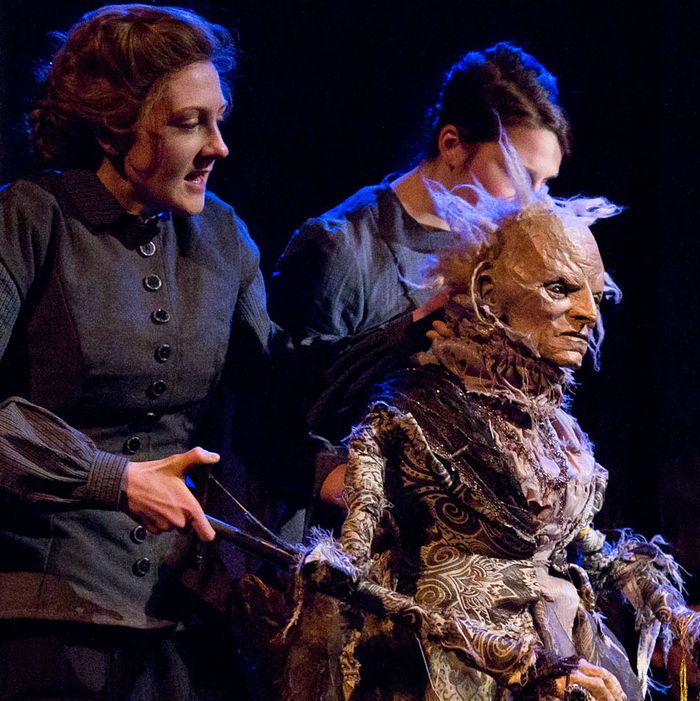 Ed. note: The Woodsman opened in a limited run on January 15, 2015, at 59E59. Because the production reopens tonight at New World Stages, where it will run indefinitely, we're republishing Jesse Green's earlier review.

Like "humanistic Judaism," the term "imaginative theater" ought to be a redundancy. (Shouldn't all theater be imaginative?) Still, some troupes seek to differentiate themselves from the mainstream with the homespun, less literal storytelling techniques the term seems to imply: puppetry, shadow play, choral speech, mime. It's no coincidence that these techniques are also cheaper than the ones you find on Broadway; imaginative theater exists in reaction against spectacularism, and often in reaction against the kinds of narratives that invite it. Though it's a commercial run, The Woodsman, now playing at the 59E59 theater complex, is thus a perfect example of the genre, not only offering a marvelous, minimalist staging but also taking as its text the backstory of the Tin Man from the Wizard of Oz books, a tale steeped in dawn-of-the-machine-age anxiety. The production, by the young troupe Strangemen & Co. — mission statement: "to simply honor what is truthful one story at a time" — looks like what might happen if Shakers put on Wicked. 
I don't mean to minimize its minimalism; the hour-long show overflows with vivid imagery and emotion. The puppets by James Ortiz, who also wrote the mostly wordless scenario and stars as Nick Chopper, are fantastic and varied. The Witch of the East is represented at first by a flapping piece of fabric manipulated with sticks, and later by a nearly life-size and lifelike sculpture. Looking at it, you understand the malevolence, not to mention the clever symmetry, of the witch's curse on Chopper for falling in love with her slave girl: His ax turns on him, severing his limbs one by one. Here, as throughout, the action is suggestive rather than literal (there's no blood), but the tale is no less horrifying for that. And no less charming; many small gestures prove warmly satisfying in the spit-polished manner of outsider art. The distant Emerald City is represented by a grove of suspended mason jars, lit from within by green bulbs; the noises of the woods are produced by the ensemble of nine actors clapping, snapping their fingers, even cracking their knuckles. The show is also beautifully accompanied, almost continuously, by the violinist Edward W. Hardy, whose score suggests the dusty sound of Methodist hymns and modest social dance.
There's not an unconsidered moment: Every element contributes, echoes, foretells. Many a production costing 100 times as much could benefit from Strangemen's level of attention to storytelling detail. And yet I couldn't help feeling that all this attention had been lavished on a story that resists being opened. How Chopper is transformed one limb at a time from a strapping young buck into the familiar Tin Man of the Oz stories, and left to rust so that Dorothy may happen upon him in the familiar way, is not especially resonant. Perhaps a story fully amenable to "imaginative" treatment can never be resonant in that way: It would be too complex. In any case, The Woodsman does not raise dramatic questions for us in the way, say, Into the Woods does with similarly archetypal characters. The Tin Man's plight is sad, of course, but sad is not the same as meaningful. Or, as Sondheim's lyric for Little Red Riding Hood has it: "Nice is different than good."
The Woodsman is at New World Stages.