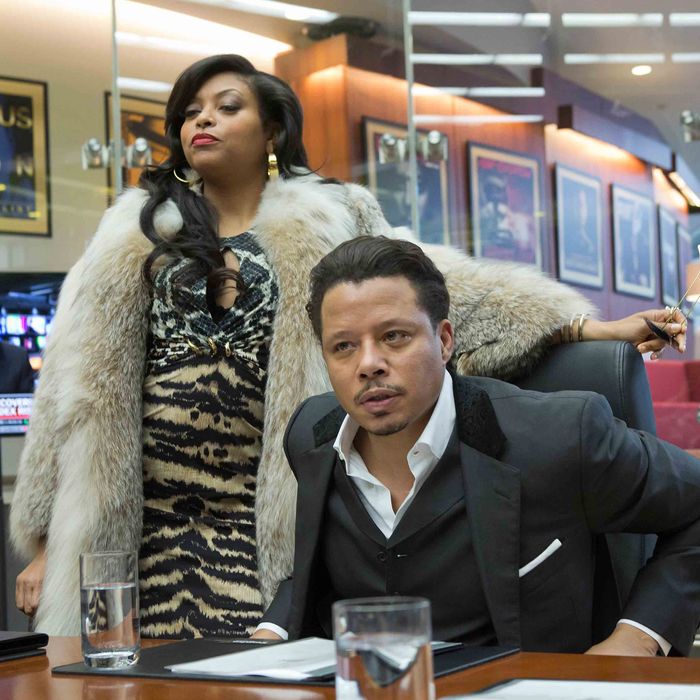 The Chicago-based musical drama Empire, about a former drug dealer who used his criminal fortune to become a music mogul, gets off to a not-terrible start. But not-terrible isn't enough to ignite enthusiasm — especially when you're watching great actors in great clothes perform or supervise original Timbaland music, and wondering why the damned thing isn't more exciting.
In Empire, which premieres tonight on Fox at 9 p.m., Terrence Howard plays Lucious Lyon, a 2.0 version of the pimp turned rapper he incarnated in the Oscar-nominated Hustle & Flow. The character is nearing the end of a lifelong transformation from criminality to legitimacy: Think American Gangster's Frank Lucas evolving into Motown's Berry Gordy, but with Corleone pretensions that are signaled by shots of the star brooding in artfully under-lit rooms. Our tale begins after Lucious is diagnosed with a fatal illness and decides to hand over his recording empire (named Empire, natch) to whichever of his three sons comes out on top after a lengthy apprenticeship. This is a variation on the plot of King Lear (though with sons instead of daughters); in case you slept through high-school English, another character says, "What are we, King Lear now?"
Lyon's cubs include a bottom-line-oriented buppie businessman, Andre (Trai Byers), who married a white woman named Rhonda (Kaitlin Doubleday); a closeted gay singer named Jamal (Jussie Smollett), who's endured homophobic abuse by his dad since childhood; and kid brother Hakeem (Bryshere Gray), who's chafing at the bubblegum identity his father forced on him. This intra-familial competition could not be happening at a worse time: As Lucious explains during a board meeting, they've just filed to become a publicly traded company even though their revenue stream is shaky and "the internet has destroyed our ability to make money."
Lucious's patriarchal succession scheme gets effed with once his wife Cookie (Taraji P. Henson) leaves prison after a 17-year stint and demands her fair share of the company. Although she's got a head for bookkeeping, we don't learn all the details of why she thinks she deserves a piece; nevertheless, the cowed look in Lucious's eyes confirms that there's a basis for her claims. Henson's character is the most exciting aspect of the show, and not just because the actress, who appeared with Howard in Hustle & Flow, can deliver lethal side-eye, or because she tears across the screen in a succession of fabulous, retro-styled outfits (the best is a cream pantsuit with a fedora that Faye Dunaway might've worn to Studio 54). Cookie is the shit-stirrer, half-schemer and half-legitimate, a loving mother, leveraging the affection that her sons were denied in order to claim (or reclaim) a piece of Lucious's spoils.
This all sounds delicious, and by all rights it should be. But the show's tone and pace are off, or not quite there. It's hard to pin the blame on any single problem, though the main creative team of director Lee Daniels and writer Danny Strong (who worked together on The Butler) must ultimately shoulder much of the blame. The characters are vividly performed (and clothed!), but the characterizations are variations on types, and they aren't wild enough to overcome a 1980s broadcast soap-opera blandness. A show about a hip-hop empire that originated in drug money can't be TV-MA and air on a major broadcast network, but I'm not convinced that content restrictions alone account for the pilot's undercooked quality. With a few notable exceptions, including the opening montage, Daniel's direction is visually and tonally undistinguished, which is strange when you consider that this is the same Daniels who directed Precious and The Paperboy; the subject matter would seem ripe for Douglas Sirk–style magnificent obsessiveness, but for the most part the inaugural episode settles for efficiency.
The hero, I'm sorry to say, is also a problem. I don't know if the problem is Howard or the writing, but his character is just too much of a one-note, glowering bore: tediously sour and controlling, minus redeeming or complicating qualities. When Lucious lashes into his gay son during a flashback (scooping up a little boy clad in a headscarf and high heels and denouncing him as a "little bitch"), there's no tragic dimension to his bigotry, only bullying cluelessness to which audiences can feel smugly superior. Strong's script deserves some credit for weaving real-world sociopolitical issues into what is essentially a musical soap opera: Besides homophobia, there are jibes at the ingrained sexism and demographic realities of the music industry ("White kids make up 85 percent of our sales," Lucious states), and at the code words and phrases that shape collective expectations of black people and white people. (When Andre insists to his mother that his wife is "brilliant," she replies, "White girls always are, even when they ain't.") But the script and direction could both use a jolt of crazy energy of the sort that made Precious so thrilling (or, if you didn't like it, unbearable). The show may be about a criminal who's gone legit, but legit on TV is very often dull; in future weeks, I hope it stops obeying rules and starts breaking them.