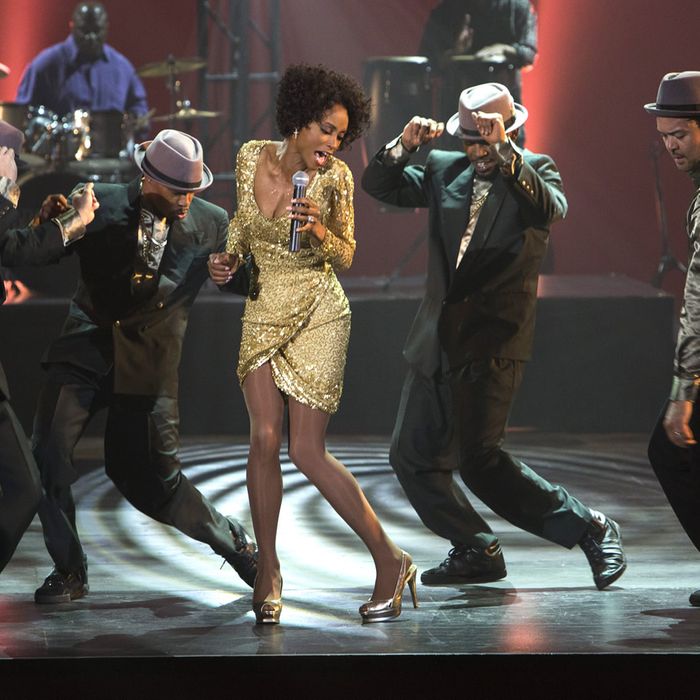 Whitney is a Whitney Houston biopic airing tonight on Lifetime. That description pretty much loads the viewer up with preconceived notions, and it would be silly to pretend that this TV movie entirely neutralizes them. Shem Bitterman's script is filled with expository clunkers ("What about that Whitney, huh? Who'd've thought she'd become a movie star?"). You've seen the rise-and-fall-and-partial-redemption narrative done in Lifetime style: the fights, the tears, the reconciliation. And there's nothing onscreen that can't be learned or understood from reading a book or magazine article about Houston. Why, then, is this relatively short movie so strangely powerful?
A lot of it comes from the way actress Angela Bassett, making her directorial debut, approaches the material. As an artist, she doesn't lean on TV movie formulas. She knows this is basically a melodrama, so she places the tumultuous relationship between lovers-turned-spouses Whitney Houston (Yaya DaCosta) and Bobby Brown (Arlen Escarpeta), two high-strung, egotistical, driven, and addiction-prone people, front and center; but she also approaches every scene with a great deal of precision and a fair amount of emotional distance, never judging anyone or taking sides, always scrutinizing Whitney and Bobby as if through transparent walls.
Whitney Houston's sister-in-law, Pat Houston, has already condemned the film, which was done without the cooperation of Houston's family and which uses Deborah Cox to dub Houston's voice; she and others close to Houston were alarmed by reports that the movie contains frank sex and explicit drug use and generally doesn't shy away from showing how the singer's addiction led her to degrade herself and make poor choices. But it's not fair to look at this movie and conclude that it wallows in misery or exploits a dead celebrity by enacting our worst visions of her lowest moments. It's not so much fantasizing about Houston and Brown's relationship — and their problems with addiction — as imagining them, with the empathetic but cool detachment of a social worker or therapist.
Bassett knows this terrain very well from having acted in the Tina Turner biopic What's Love Got to Do With It? — and probably from having been a celebrity for more than 20 years and getting to know other stars, including Houston, with whom she appeared with in Waiting to Exhale. This movie has its problems, including the casting: The stars are very likable but simply not powerful enough to make you forget the real-life, heavily covered people they're playing. But the movie's precision and empathy can't be denied. The short answer to why Houston and Brown stayed together until 2006, despite all of the often-unpleasant drama, is because there was a deep connection between then, and despite its limited means, this movie makes you feel the connection in all sorts of moments: Houston and Brown trading "I've got a secret" grins as they exchange wedding vows; a postcoital moment where Brown exhales pot into Houston's mouth (a literally intoxicating kiss). Its portrait of addiction feels lived-in as well, particularly in scenes where one or both spouses casually discuss professional or familial business while drinking or cutting up coke on a dressing-room table.
There's something pure and insightful about how Bassett's camera looks at this couple as they flirt, rut, marry, fight, talk about their careers, and experience wild ups and downs, including moments of professional resentment or jealousy. Bassett seems to have approached every scene with an eye toward showcasing her actors without losing the context of their world. The movie doesn't cut unless it needs to, letting key scenes play out in what are, for TV, quite long takes. There's very little music unless Houston or Brown are performing onstage. There are points where Whitney feels a little bit like George Cukor's 1950s version of A Star Is Born, a film whose domestic conversations and confrontations have a bracing chill because the camera keeps its distance and the moments aren't excessively hyped with background music. I can't stress enough that this is not a great movie, and that at times it's not even that good a movie; but I also hope you'll watch what it's doing visually and in terms of tone, so that you aren't surprised when Bassett emerges as a major filmmaker.