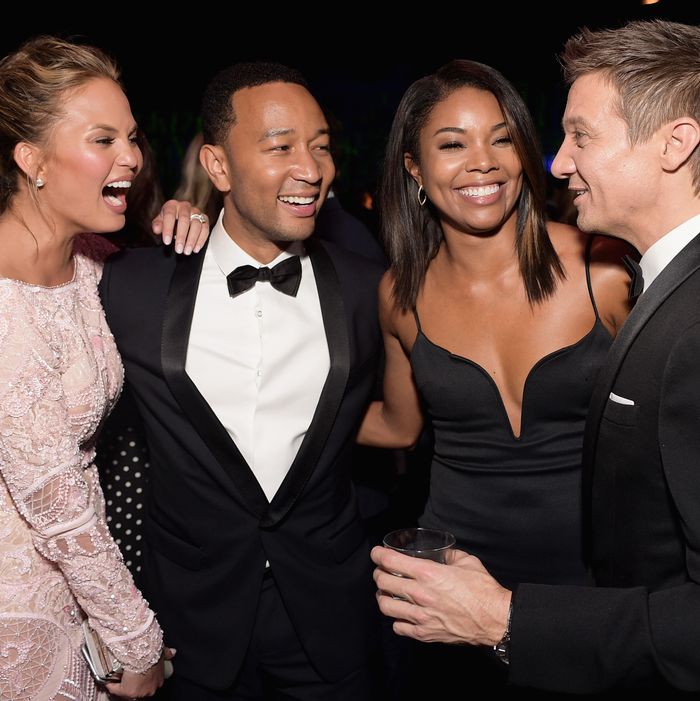 Photo: Stefanie Keenan/Getty Images for InStyle
Every year, Vulture sends out its party reporters to capture on-the-scene moments at every Golden Globes pre-party, party-party, and after-party. This year was no different. Here's what happened on the weekend of Hollywood's booziest awards show.
Thursday, January 9: BuzzFeed happy hour at Eveleigh; Audi party at Cecconi's; W magazine party at Chateau Marmont
7:30 p.m.:  As the W magazine "Best Performances" party gets underway at Chateau Marmont, Reese Witherspoon and Henry Cavill show up early. And while the former is swarmed by well-wishers, Cavill stands in silence, unmolested. Poor, solitary Superman. A real-estate agent eventually introduces himself to Cavill but has no idea he's chatting up someone famous. "Is that the Fifty Shades guy?" someone murmurs, checking him out. Meanwhile, the actual Fifty Shades guy — a similarly scruffy Jamie Dornan — grabs a flute of Champagne and clinks glasses with a friend.
8:08 p.m.: The W party bartender hands Reese Witherspoon a glass of Champagne and she hands it right back, asking for even more. (A woman after this party reporter's own heart.)
9:50 p.m.: Paris Hilton tells a well-wisher she's heading for Malaysia soon for a DJ gig. Much later, she's snapped by paparazzi entering a car with Henry Cavill. How the shy superhero ended up hanging out with such a social butterfly will remain the biggest mystery of the night.
Friday, January 9: W magazine exhibit at the Wilshire May Company Building; Mulberry dinner at Chateau Marmont's Bungalow One
7:35 p.m.: We spill Champagne on Joanne Froggatt at Mulberry's cocktail event at Chateau Marmont's Bungalow One, but she waves off our clumsiness and, as an olive branch, chats with us about her new nickname for fans of her Downton Abbey husband Mr. Bates — "Mister Baters." (Get it?) "It's a play on words, for sure," she grins. "Given with love, of course. It embarrasses [Brendan Coyle] quite a lot because he does have a legion of female fans that he gets a bit shy about."
8:18 p.m.: Miley Cyrus shows up to W magazine's "Shooting Stars" exhibit in a white jumpsuit with a cape, looking like Elvis. She's guided toward her own naked portrait and poses for a few pictures (including a selfie with Bai Ling) before the crowd crushes her in. "I'm not used to it," she complains. "This is not my usual scene." As she tries to escape out the front door, a fan asks her about movies. She begs off, "I can't even think about what movies are in theaters because of what's going on here now!" 

8:47 p.m.: Rosamund Pike seems unfazed by a gentleman who calls out her name and knocks a plate out of someone's hand in an attempt to sidle over to her at Mulberry's dinner. She just gave birth in December to her second child, so she's juggling Golden Globes prep with Mommy time. "I'm playing in the sand pits in the morning with the kids, and then scrambling to get ready to go out at night. I'm trying to be a good mother as well as a narcissistic actress!"
Saturday, January 10: Film Independent Filmmaker Grant and Spirit Award nominees brunch at BOA Steakhouse; BAFTA tea at the Four Seasons; Los Angeles Film Critics Association Awards at InterContinental Century City; Art of Elysium party at Hanger 8; fourth annual Sean Penn & Friends Help Haiti Home Gala at Montage Hotel; Anonymous Content party at Rivabella
11:35 a.m.: Michael Peña might be at the Independent Spirit Awards nominees brunch at BOA Steakhouse, but his mind is on the not-so-independent film Ant-Man. He texted co-star Paul Rudd about the trailer to say, "Buddy, it looks good!" "It didn't feel like a huge studio movie when we were filming it," he tells us. "It's almost like you forget you're doing a Marvel movie."
1:35 p.m.: Lego Movie director Phil Lord hides in the corner at the Independent Spirit Awards brunch, but we draw him out regarding Will Arnett's take on Batman (which we'll get more of in the spinoff sequel) — "the greatest embodiment of 'white people problems' than any other interpretation." Lord laughs about all the love The Lego Movie got from year-end critics lists. "It's crazy, isn't it? It's like the best ending to a really weird prank."
3:48 p.m.: Rene Russo enters the BAFTA tea with her husband, Nightcrawler director Dan Gilroy. A man nearby mouths, "She's gorgeous!" to his friend, and Russo actually notices the compliment and beelines over to thank him for it. "I'm Rene," she says, shaking his hand. "I can't believe I'm here!"
7:18 p.m.: The Boyhood cast is out in full force at the L.A. Film Critics Association Awards, and director Richard Linklater smiles that he'd "be a jerk" to complain about all the attention. Soon-to-be-winner Patricia Arquette shares that the reason he cast her was that Linklater "looked around and thought, Who do I think is gonna be working in 12 years?" Good call.

7:30 p.m.: Celebs at Art of Elysium's Gala were unaware of the GoldenGlobes.com snafu — which at first appeared to reveal the show's winners in advance — until we explain it to them. Elijah Wood thinks it's a leak. James Marsden thinks it's happened before, "hasn't it?" And Michelle Trachtenberg thinks it might have been subliminal messaging.
8 p.m.: Two of Jennifer Lawrence's main men compare notes — Josh Hutcherson and Chris Martin have a huddle at Help Haiti Home before Martin later gets onstage to perform "Magic," but he fumbles the lyrics. "Ah! I lost my place," he admits mid-song. "Thank goodness I'm not getting paid, because I think they wouldn't want to now." Superfans Ashton Kutcher and Mila Kunis bop along anyway.
11:30 p.m.: A very mellow Cary Fukunaga reports that he has two and a half episodes of "Serial" left to listen to while making the rounds of Anonymous Content's party with his girlfriend.
Sunday, January 11: Golden Globes at the Beverly Hilton; Fox/20th Century Fox/FX/Fox Searchlight party at the Fox Pavilion; Weinstein/Netflix party at the Robinsons-May lot; HBO party at Circa 55; InStyle/Warner Bros. party at Oasis; NBC/Universal/Focus party at the garage rooftop; Paramount party at the Stardust Room
1:35 p.m.: Away from the nearby luncheons, Reese Witherspoon stops in the lobby of Bouchon in Beverly Hills to coo at a baby — our party reporter's niece. "What a pretty baby!" she tells us. Reese, you're welcome to babysit anytime!
3:41 p.m.: On the red carpet, Game of Thrones showrunners David Benioff and Dan Weiss admit that they don't expect to win, but they do expect to get their drink on. "This is one of the only ones where you're allowed to drink throughout the show." For some reason, this quickly degenerates into a discussion about "hand job math" on Silicon Valley — and whether or not we can print the word dicks. "Dicks galore in New York Magazine!" Weiss enthuses. If they could swap writing teams and do an episode of that show, Weiss predicts that the Silicon Valley cast would kill each other, natch.
4:05 p.m.: In between interviews, Downton's Allen Leech — who is also in The Imitation Game — is drinking from a mini bottle of Jameson. He tells us he needs to think of a way to sneak liquor into the Oscars.
4:10 p.m.: Allison Janney discovers someone is standing on her dress on the carpet, stopping her from moving. "This is one for my memoirs! Patti Smith, standing on my dress!" she gushes with delight. Smith is horrified. "Oh my gosh, I'm so sorry!"
5:35 p.m.: Winner Billy Bob Thornton walks into the press room, announcing, "I'm going to eat seven pounds of pork." Then he holds up his Globe and asks us, "Did you all ever watch Columbo? Did you ever notice the murder weapon was something like this?"
7:56 p.m.: Clive Owen, Kit Harington, Pedro Pascal, and Thrones showrunners David Benioff and Dan Weiss skip the end of the Globes to get an early start at the HBO party.
8:58 p.m.: While Dominic West has a canapé and a cocktail at the bar at the Weinstein/Netflix party, we chat about his butt — will The Affair's win tonight convince him to bare it even more next season? Being a little, um, cheeky, he discloses that the show uses a special butt cam for his posterior shots. We're think he's joking until we run into the show's executive producer Sarah Treem, who provides the necessary confirmation. Well!
9 p.m.: Taylor Schilling is the first of the Orange Is the New Black cast to gush to us about meeting Oprah Winfrey. When we run into her at the InStyle/Warner Bros. party, she adds that she got in a hug as well. "She watches the show. It made me cry."
9:07 p.m.: The HBO party comes to a full stop as Taylor Swift and Lorde make a beeline to Lena Dunham's table, which includes Jack Antonoff, Jemima Kirke, Allison Williams, Jaime King, Haim, Nat Wolff, and Selena Gomez. "I never see you at these things!" Swift says as she hugs Gomez.
9:09 p.m.: Natasha Lyonne, a Globes virgin, hunkers down with us at the Weinstein/Netflix party to share what her first time attending the awards was like: "I sat with Uzo [Aduba] and Taryn [Manning], and then we ran into Taylor [Schilling] and [Laura] Prepon in the bathroom and had a powwow."
9:10 p.m.: "That was Margaret Cho?" Chris Pratt asks us about the scene-stealing impostor general at the InStyle/Warner Bros. party. "I thought it was some leader from North Korea. Fuck 'em, you know. They're bound to get made fun of … The point is, I love Kim Jong-un. I love the great and powerful North Korea."
9:18 p.m.: Maggie Gyllenhaal fills us in about how she left her winner's speech with her brother Jake as a form of insurance. "I wrote it down in case I blanked, but I also trusted myself to just remember it, and I did."
9:25 p.m.: We're calling it — the Most-Surprising Celeb Meetup of the night goes to Jennifer Aniston and Monica Lewinsky at the HBO party.
9:29 p.m.: Jennifer Lopez jostles us toward the Fox party.
9:35 p.m.: The Taylor Swift posse is on the move, bouncing their way into the InStyle/Warner Bros. party, hands in the air to "Let's Hear It for the Boy."
9:48 p.m.: Upon hearing we're from New York Magazine, Jane the Virgin's Gina Rodriguez wants to talk New York bagels. "My favorite when I was at NYU was Hot & Crusty. Such a fucking … oops, I mean … how creepy is that name? It was kind of dirty."
9:50 p.m.: Alejandro González Iñárritu meets up with Alfonso Cuarón at the Fox/FX party and asks, "Dónde está la Golden Globe?" Someone hands it to him. We chat about the "Would you rather …" sex game between him and Richard Linklater, and Iñárritu thinks he'd be the better choice. "I would choose me!" he laughs.
10 p.m.: At the Fox party, Rosamund Pike doesn't like all the attention Ben Affleck's penis got for Gone Girl. "A man gives a performance like that, and people want to talk about his jock?"
10:07 p.m.: At the Weinstein/Netflix party, Benedict Cumberbatch and his wife are very lovey-dovey, arm-in-arm, until he lets go to start dancing to the Jackson 5's "I Want You Back." James Corden warns us to lower our expectations of his forthcoming late-night show.  Giving our hand a squeeze, he cautions, "It'll be terrible." In the meantime, the Taylor Swift party enters the Weinstein/Netflix party. Swift appears to be floating as she passes on by.
10:30 p.m.: At the InStyle/Warner Bros. party, Adrian Grenier spills about the Entourage movie shoot, which took place in part on the Globes carpet. "We were just doing some pickups. Everything is for the movie." And just to prove that he doesn't take any of this too seriously, he tells us about ditching part of the Globes to go bowling. (It's on Instagram.) At the Fox party, Julia Goldani Telles from The Affair tells us that she was so nervous to be onstage for the win, until she looked in the crowd and saw Meryl Streep mouthing the words Good job. "I don't even think she was talking to me, but I just looked at her because I was up there and she's the queen."
10:36 p.m.: At the Weinstein/Netflix party, Uzo Aduba tells us about meeting Oprah Winfrey. "That's pretty big," she gushes. "When she's been your hero since you were a little girl … I used to write her as a child! I used to write her letters all the time! She's my hero."
10:40 p.m.: Seth MacFarlane tells us that he's trying to avoid the press, but a drunk blonde at his side blurts out, "We're having a baby! I'm like four months pregnant." She's joking, we think.
11:15 p.m.: Matthew McConaughey passes the True Detective torch to Vince Vaughn at the HBO party, as the two huddle for about 15 minutes.
12:15 a.m.: Robin Wright steps out of the Porta-Potty into the arms of Ben Foster. Time to go.