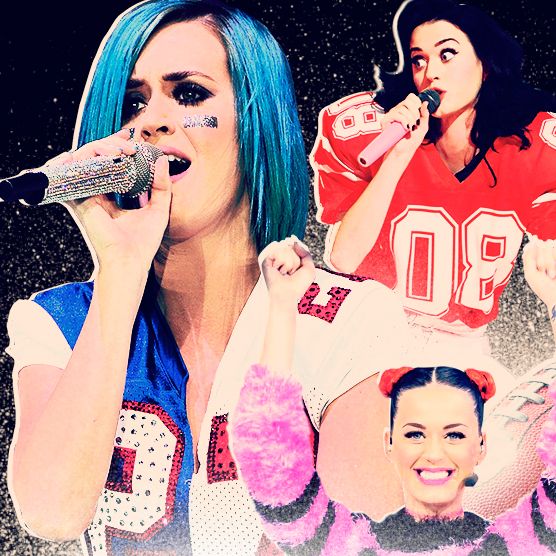 Photo: Maya Robinson and Photos by Getty
We don't know about you, but we'll be watching the Super Bowl on mute (well, except for the commercials) up until it's time for the Halftime Special. That's when Katy Perry will take the arena stage to do her best career-encompassing performance for an audience of over 100 million people. What will she do? Stick to the typical Katy Perry stuff? Go off-book? Will she focus on singing or dancing? Will she throw shade? Will she sing "Firework"? (That last one, for sure.) We have a slew of educated guesses below.
1. Lenny Kravitz. This isn't an assumption; it's reality. It has been confirmed that Lenny will appear during Katy Perry's big show. But what will he do? Will he wail out to the guitar solo on "Birthday"? (There is no guitar solo on "Birthday," but there could be one.) Maybe he'll fill in for Juicy J on "Dark Horse" with …
2. Another big surprise guest. You can't have a Super Bowl Halftime Show without one huge surprise: Beyoncé reunited the ladies of Destiny's Child; Janet Jackson released her nipple; the existence of Aerosmith. Too bad it won't be a surprise anymore. (If you don't want to know, skip this next part!) Last night, an "anonymous source" spilled the beans: Missy Elliott will join Perry on the Super Bowl stage. That sounds great! But here's an idea that would also shock the nation (and be blogged about for years to come): Invite rumored ex-BFF Taylor Swift up there and sing a song together. (Imagine if it's a "Bad Blood" duet.) We're friends again! Go, friendship! Go, females! Go, Super Bowl! Go, America!
3. Latex, as in Katy will be wearing some. It's quite literally a guarantee that Katy Perry will wear some sort of form-fitting latex or spandex situation, in case you need to convince the football fans you're perhaps watching the Big Game with that they need to pay attention to the halftime show.
4. Cats. Having seen Katy Perry's Prism tour, I can pretty much promise you that her Halftime Spectacular will include some sort of feline. Will it be a bunch of dancers dressed in terrifying cat costumes? (Did we not learn anything from Cats?) Will it be Perry herself with cat ears? Perhaps a trippy floating cat-face à la Miley?
5. Balloons: "So let me get you in your birthday suit / It's time to bring out the big balloons." Noted.
6. This:
7. Speaking of fireworks, there will definitely be fireworks. And the song "Firework." It's the Super Bowl! End with a bang. A very controlled, very inspiring bang.
8. A medley! If you've seen a Super Bowl Halftime Show before, you know these things run on medleys. But what will Perry pick from her vast discography of hits? She's got 12 and a half minutes to work with, so let's say she does the classics: "Teenage Dream," "California Gurls," "Firework," "Last Friday Night (T.G.I.F.)" — as well as the hits off Prism: "This Is How We Do," "Roar," Dark Horse." Will she include the underrated "Birthday"? How about a short interlude tribute to "I Kissed a Girl"? Let's assume she closes with "Firework"; will there be any other unexpected additions?
9. Ferras. "Who?" Ferras. He's the first guy Katy Perry signed to her Metaphorphosis Music label just last year. He also went along with her on the Prism tour, appearing mid-show to show off his skills and have Perry gab about his talents. Will he be at the Super Bowl? Likely. Will Perry use her chance at this immense audience to push her artist? Perhaps.
10. Cultural appropriation. Just saying! It wouldn't be the first time.