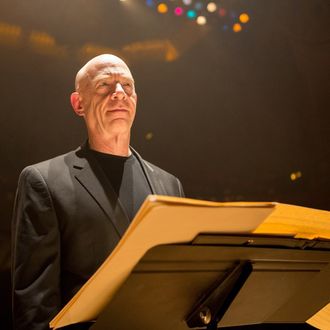 Mensa's next test for qualifying members will ask: Is Whiplash an original or adapted screenplay? If you don't think this question is tough, maybe you haven't met the Academy of Motion Picture Arts and Sciences, whose Writers Branch Executive Committee currently deems the script the latter. Deadline reports that Damien Chazelle's screenplay, largely based on his own experiences as a musician, has been filed in the Adapted category for a potential Oscar nomination because the filmmakers turned a portion of the original feature's script into an 18-minute short to secure the funding for the rest of it.
According to the Academy's rules, the fact that Whiplash existed as a Sundance short before it hit big screens as a feature means the finished product falls under "screenplays based on previously produced or published material." Consequence of Sound and Deadline point out that this might cause some voters to skimp on giving Chazelle and his work a nomination because they might not know where to look for it on their ballots. John Gatins, the Academy Award–nominated screenwriter of Flight, emailed Deadline:
I just tried to vote for Whiplash for a Screenplay Oscar nom and I couldn't find it as a selection on my "help list" — I searched and searched  — I finally switched to the ADAPTED CATEGORY and I found it there. The Academy has made a HUGE mistake!!! They are gonna have to ask the writers'  branch members to re-vote….and it makes this whole voting process off kilter. HELP!!!…Unless Whiplash is NOT an original–am I crazy? Haven't I read 100 articles about Damien wherein he tells the story of his life being the inspiration for the flick?
(No, Gatins, you are not crazy.) Unfortunately, there is no set precedent for this weird technicality loophole. In 2008, Courtney Hunt's Frozen River underwent a similar funding strategy as Whiplash but ended up receiving an Original Screenplay nom. Helen Estabrook, one of the producers of Whiplash, told Deadline:
I'm so proud of the story of the making of this movie. We did a kind of exciting thing in that we had this great script, a full feature script which we all loved, and we thought, How are we going to get this made in this climate where it's hard to make these tiny little things? … So what we did was to do this scene to show what a great director Damien was in order to get the feature made. It was because how powerful we felt the screenplay was that we then did the short from that. I guess the disappointment for me is that it has become some idea that our movie was just some adaptation of a short into the feature, which is not true. We just wanted to show financiers what a genius Damien could be as a director.
The other pretty big problem here is that the Academy reportedly didn't notify Chazelle or Sony Pictures Classics that the script was being classified as an adaptation — ballots went out December 29, and Sony learned this on Monday. The Academy Award nominations (and, hopefully, justice) will be revealed January 15. For the record, the WGA considers it, and has nominated it, for an Original Screenplay award.