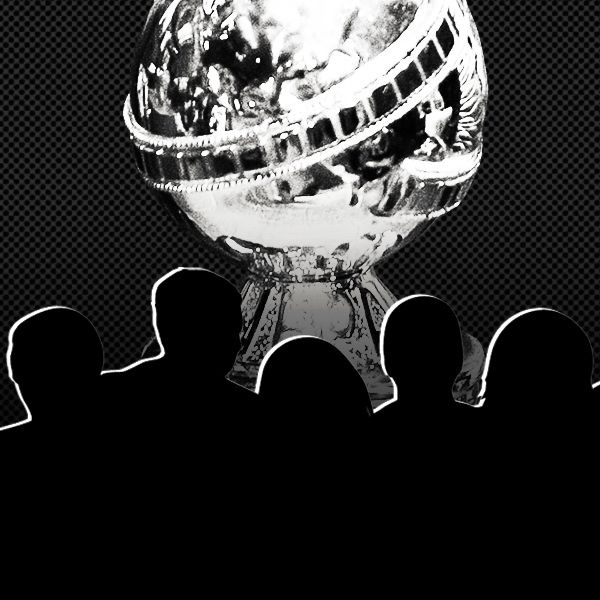 On Sunday night, millions of people around the world will watch the Golden Globes and repeatedly hear winners thank the Hollywood Foreign Press Association. They will also, in all likelihood, assume the HFPA is a large and hearty organization whose award choices should be taken as gospel. They will be wrong. The HFPA is a ragtag group of around 90 writers who need only produce a handful of pieces for a foreign publication each year to qualify for membership. Of course, there are exceptions. About 25, one former president told Sharon Waxman in a 1996 Washington Post takedown of the HFPA. The rest, Mirjana Van Blaricom said, "may write four or even five articles [a year]. I don't think that makes them journalists."
Just who makes up this little band? We tried to find out and were met with varying degrees of success. Some HFPA members are legitimate journalists and critics whose work could be found in major newspapers and magazines. Many more are junketeers who seem more interested in getting a picture with their subject than asking probing questions. There are those who are pretty much invisible on the internet, those who have been in the organization for a half century and seem to be coasting by on reputation, and our favorite, a former bodybuilder turned B-movie action star. Mini bios of every member are below.
Paoula Abou-Jaoude (Brazil)
A member of the HFPA since 1998, Abou-Jaoude won the International Media Award in 2006. According to a Variety piece from 2000 about the benefits of joining HFPA, she wrote for Brazilian publications called Sci-Fi News and Sci-Fi Cinema and served as a correspondent for HBO Latin America. Here's an article she wrote in 2007 about Avril Lavigne, and another about Johnny Depp, translated on a Depp lovers message board.
Mario Amaya (Colombia, Puerto Rico)
After a career covering hard news, Amaya joined the HFPA in 2006. According to a press release announcing his election, he had written for a Colombian weekly called Cambio for a decade prior. Now he's writing for El Tiempo, a popular Colombian newspaper, and Esquire Colombia. Here's a Q&A with Jake Gyllenhaal from last year's Toronto Film Festival and another from late November with Christian Bale. Mario is on Twitter here.
Vera Anderson (Mexico)
Anderson seems to ply her trade most often at Mexico's Cine Premiere. Here she is crapping on Dumb and Dumber 2 for her worst of 2014 list and crowning a three-way tie for best of 2014. Anderson is also a photographer who sometimes shoots her subjects before interviewing them. She can be found on Twitter here.
Ray Arco (Canada)
Though Canada is now the only nation listed next to Arco's name on the HFPA website, he appears to have gotten his start in Romania. Here's a 2013 article from a Romanian website celebrating his birthday, and another calling him "legendary." The Canadian press doesn't have quite the same reverence. The Toronto Star once called him a "powerful nobody."
Husam "Sam" Asi (United Kingdom)
Asi is a BBC Arabic correspondent who also runs and writes for a site called U.K. Screen. Here's a recent interview with Tim Burton about Big Eyes, and another with Angelina Jolie in which he asks her about the CIA torture report. Asi Tweets in English and Arabic here. Those who follow HFPA scandal might recognize Asi's name from this story in the The Wrap, entitled "Sexual Shenanigans at the HFPA."
Rocio Ayuso (Spain)
A frequent contributor to Spain's biggest paper, El País, Ayuso is tasked with writing run-of-the-mill celebrity news (see this recent piece about Cameron Diaz's secret wedding) and celebrity interviews (see this recent Q&A with Katie Holmes). Ayuso, who told the website larioja.com that she first moved to L.A. to study philosophy, is also the author of the Kindle ebook Natalie Portman, Sweet and Sour.
Ana Maria Bahiana (Brazil)
Bahiana is one of the few HFPA members with a Wikipedia page, so we know more about her than most. For example, we know Bahiana worked on the first issue of Rolling Stone Brazil, that she worked for the magazine Screen International for years, and that she's written six books. According to this website, her book The Seventies Almanac was "one of Brazil's 2006 bestsellers." She's such a prolific Tweeter that it's hard to find if she's tweeted any of her own stories.
Gilda Baum-Lappe (Mexico)
Though she is on Twitter, Baum-Lappe is a bit of mystery. The only piece of hers we could find was this article on GoldenGlobes.com, and the only info about her comes from a piece on NoiseLab.com, entitled "¿Cuál es el problema de los Globos de Oro?" It calls her a "prominent critic who has developed her career in entertainment publications published in the United States."
Philip Berk (Australia, Malaysia)
Berk is among the most well-known members of the HFPA, and not for good reasons. The former president of the organization took a six-month leave of absence from the HFPA after his memoir With Signs and Wonders angered members by leveling the same criticisms we did in this piece's intro. Berk has also been accused of fraud while he was leading the HFPA, and of grabbing Brendan Fraser's butt at a party.
Elmar Biebl (Germany)
Biebl has interviewed a lot of celebrities, and it appears he's listed them all here on his website. He also does TV work for MBTV-Produktions GmbH in Berlin. It appears his Twitter has been hacked.
Silvia Bizio (Italy)
As an AP piece from 2008 told it, Bizio is a prolific writer for one of Italy's largest dailies, La Repubblica. The article said Bizio had a contract for 200 pieces a year. Here she is earlier this week on Russell Crowe's The Water Diviner. According to Geek Reporter, Bizio is "one of the most esteemed members of the HFPA," which might be why she had a controversial credited role in Sofia Coppola's Somewhere.
Jorge Camara (Dominican Republic)
A longtime member of the HFPA, Camara has served as president a handful of times (the group elects a new president each year). When he was elected in 2008, the AP said he "covers Hollywood for both print and television outlets in Mexico and Latin America," but it's hard to find anything about him that isn't about his work with the HFPA.
Luca Celada (Italy)
Elected in 2007, Celada writes regularly for Il Manifesto, a communist newspaper. Here's a recent Q&A with Christian Bale in which he calls Moses the "original Jihadist." She also writes for L.A. art magazine Artillery. She tweets here.
Jean-Paul Chaillet (France)
Chaillet moved to L.A. in 1990 to cover Hollywood for the French movie mag Première. He joined HFPA two years later and now covers Hollywood for France's oldest national newspaper, Le Figaro. In 2006, he told Screen International that membership is a big deal for a foreign journalist for one reason: access.
Tina Johnk Christensen (Denmark)
A writer for the Viby-based paper Jyllands-Posten, Christensen has only been in the HFPA since 2013. The only other thing we know about her is that she won a couple of awards from the L.A. Press Club that year, including one for a Viggo Mortensen profile that doesn't appear to be online.
Rui Henriques Coimbra (Portugal)
Coimbra is a correspondent for the Portuguese newspaper Expresso and the paper's weekly magazine. In November he wrote a profile of the actor Diogo Morgado, which was translated on this fansite.
Jenny Cooney-Carrillo (Australia, New Zealand)
Cooney-Carrillo keeps busy writing for a handful of publications based in Australia and New Zealand, including the Sydney Morning Herald and The Age. According to her website, she's "interviewed every major star in the world," most recently Michael Keaton and Anna Kendrick.
Jean E. Cummings (Japan)
This British-born critic is a 39-year member of the HFPA who writes for publications in Japan. In 2010, she told Variety that she votes for the Golden Globes based on the quality of films, which is apparently novel enough to warrant mention.
Yola Czaderska-Hayek (Poland)
She's the "first Polish lady of Hollywood," according to her website, and a perfect representation of everything that's wrong with the HFPA. Take a look at her site and you won't see articles or reviews or her thoughts on cinema, but pictures of her with movie stars. Not just a writer, Czaderska-Hayek is also the "reigning hostess in Southern California and those not invited to her fabulous parties plan and scheme to get an invitation." At least that was true in 1995.
Patricia Danaher (Ireland)
Elected to the HFPA in 2008, Danaher covers film for The Sunday Tribune, The Irish Examiner, and Morning Ireland, among other places. She's a former news producer, a novelist and filmmaker who now writes celebrity news and celebrity profiles.
Ersi Danou (Greece)
When Danou was first elected to the HFPA in 2001, she was a regular contributor to the Greek movie magazine Cinema. Now a search for her name on the website turns up no results. Danou seems to spend the bulk of her time now running the Los Angeles Greek Film Festival, which she founded in 2007.
Noël de Souza (India)
A former classmate of Gene Hackman and Dustin Hoffman, this actor turned journalist played Latino roles a half century ago because, the BBC says, "Indians were so foreign to American viewers." In 2012, Business Insider called de Souza, a member of the HFPA since 1957, one of the most powerful Indians in Hollywood. He has written for publications such as Cine Blitz, Mid Day, and I Diva. He was also in Wedding Crashers.
Gabrielle Donnelly (United Kingdom)
When this 30-year HFPA vet isn't covering film for British papers such as Hello!, the Daily Mail, and Woman's Weekly, she's writing novels. Her latest, The Little Women Letters, is a contemporary take on Louisa May Alcott's classic. She's recently written about Anne Hathaway's openness to the existence of aliens and Rosamund Pike's desire to have a baby after making Gone Girl.
George Doss (Egypt)
Everything we know about Doss is contained in those words you've just read. He's George Doss and he represents Egyptian press in the HFPA.
Mahfouz Doss (Egypt)
Like many members of the HFPA, Doss is a former president. He joined the HFPA in 1959 and has written for the Egyptian weekly Watani and other "leading Egyptian, French and Lebanese newspapers." In 2013, he was awarded the Egyptian American Organization's lifetime achievement award.
Dagmar Dunlevy (Canada)
Though she's a native of Germany, Dunleavy is one of four HFPA representatives for Canadian media. She has written for the magazine Flare in the past, according to many media outlets, but a search of her name on the site doesn't turn up anything. She made waves as HFPA president, according to a 2001 Variety article, by scheduling more film screenings for members and adding benches outside HFPA HQ for smokers.
Armando Gallo (Italy)
Gallo appears to be more of a photographer. He was the longtime L.A. correspondent for Sorrisi e Canzoni, and for the last six years, he's "worked exclusively for OGGI," according to his website. He also made the definitive Genesis coffee-table book.
Margaret Gardiner (South Africa)
This former Miss Universe now "travels the world" and "interviews movie stars." Her worked has appeared on TVPlus and a show called Top Billing, among other places. She tweets, too.
Barbara Gasser (Austria)
Gasser's former employer German World provided some details on the Austrian journalist when she was voted into the HFPA in 2011. For starters, she's one of "Austria's top film journalists." In 2013, she wrote about life as a member of the HFPA and revealed that she conducts about 300 interviews a year and watches just as many film and TV screeners. Gasser has written for the Austrian publications M magazine and Maxima, for whom she most recently interviewed Michael Haneke.
Andre Guimond (Canada)
Guimond has at times written for the Winnipeg Free Press and Quebec City's Le Soleil. Neither publication has any of his work online. According to the author of a 2005 Globe and Mail piece making fun of Canada's HFPA representatives, Guimond did write a 1998 article about Bruce Willis in the Winnipeg paper.
John Hiscock (United Kingdom)
The rare HFPA member whose work is not that difficult to find, Hiscock covers Hollywood for The Daily Telegraph, recently interviewing Steve Carell and Sienna Miller. Here's his website, where he blogs and posts pictures taken with his interview subjects.
Helen Hoehne (Germany)
Hoehne gave up her dream of being a psychologist to cover Hollywood for German publications such as TV Movie and Empire magazine. She does it in print (here's an interview with Heidi Klum) and on video (here's an interview with Ben Affleck).
Anke Hofmann (Germany)
The biweekly magazine TV Digital seems to be Hofmann's main writing outlet, though her work has appeared in Vanity Fair Germany as well. Here's something she wrote in 2013 about Comic-Con.
Nellee A. Holmes (Russia)
In addition to having bylines in both the Moscow Times and the St. Petersburg Times, Holmes is the United States's representative of the Russian Cinema Fund.
Munawar Hosain (Denmark, Germany, United Kingdom)
A true man of the world, Hosain has also represented Poland and Bangladesh at the HFPA. In addition to evaluating "films and talent for their excillence [sic]," Hosain takes a lot of photographs. Googling his name turns up more photo credits than bylines. Most impressive, it turns up this tidbit about him teaching Angelina Jolie how to cook Indian food.
Yoram Kahana (Germany)
Kahana owns the Shooting Star celebrity photo agency, which has a website that shouldn't be missed. Here's a piece about his collection of 19th-century bentwood furniture written in the L.A. Times in 1987.
Erkki Kanto (Finland)
On one of his websites, Kanto calls himself an "entertainer, speaker, lecturer, Hollywood journalist, author, producer/director, IT Director." On another, he's a "Hollywood journalist, author, producer/director, IT Director." He also mentions having written more than a thousand pieces about Hollywood over the years, but it's hard to imagine any of them being as interesting as this video of him explaining face reading.
Theo Kingma (Australia, the Netherlands, Cuba)
The sitting president of the HFPA has been a member for more than 20 years and photographed many, many celebrities for publications in a handful of countries. This is the second consecutive year he's served as president. Upon his election in 2013, The Wrap wrote that he was "determined to change the organization's image as a group of part-time journalists with little credibility beyond that bestowed by their lucrative television show."
Mirai Konishi (Japan)
Elected to the HFPA in 2011, Konishi writes the "From Hollywood Café" column at Eiga.com. He's not just an observer. Variety says his documentary about sake is expected to get a festival release later this year.
Ahmed Lateef (Hong Kong)
This post on HFPA.org makes covering Hollywood sound like a late-in-life hobby for the accomplished commercial director. He's apparently directed more than 1,000 commercials and won a Clio award. He maintains his HFPA membership by writing for an unnamed magazine in Hong Kong.
Elisa Leonelli (Italy)
Leonelli began her career as a photojournalist but eventually put down the camera and picked up the pen. She's written for many publications, listed here on her website, but now mostly contributes to three: Best Movie, Glamour Italy and Myself.
Gabriel Gustavo Lerman (Spain)
When Lerman was elected to the HFPA in 2004, he was writing for a Costa Rican magazine and working for two L.A.-based Spanish publications. These days, he appears to be writing for Barcelona daily La Vanguardia.
Emanuel Levy (United Kingdom)
That's right, a member of the HFPA whom you might have heard of. The former Variety critic with an interesting Twitter strategy seems to publish most of his work on his own website, but he must also publish a few things in British papers. Whatever they are, we couldn't find them.
Lisa Lu (China)
Lu has an interesting distinction among her HFPA peers: She's the only one who's also a member of the Academy of Motion Picture Arts and Sciences. She's also probably the most successful actress in the group, having worked for many years onscreen and -stage in the U.S. and China. Her most recognizable role was in 1993's The Joy Luck Club.
Lilly Lui (Hong Kong)
The 11-year HFPA vet wrote for the Hong Kong publication Oriental Daily News when she made it into the group in 2004.
Ramzi Malouki (Algeria, Belgium, France, Morocco, Tunisia)
Malouki spreads his words across five nations, making him, by one measure, the most widely read member of the HFPA. Though he's primarily a TV reporter for Canal Plus, he's also written a "Hollywood Insider" column for Yahoo! Cinema in France, among other things. Here he is reporting on last year's Oscars for iTELE, and here he is getting interrupted by Jimmy Fallon at last year's Golden Globes.
Michele Manelis (Australia)
By conducting her celebrity interview pieces for the News Corp Australia Network, Manelis ensures her pieces, like these on Andy Samberg and Nathan Fillion, will be read all over Australia.
Karen Martin (Germany)
One of the funny quirks about the HFPA is that its members can hop around the world. Take Martin, who once represented Japan and now reps Germany. A 2004 New York Times article said Martin wrote for the German movie magazine Widescreen.
Paz Mata (Spain)
Everything we know about Mata comes from a 2011 Variety article in which she discusses the HFPA's charitable giving. We know she like helping kids.
Juliette Michaud (France)
Along with whatever journalism she's doing, Michaud has written three books. One is about the history of Hollywood, another is about life as a Hollywood journalist, and the last is a novel about the adventures of a young Hollywood journalist.
Kristien Gijbels Morato (Belgium)
The 26-year-old Morato is the newest member of the HFPA and its youngest ever. She's the entertainment reporter for Het Laatste Nieuws. Here's a recent piece about Pharrell Williams and Gwen Stefani.
Aud Berggren Morisse (Norway)
Morisse has covered Hollywood for Norway's largest paper, Verdens Gang, since at least 1992, when she told the L.A .Times that L.A. "now maybe is the capital of racial hatred" because of the Rodney King riots. Here's an article she wrote in 2013 about the Norwegian Oscar-nominated film Kon Tiki.
Yukiko Nakajima (Japan)
It was hard to find any information about Yukiko Nakajima, probably because we searched for her name in English.
Yoko Narita (Japan)
Many of the HFPA members who actually have a web presence also have lots of pictures of themselves posing with celebrities. Narita, whom Variety says is known for her "tacky questions to stars," enjoys posting retrospectives, like these photos of her with Neil Patrick Harris from 2014 and 1988.
Aniko Navai (Hungary)
We can't say for sure, but Navai is probably the only member of the HFPA with a Tumblr devoted to her (granted, it only has three posts). She wrote this 2013 interview with Angelina Jolie for M1 in Hungary.
Janet Nepales (the Philippines)
A TV reporter for GMA 7 Network, Nepales also covers Hollywood for the Manila Bulletin, along with several other publications. Her most recent piece for the Bulletin is this interview with Claire Danes. Because of her success as a reporter, Nepales was named one of 2012's Most Influential Filipina-American Women in the United States.
Ruben Nepales (Dubai, the Philippines)
Yes, he's Janet's husband, and he writes the "Only IN Hollywood" column for the Manila Bulletin's rival paper, The Philippine Daily Inquirer. He recently spoke with James Franco about The Interview. In 2012, Nepales wrote a book called My Filipino Connection: The Philippines in Hollywood.
Alexander Nevsky (Russia)
Easily our favorite member of the HFPA, Nevsky's real name isn't actually the same as the title of that Eisenstein movie. It's Sasha Kuritsyn, and he's a bodybuilder who moved to Hollywood, starred in B-movies, and somehow found himself in the HFPA.
Yenny Nun-Katz (Chile, Peru)
Covering Hollywood for more than 40 years, Nun-Katz has won awards in Chile for her work, which now appears most often in Revistas COSAS. She recently interviewed Benedict Cumberbatch and Sophia Loren. She tweets here.
Scott Orlin (Germany)
The German movie magazines Cinema and TV Spielfilm look to be Orlin's primary outlets. And he doesn't just provide words for those publications. Here's a slideshow in Cinema of Orlin with his arm around movie stars.
Mira Panajotovic (Serbia)
Panajotovic has been doing "interviews, reviews for magazines, newspapers, radio and TV stations" since Serbia was called Yugoslavia. This article says she first met actors and producers while playing tennis in L.A., and now she's great friends with many, but remains the closest with George Clooney and Johnny Depp.
HJ Park (South Korea)
An actual critic, Park has written for the Korea Times since 1980. He also contributes to Radio Seoul and Seoul Economic Daily. He's the only HFPA member who's also in the Los Angeles Film Critics Association.
Alena Prime (Tahiti)
Does Alena Prime exist? Almost certainly. But we're having a hell of time confirming that.
Serge Rakhlin (Latvia, Russia, Ukraine)
Rakhlin is the head of the HFPA's foreign-language film committee, which was recently praised by Variety because it often "recognizes films that aren't even eligible for the Academy Award." As for his own work, Rakhlin is a former employee of the Voice of America.
Patrick Roth (Germany)
Though Roth has been called a L.A.-based film journalist, he's better known in Germany for his novels, which include a "biblical thriller," among others.
Mohammed Rouda (Lebanon, United Arab Emirates, United Kingdom)
Rouda is a senior editor at Variety Arabia who has reported for Screen International and keeps his own blog where he reviews films. The Interview only got one star.
Frank Rousseau (Belgium, France, French Antilles)
Rousseau is Programme.tv's correspondent in Hollywood, and he lives up to that lofty title by conducting regular Q&As with celebrities. Here's one with Kiefer Sutherland.
Ali Sar (Russia)
In the race for the HFPA's presidency in 2013, Sar lost out to the aforementioned Kingma, who was seen as more of a reformer. That left Sar more time to write in 2014. He contributed to the Moscow Times and the St. Petersburg Times in the past year.
Frances Schoenberger (Germany)
Schoenberger's first writing gigs in Hollywood came courtesy of the teen magazine Bravo in the 1970s. She worked her way up in Hollywood, befriending Arnold Schwarzenegger and joining the HFPA. The German magazine Stern recently ran her interview with Brad Pitt.
Elisabeth Sereda (Austria)
One look at her Twitter timeline, and it's clear Sereda is intimately involved in the Golden Globes. Check out these seat cards. When she's writing, it appears to be for the Austrian movie magazine Skip.
Dierk Sindermann (Austria, Germany, Switzerland)
Sindermann is a regular contributor to the Swiss paper Blick and the German paper Express, pounding out celebrity-news blog posts and conducting interviews with the likes of Christian Bale and Keanu Reeves. Sindermann has never been shy about getting photos with his interview subjects.
Judy Solomon (Israel)
As she approaches her 60th year in the HFPA, Solomon continues to be an active member. A 2011 Daily Beast article about her role as seat assigner for the Golden Globes said Solomon wears "Jackie O.-style suits, chain-smokes skinny foreign cigarettes, and sprinkles her sentences with the word 'darling.'" It also mentioned that she regularly writes for the Israeli magazine Woman's World.
Lorenzo Soria (Italy)
Once someone rises to a level of leadership within the HFPA, it's difficult to find any information about them that isn't related to that position. So, while we know Soria is the vice-president of the HFPA for a second consecutive year, we don't know much more about him except that he writes for the Turin-based paper La Stampa.
Hans J. Spürkel (Austria, Switzerland)
When Spürkel wraps his arm around a celebrity for the all-important end-of-interview moment, he prefers to be wearing a shirt honoring his favorite soccer club, Borussia Dortmund.
Magnus Sundholm (Sweden)
Sundholm is a journalist and photographer whose blog for the Swedish tabloid Aftonbladet serves up the "hottest snack ice behind the scenes of the celebrity capital." That's probably a bad translation. Here's a recent interview with Jamie Foxx.
Aida Takla-O'Reilly (Dubai)
Not only is Takla-O'Reilly a former president of the HFPA and 59-year member, she's got a doctorate from the Sorbonne. She puts that education and experience to good use writing for a glossy teen magazine in the glitzy emirate called Young Plus.
Meher Tatna (Malaysia, Singapore)
Tatna is currently the treasurer of the HFPA while writing for publications in Southwest Asia. The highlight of her career surely came in 2005, when she provided a voice on The Simpsons.
Jack Tewksbury (Argentina)
A nine-time producer of the Golden Globes telecast, Tewksbury's first gig as a member of the HFPA was as movie columnist for the Quebec Chronicle-Telegraph. He's represented France and Russia in years past but now plies his trade for Argentine publications.
Hervé Tropéa (France)
Tropéa is the man in Hollywood for several French publications, including Gala, Télé-Loisirs, and VSD. Here's a recent interview with Jeff Bridges, and here's where he keeps the proof that he's a Hollywood reporter.
Lynn M. Tso (Taiwan)
A correspondent for the Taipei Film Commission and a contributor for TVBS Weekly, a Taiwanese entertainment magazine, Tso takes her duties as a member of the HFPA seriously. In 2011, she spoke to Variety about the task of reviewing all the film and TV screeners she's sent.
Katherine Tulich (Croatia)
You can find Tulich's byline on RogerEbert.com, in the L.A. Times, and in Variety, among other places.
Kirpi Uimonen Ballesteros (Finland)
When Ballesteros was elected to the HFPA in 2011, The Hollywood Reporter said she wrote for Ilta-Sanomat, Koululainen, and Suosikki. The most recent piece of hers that we could find was this 2012 piece on Susan Flannery.
Alessandra Venezia (Italy)
In her 1996 article about the HFPA, Sharon Waxman called Venezia a "well-respected foreign entertainment journalist." Quite a compliment for a member of the HFPA. She has written for Italian publications Panorama, IO Donna, and L'Unita.
Marlène von Arx (Switzerland)
Movie Marlene (that's her Twitter handle) is the columnist for Bluewin.ch, where she recently wrote about George Clooney. Scroll down for the requisite photo of Clooney and von Arx embracing.
Noemia Young (Canada)
The Canadian press has no love for Young and her fellow HFPA members. The Toronto Star and The Globe and Mail have both run pieces making fun of the unknown writers. They must not read 7 Jours.