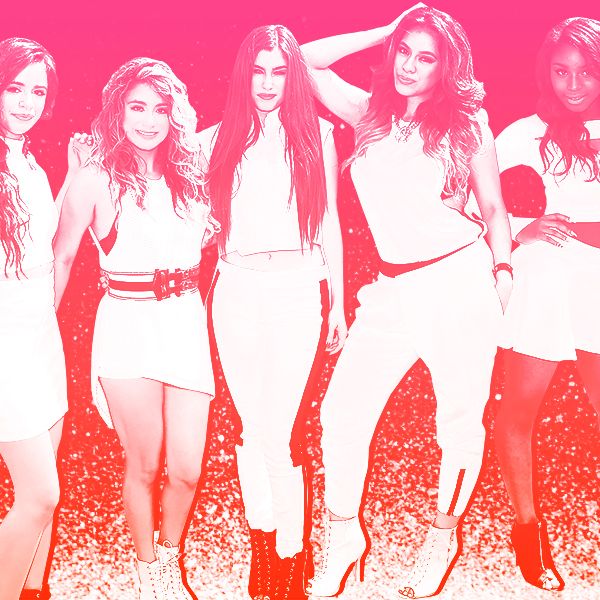 Fifth Harmony.
Photo: Maya Robinson and Photo by Getty
If you follow a young person (or just a person younger than you) on Twitter, you probably know this week's biggest news: Fifth Harmony has an album out! Don't you know who Fifth Harmony is? No? That's what we're here to explain. It'll be painless, and by the end you'll feel so much cooler. We promise.
Let's start slow. Who is Fifth Harmony?
Fifth Harmony is Ally Brooke, Normani Kordei, Lauren Jauregui, Dinah-Jane Hansen, and Camila Cabello. They formed during the second season of the American X Factor. Like many reality-show musical groups (read: One Direction), all five girls auditioned as solo artists and were thrown together by producers when they failed to move forward individually. During their run on the show, Fifth Harmony battled growing pains, multiple name-changes, and the derision of the judges — who called them "Fifth Unison" — before everything came together in the semifinals, where they performed an absolutely insane version of Ellie Goulding's "Anything Could Happen." They ended up placing third, behind country singer Tate Stevens and pint-size belter Carly Rose Sonenclar. They lost! Crazy, right?
If they placed third in a minor season of a now-canceled talent show, why are we talking about them? 
Because, as he did with One Direction (who also came in third on their season of the U.K. X-Factor), Simon Cowell saw the social-media frenzy the girls inspired in viewers and bet that they could be a hit. He signed the group, kept them in the studio to develop their skills, and maintained the buzz with a series of YouTube covers, which their devoted fans the Harmonizers ate up as if it were a cow at Jurassic Park. Here they are doing Frank Ocean:
A year after X-Factor, they released their first EP, Better Together, and now, a year after that, they've finally got an album, Reflection. It's been a slow burn.
You mentioned their fans were intense. How intense? Like Justin Bieber intense? 
Oh my God, sooooooo intense. Adults talking about passionate teen-girl fan bases is always a dicey proposition, so we will just say that the Harmonizers' combination of heartfelt devotion and savvy internet strategizing makes Obama '08 look like Kerry '04. Just look at this tweet:
It has just over 11,000 retweets.
Why do teens like them so much?
Well, it helps that they're relatable. They're young, like maybe-doesn't-remember-9/11-that-well young; they're diverse; and they have no problem talking the language of #teen. All five members have distinctive voices — and good ones, too, which not even One Direction can claim. (Sorry!) They also have a rock-solid social-media strategy, which is based around respecting and fearing their fans in equal measure. When the Harmonizers were not pleased by the band's album cover, the girls changed it immediately.
Huh. So, exactly how famous are they?
Put it this way: If Justin Bieber, One Direction, and Ariana Grande are the A-listers of teen pop, with 5 Seconds of Summer as the strivers coming up from behind, Fifth Harmony are down a level below that, right next to Austin Mahone, in a place where you have all the YouTube views and Twitter followers you could ask for but no huge hits. You only get a certain amount of time at this stage without breaking out — poor Cody Simpson's window seems to have closed — but things are looking good for Fifth Harmony right now. Each of their singles has charted higher than the last, and they're already the most successful group to come out of the American X-Factor. (That X-Factor USA has launched an artist and The Voice hasn't is one of the industry's fun little ironies.)
Have I heard any of their songs?
Potentially! "Miss Movin' On" and "Bo$$" both charted in the Hot 100, and their newest single, the Meghan Trainor–penned "Sledgehammer," is their first Top 40 hit. You've heard at least one of those in a 7-Eleven.
Okay, I might be onboard. One question: Does the group have a Beyoncé?
Not quite. But they do have a Harry Styles, a member who is just slightly more prominent than the others and dates slightly more famous people. That's Camila, who went out with Austin Mahone for a bit last fall. Like Harry Styles's hairstyle, she also had a trademark accessory: large bows, which she started wearing during the X-Factor run. (She seems to have stopped, though.) But, like Harry Styles, Harmonizers will get very mad at you if you suggest the other members aren't as famous as her. So don't.
Oh right, Austin Mahone. Are any of them dating anyone else adorable … and famous? 
According to the Fifth Harmony Wiki, Ally is dating "YouTube personality Troy Ogletree," while Dinah is dating a top college-football prospect, Normani is dating Dinah's cousin, and Lauren was linked to a guy from British boy-band the Vamps. But the Vamps are old news after one of them insulted Lauren: "We all had a bit of a go," said bandmember James McVey about Lauren. Rude! Harmonizers, and Lauren's fellow band members, went nuts:
So they're kind of Spice Girls–y.
Totally. Girl power!