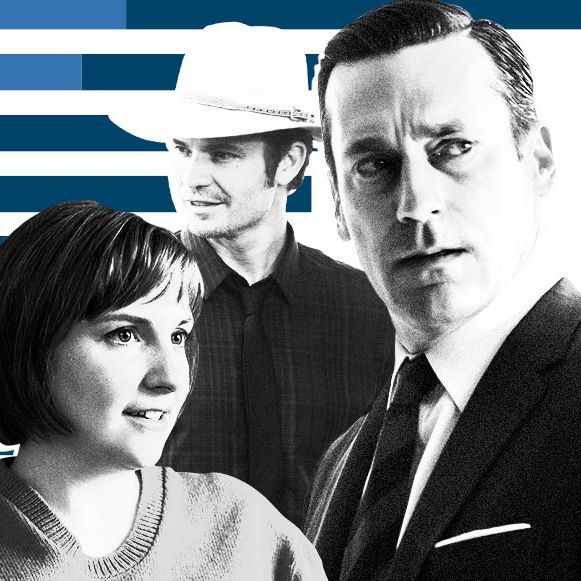 Photo: Maya Robinson and Photos by HBO, FX and AMC
Feeling guilty that you never checked out Mad Men, didn't have time for this week's premiere of Justified, or have yet to catch up with all those episodes of Girls on your DVR? Don't. It's not exactly breaking news that there are more scripted television shows being created and distributed on a larger number of channels and viewing platforms than at any time in the medium's history. New projects are announced almost daily — from the intriguing (Woody Allen producing for Amazon Prime) to the ridiculous (this week's announcement that online retailer Overstock.com was getting into the first-run programming business, a bit of ridiculousness first predicted by The Onion in 2013). But a new analysis underscores the futility of trying to keep up with everything TV is cranking out these days — and how the number of options for audiences these days is "just literally insane," as FX Networks chief John Landgraf told reporters Sunday at the TCA press tour.
Using Nielsen data, Landgraf's research department at FX Networks determined that in 2014, at least 328 scripted first-run prime-time programs aired on ad-supported or subscription-based broadcast, cable, and streaming networks in the U.S. (PBS wasn't included.) Broadcasters still churn out plenty of programming (124 scripted shows), while streaming players such as Amazon, Netflix, and Hulu are now very much a factor (24 shows). But it's clear cable is behind the scripted surge: As a whole, cable telecast 180 different scripted comedies, dramas, and limited series last year — more than its broadcast and nonlinear rivals combined. Perhaps more stunning is how rapidly original content has multiplied. As the chart below reveals, the number of first-run scripted cable shows has doubled in just the past five years, tripled since 2007 (the year Mad Men premiered), and grown a staggering 683 percent since the turn of the century. Against this backdrop, perhaps it's time to stop wondering why so many broadcast and cable networks are struggling with ratings declines — and start asking why the Nielsen numbers aren't down even more.