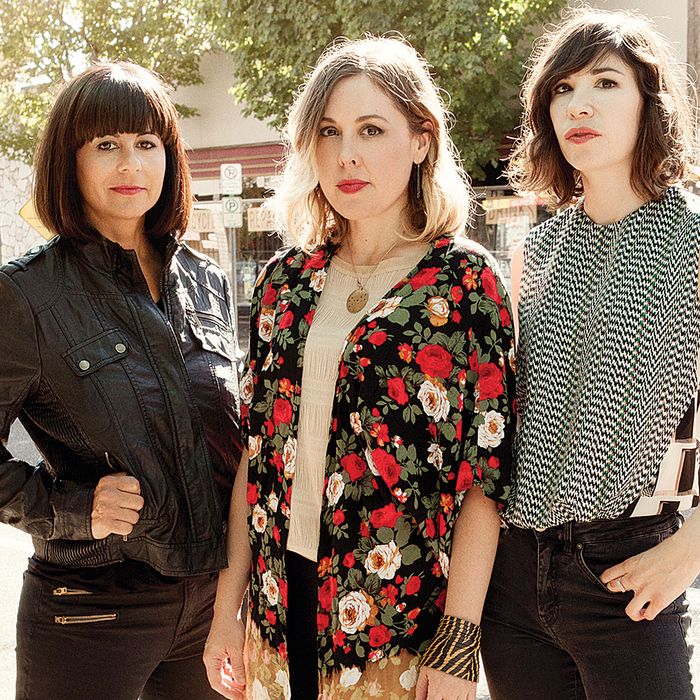 Carrie Brownstein, Janet Weiss and Corin Tucker of Sleater-Kinney.
Photo: Brigitte Sire
Okay, we can finally admit it: 2014 was kind of a garbage year for music. In retrospect, it will probably go down as Year 1 A.B. (After Beyoncé) or "the year that Bono apologized for giving away an album for free." Though there were a few triumphs, something about pop music in 2014 felt transitional, minor, by-default: We are talking about a year in which we could not find a better Song of the Summer than Iggy Azalea's "Fancy," a year in which Meghan Trainor's woefully inescapable "All About that Bass" was nominated for the Grammys' highest songwriting honor — a year when, due to some kind of karmic vengeance from a wrathful and definitely Canadian god, Magic!'s "Rude" was the No. 1 song in the country for six godforsaken weeks.
But the good news is that there's nowhere to go from here but up — and that it's already happening. January is usually a wasteland of new releases, but it's already had an uncommonly great winter for music. We are only one-12th of the way through 2015, and I am already more excited about this year than basically all of 2014. Let me count the ways.
1. Mark Ronson and Bruno Mars's "Uptown Funk" Has Been the No. 1 Song for Almost All of 2015.
You can't hate a year with a Hot 100 overlord as benevolent as "Uptown Funk." For four weeks running, the Morris Day–circa–Purple Rain throwback has been ruling the Billboard singles chart, and that is good news for humanity. This song is so scientifically joy-inducing that I hear in the next edition of the DSM, "Not Enjoying 'Uptown Funk,'" will be listed as a symptom of clinical depression. Prominent placement in the Mordecai ad campaign could not even ruin "Uptown Funk"; straight masterpiece indeed.
2. Sleater-Kinney Returned, and It Was Not Even a Little Bit Disappointing.
It's hard to live up to the hype of a reunion record, especially when you're as fervently beloved as Olympia punk trio Sleater-Kinney. But No Cities to Love, the group's first album in a decade, managed to exceed impossibly high expectations, remaining true to the Sleater-Kinney ethos while pushing their sound in a bracing new direction. Though they've always had a cult following, Sleater-Kinney never really got their due on a larger cultural scale, so from their career-high Billboard debut to their run of impassioned late show performances, it's been satisfying to see them finally get a victory lap in 2015.
3. Björk's "Stonemilker" Exists.
I really like Björk's harrowing new heartbreak album Vulnicura. I also realize that it is a post-post-Post Björk album, which means that it is challenging and cerebral and unapologetically not for everyone. But even if you cannot follow Björk all the way down Vulnicura's nine circles of emotional hell, you can't deny the stirring, uncomplicated beauty of the opening track, "Stonemilker" — classic, greatest-hits-status Björk. "Stonemilker" is an aching plea for reciprocal empathy in a dying relationship; it's also one of music's greatest odes to the rolled r. R-r-r-r-r-r-r-r-r-e-s-p-e-c-t, find out what it means to Björk.
4. We Have So Many New Rae Sremmurd Catchphrases.
#UnlocktheSwag! #UpLikeDonaldTrump! #LitLikeBic! On their exuberantly fun debut LP Sremmlife, Tupelo brothers Rae Sremmurd know that a maddeningly catchy hook is the quickest way to our hashtag-crazed hearts. Will Rae Sremmurd get so big in 2015 that "Up Like Trump" will be used as bumper music in an episode of Celebrity Apprentice? We'll see.
5. The New Panda Bear Album Is Really a Treasure.
I can't stop listening to Panda Bear vs. the Grim Reaper, the new solo album from Animal Collective's Noah Lennox. He continues to make music that feels at once scuzzy and spiritual, like the hymns of a new religion that happens to worship at a toxic waste dump. I'd join up in a heartbeat.
6. We Did Not Have to Wait Another Decade for a New Aphex Twin Album.
Silicon Valley code zombies, your At Work playlist just got a little bit longer! After a long absence, Richard D. James is back for the second time with his Computer Controlled Acoustic Instruments pt2 EP — basically the shorter, weirder, and possibly robotic cousin of last year's great Syro.
7. The Albums That Came Out at the Tail End of 2014 Have a Lot of Staying Power.
Just as it's been a great January, release-wise, it was also an unusually strong mid to late December — and the downside was that a few of my favorite albums of last year, Nicki Minaj's multitudinous Pinkprint and D'Angelo's simmering Black Messiah, came out too late to make my official year-end list. But another one I really wish I could have repped for on my list is Charli XCX's Sucker (after many delays, it finally came out on December 15). For my money, it ranks among the best pop albums of the last few years — and if it fails (as I suspect it might) to become Charli's star-making album, hate the game, not the player. We have few pop stars as sharp, independent-minded, and gloriously iconoclastic as Charli (I mean, she kinda-disses Dr. Luke on the first song on this album! How badass is that?), and I fear that the A list is not quite ready for someone who genuinely gives so few fucks. I sincerely hope the world proves me wrong, but if not, we'll always have Sucker — like Bangerz without the #culturalappropriation, or like No Doubt's Rock Steady if it went on a three-day bender and woke up in a Dumpster outside a glitter factory. If these don't sound like compliments, please know that they are some of the highest compliments I have ever given.
8. Viet Cong's Self-Titled Album Is a Really Good Soundtrack for the New York Winter Blahs.
The other night at Mercury Lounge I caught a very good set from the Calgary art-rock band Viet Cong, who put out one of my favorite albums of this still-young year. Their music is steely, pummeling, and industrial — until it suddenly opens up into these pockets of shimmering, unexpected beauty, all the more breathtaking because of the harshness that came before. Coincidentally, this is exactly how it feels to live in New York City in the dead of winter. You know that moment when you have to step through dirty snow because the sidewalk has been blocked by a construction crew and the wind is cutting through your fleece-lined leggings and you're grumbling to yourself about how ugly and cold and loud this godforsaken city is, and then all of a sudden you are mesmerized by the glimmering sparks coming off a buzzsaw and for a moment the world quiets down and goes into slow motion? Or that moment when you can't move your neck because your chin is nestled inside a stranger's armpit on an overcrowded rush-hour R train, and then without warning the train goes above ground and over the Manhattan Bridge you catch this cinematic glimpse of the twinkling skyline and you realize that the world is actually a beautiful, luminous place after all? Yeah, this album kind of sounds like that.
9. We Honestly Have No Idea What Kanye Has in Store for Us.
January has given us two new Kanye West songs: the minimal and sincerely heart-wrenching "Only One," and the twangy Rihanna duet "Four Five Seconds." Both feature Paul McCartney, and neither sound anything remotely like how I figured Kanye would follow up Yeezus. I still have no idea what this album is going to sound like. I am very excited about that.
10. We Honestly Have No Idea What Anybody Has in Store for Us, Come to Think of It.
Surprises are the new normal. In the past six weeks alone, D'Angelo released a comeback album without warning, Madonna unprecedentedly put out half of her forthcoming Rebel Heart months early in response to leaked demos, and Björk unexpectedly rush-released Vulnicura. Frustrated by leaks and perhaps fatigued by the never-ending album promotional roll-out, artists are experimenting with the record release in ways we haven't seen before — which means we can definitely expect more of the unexpected in the coming year. Has the new Rihanna album downloaded to your phone since you've last checked it? Will Kendrick Lamar go door to door personally delivering copies of his new album? Is Frank Ocean right now mailing you a hand-drawn treasure map leading you to a place where he has buried some new songs on cassette? In 2015, anything seems possible.