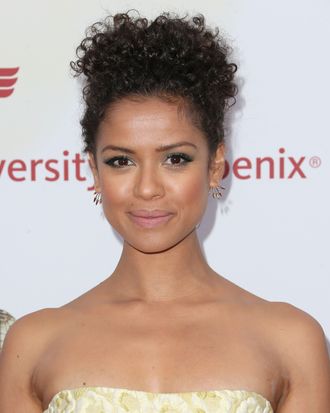 What's a single to do on this, one of the loneliest days of the year? Vulture caught up with some celebrities, including Beyond the Lights' Gugu Mbatha-Raw, Orange Is the New Black's Taryn Manning and Alysia Reiner, and The Affair's Ruth Wilson to ask them this question: How would you treat yourself for Valentine's Day? Their answers ranged from getting "the most epic piece of meat" to watching Fifty Shades of Grey alone in the theater.
KAREN GILLAN
I know what I'm going to do this Valentine's Day: I will be in the cinema watching Fifty Shades of Grey on my own. I'm serious.
You read the book, I take it?
I actually listened to the audio book — that's worse, isn't it? [Laughs.] But I'm really excited, because I think it's going to be interesting people-watching, to be in the cinema on Valentine's Day and see all these reluctant men and really excited women.
So this is a social experiment, in other words?
Yes, it's going to be a really fun night.
GUGU MBATHA-RAW
The ultimate would be a nice massage, I think. My little treat.
Get in there for an hour? Two hours?
Oh yeah, 90 minutes. An hour is never enough. Come on.
JEN BRILL
I would go to the Japanese butcher in NoHo and I would buy the most epic piece of meat, of steak, and, like, the best cut. I would bring it home. I would cook it for a minute and half on each side, completely black and blue, and I would eat it. Maybe I would take a bubble bath. I would go to bed at 9 p.m., which is when I usually want to go to sleep unless my friend doesn't let me.
TINA CRAIG
I would be locked in a room with lots of junk food, Chinese junk food, like spicy dried squid, salty plums. Crazy Chinese junk food with nothing but Breaking Bad and Scandal to watch. No phones, no one can reach me. And then a hot bath with a bottle of Champagne waiting for me when I'm done watching my marathon of shows. I would just lounge in some silk Piamitas.
And what about those lonely hearts who just broke up with someone? Here are more famous people on how to mend a broken heart:
RUTH WILSON
I went on a holiday with my best girlfriend, and we slept and read and drank cocktails and had a good time. So that was a good way of helping her get through a breakup. Usually going away is quite good. Going abroad somewhere sunny with a beach. I will say that a good beach to go to for this is Costa Rica, where I learned to surf, with lots of good-looking surfer men. Kill two birds with one stone: learn a new skill, and lots of good-looking men around.
ALYSIA REINER
C'mon, that's easy. The best way to get over your ex is to have amazing sex with someone else.
That seems to be a popular sentiment.
Also, you can write a nasty letter spelling out everything horrible that happened during the relationship. And, of course, burn the letter.
That's old-school. In our crazy tech society I feel like nobody does that kind of stuff anymore. That can actually be good for the soul.
Precisely. You get all of the angst out of your system. You say every awful thing that you want to. And burn the evidence.
ANNA CAMP
Honestly, the best way to move on is going to a bar and getting really drunk. And then, of course, you make a new friend at the bar.
A really good-looking new friend?
Exactly! It's all about red wine, cigarettes, and making a new friend. That's the best way to get over someone.
BEAU GARRETT
Travel. Backpack somewhere. It doesn't really get you over it because you still come home to what you left, but I think there's something really awesome about traveling alone and having some perspective, being independent and realizing the world is so much bigger than that. It can be really lonely at times, but I think it's a great way to navigate out of that stuck. Nothing reminds you of someone when you're traveling. There's no reminders.
STEPHEN "TWITCH" BOSS
There's a lot of food involved. For me specifically there was a lot of food involved, junk food like candy. Strawberry Twizzlers was my joint. I could go through bags of strawberry Twizzlers in that time. And then, also, movies — a lot of comedies, a lot of the old school. Coming to America lifted me out of a lot.
CAT GREENLEAF
The old me would say red wine and cigarettes coupled with depressing Red Hot Chili Peppers songs. Now my advice is, go find a good shaman.
TARYN MANNING
The best way to get over someone is actually to not get with someone else, and to really feel it. You gotta feel it to heal it — that's sort of my motto. Just deal with it, and don't do the rebound and don't numb it. Just feel it out, and then it's, like, done. Almost like a flu: Sweat it out.