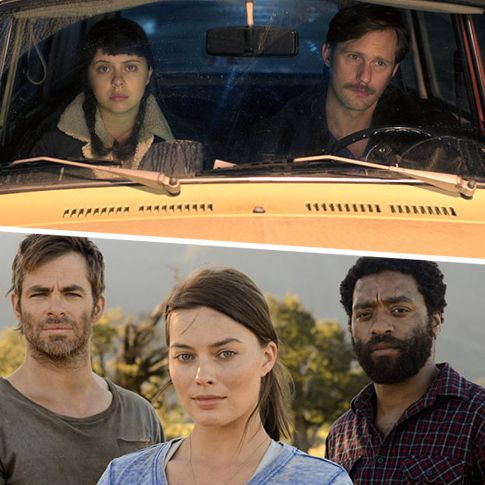 Photo: Sundance Institute
Sundance 2015 didn't start with an out-of-the-gate smash like last year's opening-night film Whiplash, which went on to win both the Grand Jury and Audience Awards. Rather, this year was a slow boil, with Me and Earl and the Dying Girl, a wildly inventive tragiocomic tale of kids dealing with terminal illness, finally breaking out midway through the fest and matching Whiplash's twofer on Awards Night. What we saw in between was a rich crop of movies ranging from a more vérité take on cancer to one of the most beautifully designed horror films in recent memory. Here are 18 films we at Vulture hope you will be equally thrilled to see.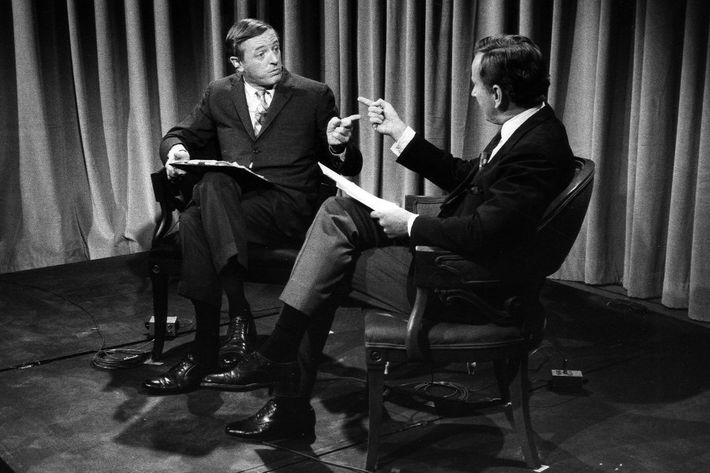 The Best of Enemies
In 1968, ABC, struggling with its political coverage, had the bright idea of putting on conservative thinker William F. Buckley and liberal novelist Gore Vidal to debate one another in prime time during the Republican and Democratic National Conventions. Directors Robert Gordon and Morgan Neville use Buckley and Vidal's ten debate appearances to tell the lively story of two American icons at a key moment in their lives, but they go further: These debates were also the beginning of sound-bite-heavy, point-counterpoint culture, and The Best of Enemies finds in the events of 1968 a direct cause of the deterioration of modern political discourse. This might have been both the most entertaining and the saddest film of this year's Sundance: a riveting gabfest that slowly becomes a lament for the Republic.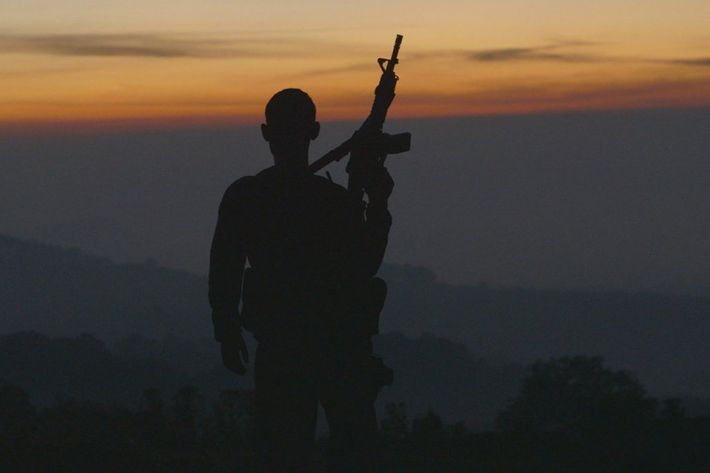 Cartel Land 
Access, access, access is the driving force in Matthew Heineman's astonishing documentary, for which the filmmakers embedded in two separate vigilante groups trying to stop the pernicious march of Mexican drug cartels (not to mention a group of men cooking meth). North of the border is Tim "Nailer" Foley, self-appointed, perhaps racist leader of the Arizona Border Recon. South of the border is the tall and imposing Dr. Jose Manuel Mireles, founder of a group called the Autodefensas, which overtakes vulnerable towns with automatic weapons until the citizens have a chance to arm themselves. Heineman, who won Sundance prizes for directing and cinematography, often served as solo camera operator, getting shot at and witnessing torture. This isn't a didactic film as much as a deep portrait of an unstoppable cycle of violence, wherein the line between vigilantes, the cartels they're fighting, and the Mexican government is almost indiscernible.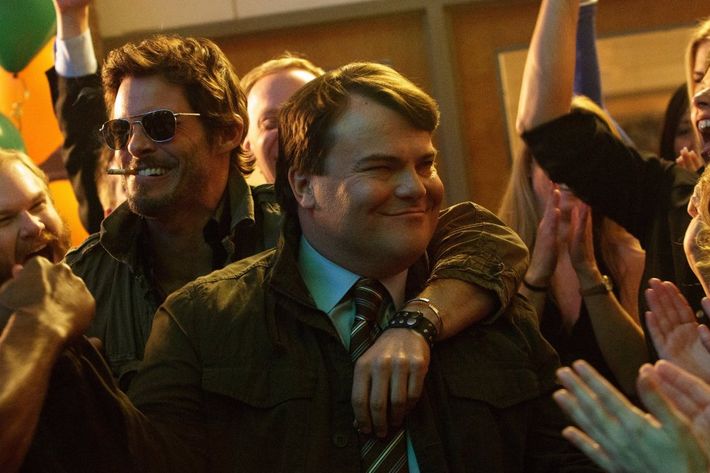 The D Train
This one starts out with the premise of a discarded Will Ferrell vehicle — sad-sack loser Dan (Jack Black) tries to woo his super-cool high-school classmate Oliver (James Marsden) back to their hometown for the class reunion — after an unexpected sexual encounter between the leads becomes something much more unique, daring to really play out the comic potential and consequences of its assignation: one of the most secretly subversive movies at a sex-soaked Sundance.
To read more about it, go here.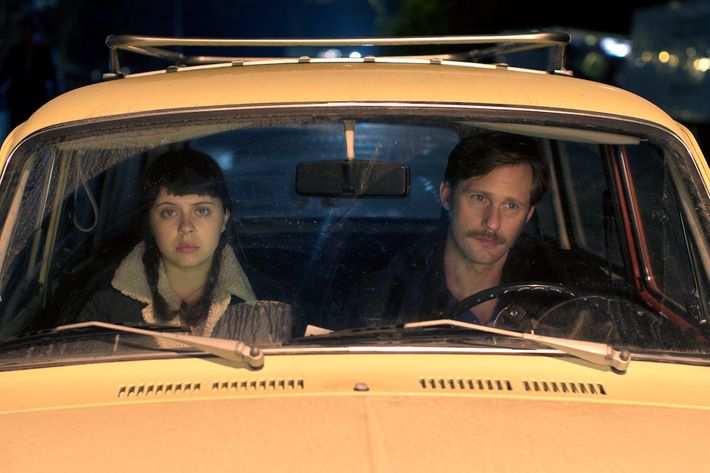 Diary of a Teenage Girl
"I had sex today. Holy shit." Bouncing around in slow-motion bliss, young San Francisco teen Minnie Goetze (Bel Powley) ruminates on a new world of pleasure that has just opened up to her. Trouble is she just slept with her own mother's (Kristen Wiig) boyfriend (Alexander Skarsgård). But, incredibly, writer-director Marielle Heller's film doesn't ask that we be scandalized by this revelation. Rather, sleeping with this older, totally inappropriate man turns out to be Minnie's gateway to the wonders of love, lust, and freedom. Young British actress Powley, one of this festival's great finds, is staggeringly good here: As she goes from shy teen to unapologetic hedonist, her very physical presence seems to transform before our eyes. There's little that's actually new in this movie, but the earthiness that Heller and Powley bring to Minnie's experimentation with sex, drugs, and independence is refreshingly amoral, funny, and poignant.
To read the full review, go here.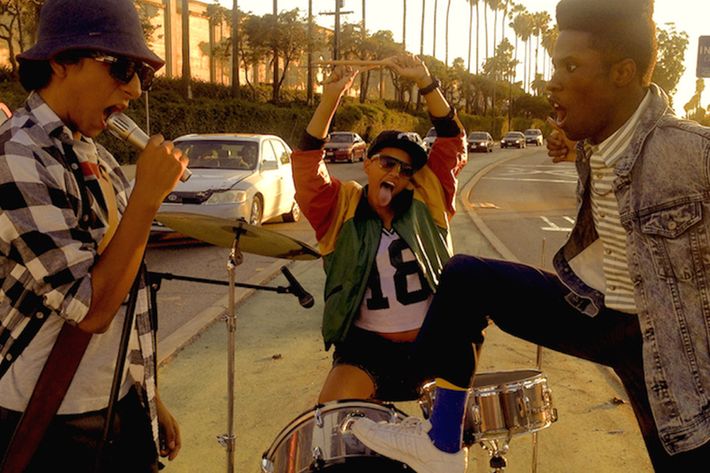 Dope
One of the big breakout titles of this year's festival, Rick Famuyiwa's infectiously entertaining hip-hop-punk-comedy-thriller is Go meets Risky Business meets True Romance meets Fingers, with a little bit of Boyz n the Hood and We Are the Best! thrown in. Shameik Moore is pure dorky charisma as Malcolm Adekanbi, a full-on geek living in the depressed Inglewood neighborhood known as "The Bottoms," with his best friends and bandmates Jib and Diggy (Tony Revolori and Kiersey Clemons). Then a byzantine series of events results in their having to find a way to dispose of vast amounts of drugs, and they learn more than they had ever wanted to about the seamy underbelly of class, achievement, and criminality. The film moves with amazing energy, the dialogue and soundtrack and imagery a constant stream of pop-culture references, in-jokes, and digressions. That Famuyiwa and his cast can keep so many of these balls in the air without everything collapsing into an inchoate mess is nothing short of amazing.
To read the full review, go here.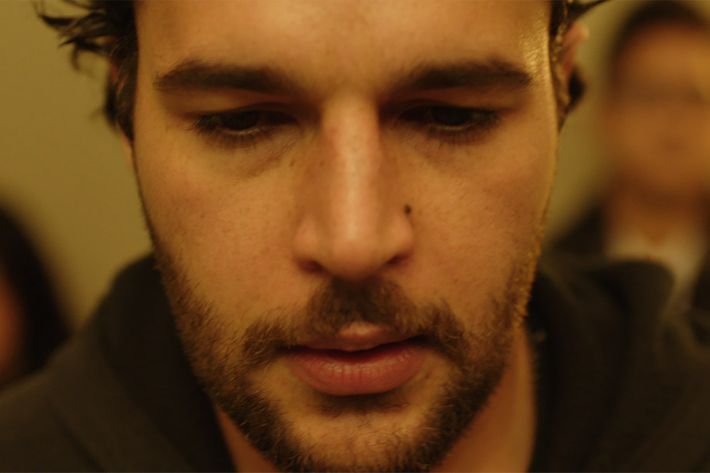 James White
Perched somewhere between the ethereal and the gritty, Josh Mond's drama follows James (Girls' Christopher Abbott) as he tries (and fails) to get his life back in order while dealing with his mother's (Cynthia Nixon) terminal cancer. The camera's unrelenting focus on the lead means that Abbott has to carry the film — and he does, giving life to a character driven by impulse and emotion and incapable of straightening himself out. Despite the vérite influencé, this is a film that presents life spinning forward with all the aimless velocity of a dream. It's a movie in which characters forget the day, the time, sometimes even the year, and yet time marches relentlessly on.
To read the full review, go here.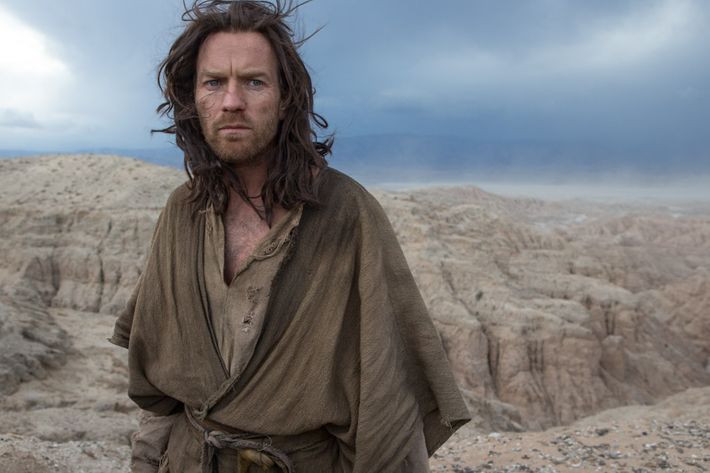 Last Days in the Desert
In Rodrigo García's haunting film about Christ's sojourn in the desert before entering Jerusalem, Ewan McGregor plays Jesus and the Devil, and he brings a surprising amount of sincerity to both seeker and snake. This is a portrait of the prophet as a man of doubt: He's looking for God in the desert, but all he seems to find is emptiness and alienation. (Shot with aching beauty by Emmanuel Lubezki, the landscape becomes one of inexpressible longing.) Then he comes across a family whose own drama between demanding father (Ciarán Hinds) and dreamer son (Tye Sheridan) echoes his relationship to his own heavenly father. And it is here, among the business of life and among these desperate people, that Jesus seems to find the connection he's been seeking. God, it turns out, is life.
To read the full review, go here.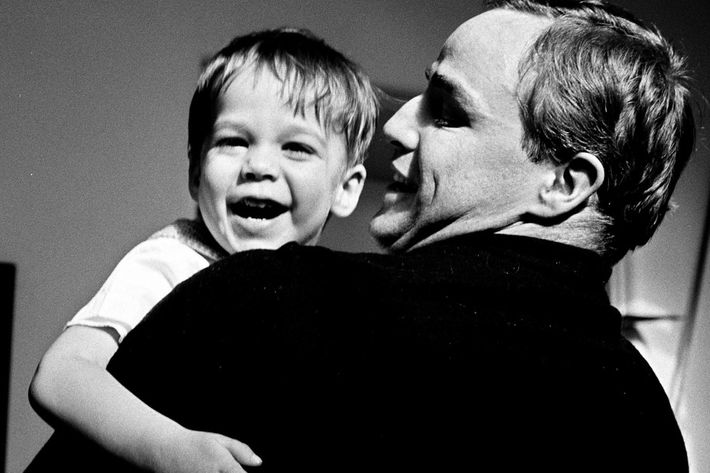 Listen to Me Marlon
Marlon Brando died more than a decade ago, but that hasn't stopped him from narrating this intimate documentary about his life. It turns out that the reclusive, mercurial star had created around 300 hours' worth of private audio recordings, starting in the 1940s and right through to his later years. Using those tapes, director Stevan Riley has crafted a touching, occasionally eerie trip inside the head of one of the most elusive and unusual stars in Hollywood history. The film features Brando talking about everything from his very early years, through the many highs and lows of his career, his changing thoughts on acting, as well as his personal life — his marriages, his son Christian's conviction for murder, even his daughter Cheyenne's tragic suicide. "I wanted it to have a stream-of-consciousness quality," Riley told us. He succeeded: Listen to Me Marlon unfolds as an emotional journey through Brando's thoughts rather than a hard-nosed, factual account of his eventful life.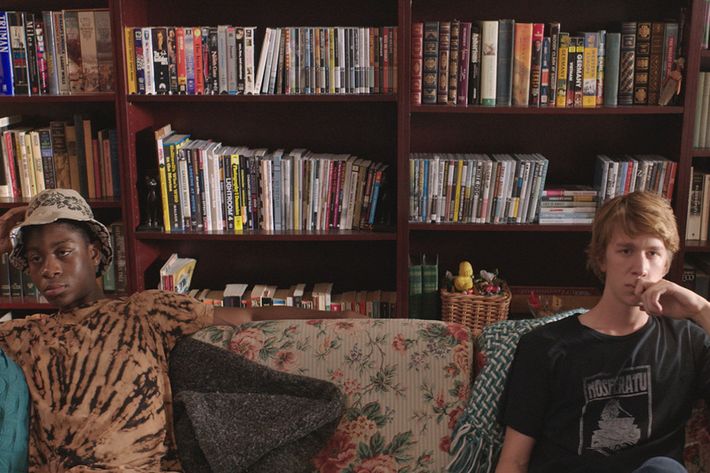 Me and Earl and the Dying Girl
Outcast high-schooler Greg (Thomas Mann) just wants to make it through senior year hiding out during lunch in his history teacher's office and making irreverent re-creations of art-house cinema (A Sockwork Orange, Senior Citizen Cane) with his best friend Earl (newcomer RJ Cutler). That is, until his mom (Connie Britton) commands him to befriend a female classmate who's been diagnosed with leukemia (Olivia Cooke). What sounds like a Lifetime sick-kid movie or a The Fault in Our Stars redux is — in hands of director Alejandro Gomez-Rejon, with a script from Jesse Andrews, who adapted his own novel — a very funny and poignant tale of a growing friendship and teenagers coping with uncontrollable, unfathomably tragic circumstances, told through stop-motion animation, clips of those homemade movies, and Greg's questionably reliable narration, which often assures us this isn't the kind of movie where the boy and the girl with cancer fall in love. Winner of both the Grand Jury Prize and the Audience Award for U.S. Dramatic, Me and Earl manages to be full of heart without milking sentiment, which is why, at the premiere, a tearful audience rose to their feet in the dark with the credits still rolling. 
To read more about it, go here.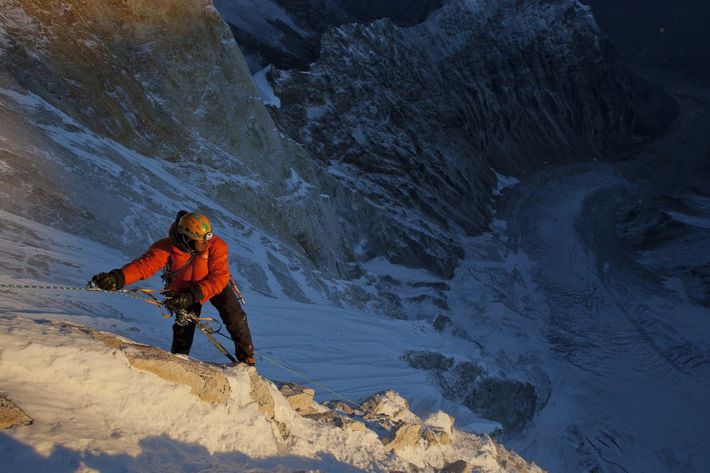 Meru 
The title refers to a peak in the Himalayas containing a climbing route known as the Shark Fin, which has never been conquered and is considered one of the world's most dangerous ascents. Three climbers, Jimmy Chin, Conrad Anker, and Renan Ozturk, think they've puzzled out the way to scale it, which requires days and the manual hauling of 200 pounds of gear up an icy cliff face, off of which they must sleep in a tent attached to the side of the mountain by what's known as a "portal ledge." This isn't a one-attempt deal, though, with their disappointing first try leaving them broken with frostbite and temporary trench foot, to be followed by a series of near-fatal accidents in their regular, slightly less-extreme-sports lives while they're taking a breather from Meru. Winner of the Audience Award for U.S. Documentary, it's worth seeing on the big screen for the incredible cinematography (shot by Chin and Ozturk). This is more than a climbing movie; it's a spiritual meditation about determination and brotherhood.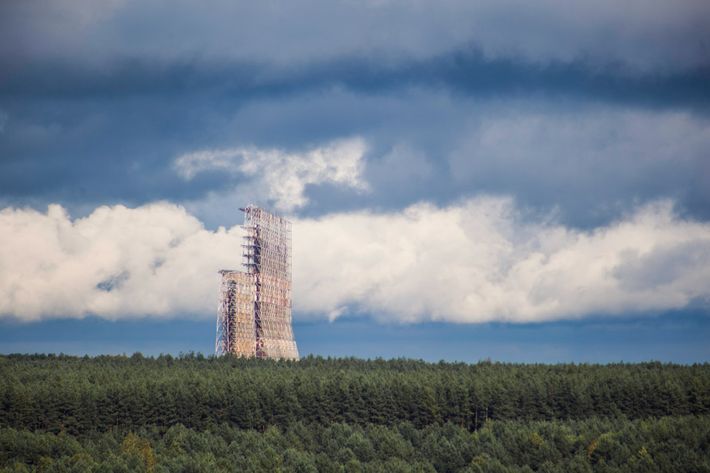 The Russian Woodpecker 
Bug-eyed, wild-haired Ukrainian multimedia artist Fedor Alexandrovich was raised in Chernobyl and is determined to uncover the truth behind the disaster that tore his family apart, killed thousands, and left him with traces of radioactive strontium in his bones. Along the way, he reveals an obsession with another massive Soviet project, the Duga, also in Chernobyl — an enormous, $7 billion radio transmitter that sent out a rapid-fire pecking noise (like a woodpecker) for decades, perhaps to stymie Western government communications. The perfect conduit for Chad Garcia's Fellini-esque direction, Alexandrovich paces over a ground littered with gas masks in Exclusion Zone around Chernobyl, his body wrapped in clear plastic. Hidden cameras are employed as Alexandrovich confronts Soviet officials about whether the long-abandoned Duga and the Chernobyl disaster are linked, with those cameras eventually turned on Alexandrovich as he grows paranoid and turns on the filmmakers. The wormhole spins through modern Russian history like surreal performance art until a crew member nearly dies in the Ukraine Independence Square protests of 2013–14, and the reasons for paranoia become all too real.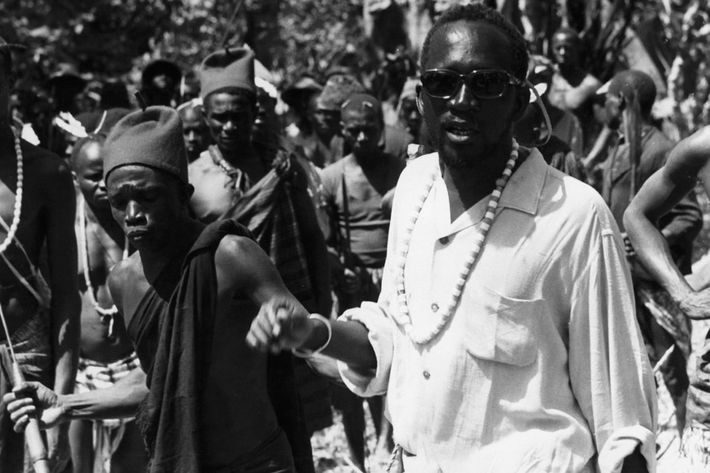 Sembene!
One of the giants of world cinema, the Senegalese filmmaker and novelist Ousmane Sembene did more than make great movies; he practically created a film industry in Africa through sheer willpower, and placed African characters at the center of his stories in a way that hadn't been done before he came around. Raised in a dirt-poor village, Samba Gadjigo (who directed this film with Jason Silverman) discovered Sembene's work at an early age and had his own life transformed by it. This endlessly fascinating documentary interweaves the story of Sembene's life and career with Gadjigo's own political and artistic awakening. The result is an enormously moving portrait of the profound way that art can transform those who come in contact with it. If movie love was a theme at this year's Sundance — from Me and Earl and the Dying Girl to The Wolfpack — here is its most powerful, relevant incarnation.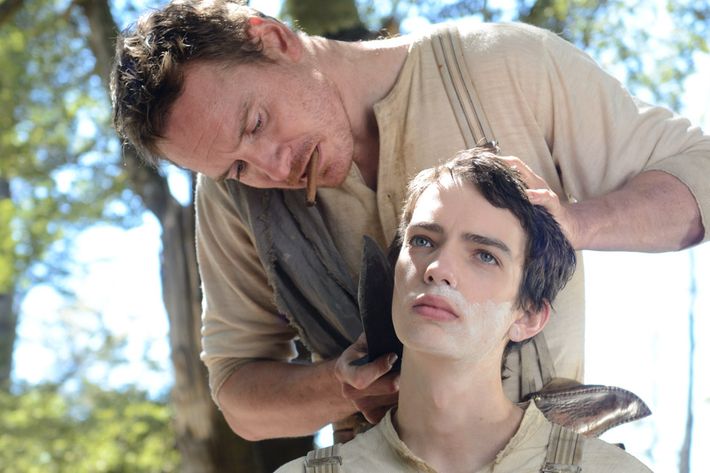 Slow West
As a cigarillo-chomping, preternaturally cool bounty-hunter helping a young teen navigate the American frontier, Michael Fassbender does a pretty mean Clint Eastwood in this surreal, episodic road movie. Kodi Smit-McPhee plays Jay Cavendish, a young, inexperienced Scots aristocrat in 1870s Colorado pursuing the girl he loves, Rose (Caren Pistorius), who has fled to America with her father. He hooks up with Fassbender's gunfighter along the way, but little does he know that this stoic, world-weary gunman is actually after the bounty on the girl's head. However, Slow West isn't really a movie about bounty hunters. Rather, it's an absurdist, melancholy coming-of-age tale that jumps from odd comedy to striking violence to stirring reflection. And the climactic gunfight, in which all of the film's disparate elements and characters come together in an orgy of brutal, slapstick, sudden violence, is fantastically unpredictable.
To read the full review, go here.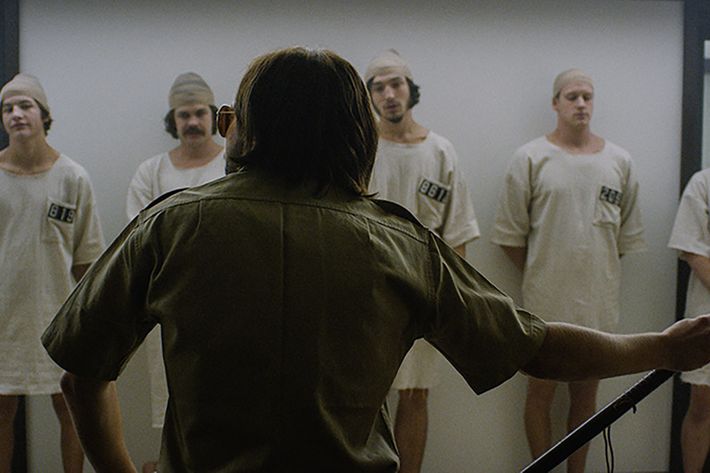 The Stanford Prison Experiment
This 1971 social study — which separated innocent college students into guards and prisoners, coaxing their most monstrous impulses to the fore — gets a vigorous big-screen airing in Kyle Patrick Alvarez's new drama. It's full of so many up-and-coming young actors, including standouts Ezra Miller and Michael Angarano (even Thomas Mann, the lead of Sundance smash Me and Earl and the Dying Girl, has a blink-and-you'll-miss-it cameo), that studio casting directors are going to have a field day with this one.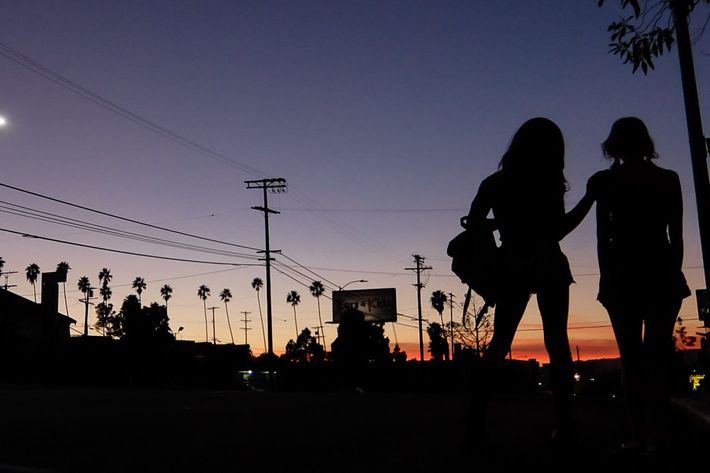 Tangerine
One of the prettiest movies at Sundance was shot on an iPhone. Sean Baker's new film follows two trans prostitutes on a comedic mission of revenge, and in order to film his actresses in a wide array of busy Los Angeles locations, Baker fitted his iPhone 5s with some special lenses, pumped up the saturation, and chased after them as they stomped down Sunset in high heels. The film is a blast of color (especially the titular shade) and a discovery even past its technical gimmicks.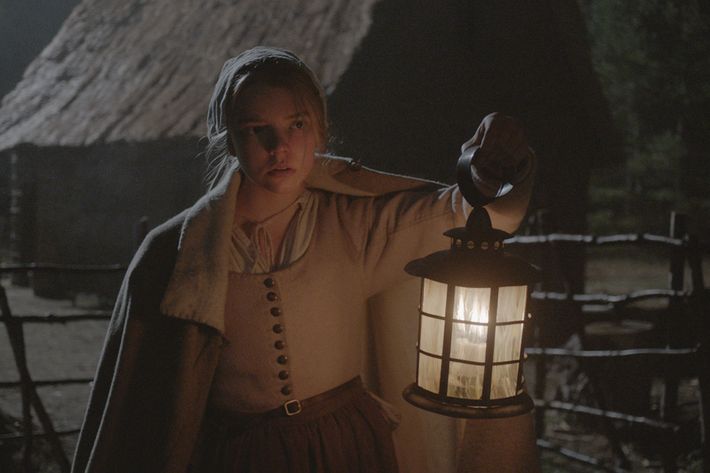 The Witch
A very tense, frightening movie that places us firmly in the world of early Puritan settlers — a place of terrors both imagined and real. An extremely devout family settles at the edge of a dark, untouched forest. Through both external forces and their own psychological demons, they soon find themselves terrorized by a malevolent being. As the miseries and mysteries pile up, our characters are consumed by pious anger and recrimination. Heavily influenced by Stanley Kubrick's The Shining, Robert Eggers's film dances between suggested horror and grisly, possibly fantastical visions. Tense, atonal, howling music and sustained, slow zooms keep us on the edge about what, exactly, we're witnessing. With its period-authentic dialogue and its characters mired in superstition, The Witch draws us into a mindset that finds mystery and terror in the simplest things. And it doesn't let go.
To read the full review, go here.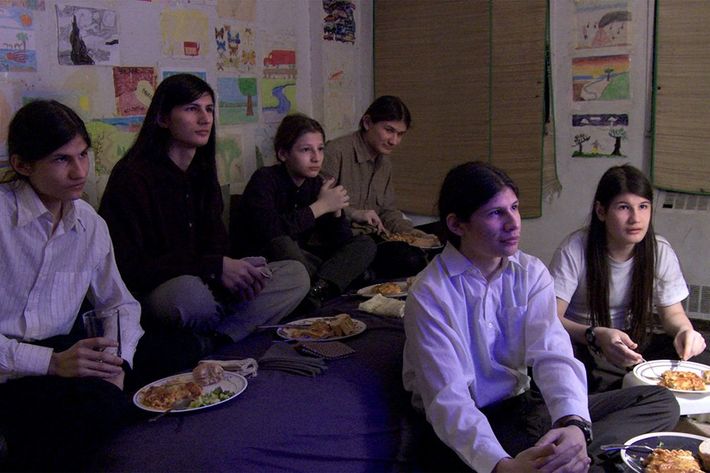 The Wolfpack 
The story is almost too strange to be believed: A family of seven children with waist-length hair (six boys, one girl, all with names from Sanskrit) lives a shut-in existence in a Lower East Side apartment with only an extensive DVD collection as their window to the outside world. Their father, Peruvian, paranoid, abusive, and a Hare Krishna, has the only key to the house; their white mother homeschools them and encourages her boys to express themselves by acting out movies like Reservoir Dogs, Batman, and Blue Velvet with incredible costumes fashioned out of cereal boxes and cut-up yoga mats. The filmmaking is grainy and haphazard, presented almost like found footage, but the story alone is deserving of the U.S. Documentary Grand Jury Prize. Director Crystal Moselle got unbelievable access inside that apartment, exploring the psyches of those boys as they come of age and try to reconcile their childhoods with the need to become men and finally be free.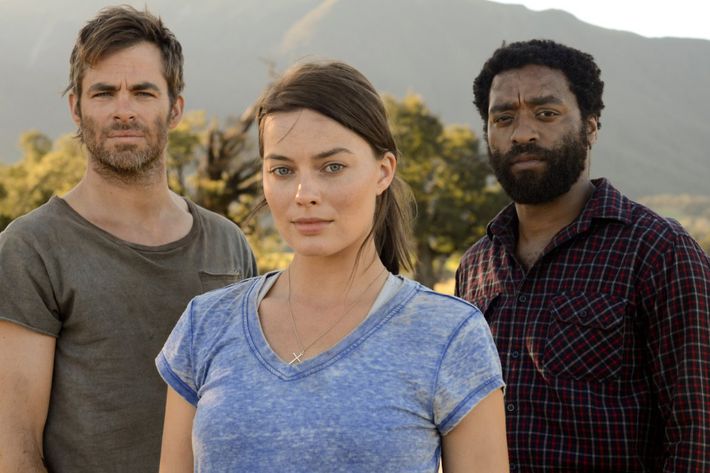 Z for Zachariah 
One of the more polarizing films of the festival, director Craig Zobel's third feature places us in a perhaps postapocalyptic future where Margot Robbie's Ann is living alone on a farm, where she appears to be the last person on Earth. Her world is upended when a scientist (Chiwetel Ejiofor) stumbles her way, having escaped the horrors beyond Ann's protected existence in a valley somehow immune to radiation. They fall into an uneasy domestic life until a third stranger (Chris Pine) appears. Those expecting 28 Days Later will be disappointed. This is not an action movie but a character study, with terrific performances from all three leads, particularly from Ejiofor. Zobel's interest is in the beauty of the setting (it was filmed in a remote part of New Zealand's South Island) and in subtle shifts in dynamics driven by faith, race, jealousy, survival instinct, and sexual desire — and how not even the apocalypse is a match for base human nature.  
To read an interview with Ejiofor and Robbie, go here.