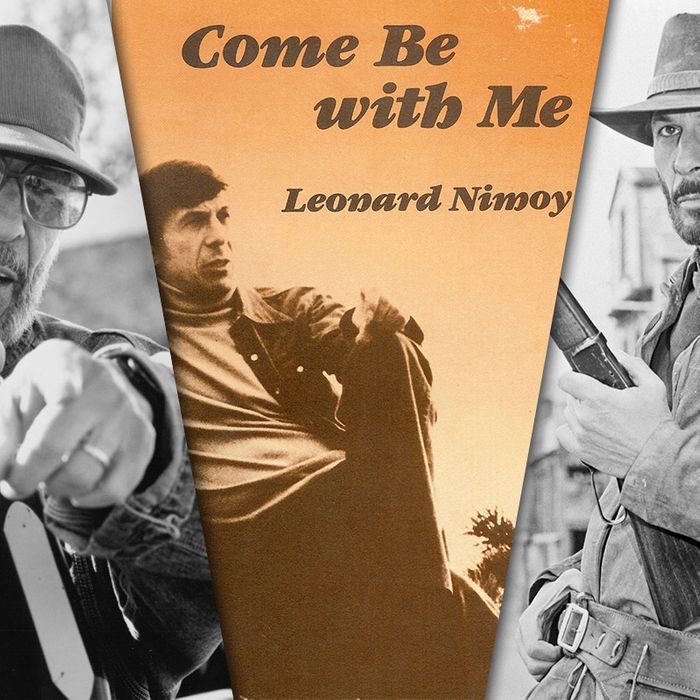 Perhaps Leonard Nimoy will be best-remembered as Spock, Star Trek's kindhearted half-Vulcan. And that would probably be enough. But Nimoy was more than his pointed ears: He wrote poetry, directed films, appeared onstage, and sang Lord of the Rings parodies. The man contained multitudes, to put it mildly. Here is but a small sample:
He directed 1987's Three Men and a Baby. 
(Which was the top-grossing film of that year, by the way.)
… And 1988's The Good Mother:
He played Tevye in Fiddler on the Roof at the Atlanta Opera House in 1974.
There are sadly no recordings or videos currently on the internet.
He was the narrator in the 1999 cult video game Seaman.
Dreamcast's Seaman was a beloved pet simulator gone wrong. You could birth, raise, and chat with your half-human-half-fish abomination. You could also hear Leonard Nimoy as the narrator, his soothing voice perhaps drowning out your frustrations over your Seaman's disobediance.
He could speak and read fluent Yiddish, and was a huge supporter of the Jewish community. 
In fact, the famous Spock tribute comes from a specific experience watching men in prayer — their hands creating the shape of the Hebrew letter "shin."
He was a deft and thoughtful photographer.
"In general, we are sort of conditioned to see a different body type as acceptable and maybe look away when the other body type arrives," he told Terry Gross in a 2007 interview with "Fresh Air" on his photography book The Full Body Project. These photos were praised by the New York Times for capturing women "fleshy and proud, celebrating their girth, reveling in it." To see some of the work, go here. (Naturally, they are mostly NSFW.)
He voiced Galvatron in 1986's Transformers: The Movie, as well as Sentinel Prime in Transformers: Dark of the Moon … 
… And made a notable cameo on The Simpsons.
Read Simpsons showrunner Al Jean's remembrance.
He played a lawyer defending a robot in the 1995 reboot of The Outer Limits … 
… And the villainous Dr. William Bell on Fringe: 
He was the (beloved!) voice of the opening segment at the Boston Museum of Science's Mugar Omni Theater.
This one's for Boston kids only. Perhaps none of us can forget his rendition of "Who Put the Bomp" during the Omni Theater's soundcheck.
He released five (!) albums with Dot Records. 
Leonard Nimoy was a wonderful songwriter — take track twelve off 1967's Leonard Nimoy: Mr. Spock's Music From Outer Space, "Highly Illogical": "Double barreled carburetors rush you anyplace / But you never can find a parking space." But he would show off his lovely baritone by singing covers of the likes of Creedence Clearwater Revival's "Proud Mary" and Johnny Cash's "I Walk the Line":
… And paid tribute to nerd culture with songs like, "The Ballad of Bilbo Baggins," a tribute to Lord of the Rings fans. 
He served as a sergeant in the United States Army from 1953 to 1956.
He and John de Lancie started Alien Voices, performing science-fiction novels in the style of radio plays.
You can still hear a bunch of the productions. Here they are doing one called "First Men on the Moon" with a special guest appearance by William Shatner.
He published several volumes of poetry and two autobiographies.
Nimoy's poetry included the collections Will I Think of You, Come Be With Me, and A Lifetime of Love: Poems on the Passages of Life — a few selections can be read at the HyperTexts. His second autobiography, 1995's I Am Spock, was a follow-up to his first, 1975's I Am Not Spock, which at the time confused Star Trek fans into thinking he wasn't interesting in playing Spock any longer. (He was! He just had some deeper thoughts about the whole thing.)
Who could forget this Saturday Night Live cameo? 
He joins Chris Pine and Zachary Quinto.
And this wonderful Bruno Mars video for "The Lazy Song": 
And this one for the 1984 Bangles song "Going Down to Liverpool": 
He made this adorable ad for Audi with Spock 2.0, Zachary Quinto.
(Yes, this kind of counts as Star Trek-ian, but we'll let it slide.)
He hosted In Search Of … , a pseudo-documentary series about paranomal phenomena. 
Topics included: UFO Captives, Bigfoot, Killer Bees.
He has his own special day in his hometown of Boston, Massachusetts.
In 2009, Mayor Thomas Menino proclaimed November 14, 2099 Leonard Nimoy Day. Here he is accepting his proclamation: