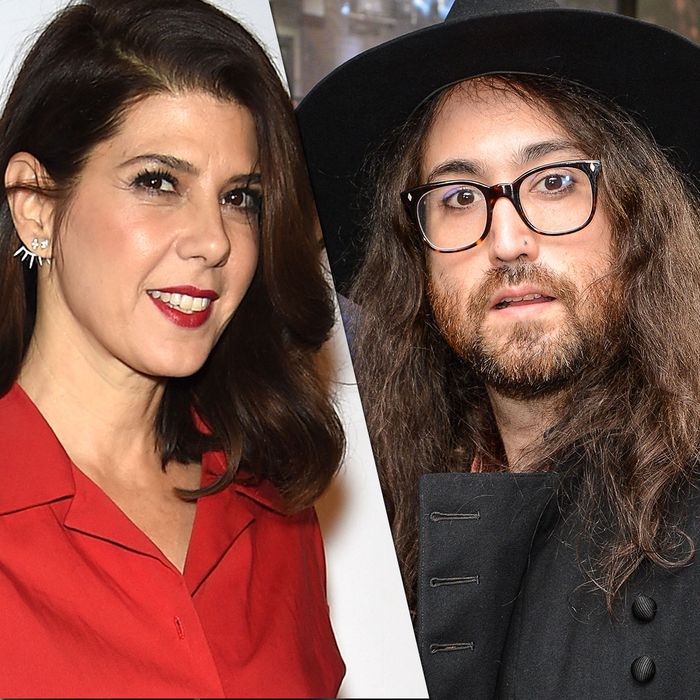 Photo: Dimitrios Kambouris/Getty Images and Ray Tamarra/Getty Images
Yesterday, "Page Six" ran a wonderful item about a tree in front of Sean Lennon's West Village townhouse that's encroaching on the property of Marisa Tomei's parents, who are suing Lennon for $10 million to repair the damage the roots have done to their basement and stoop. The courts haven't handed down a verdict yet, but if all of this is true, we find the son of John and Yoko guilty of being a crappy neighbor. At least he's in good company. Below, 28 more stars you probably don't want to live next to.
Alan Ball: Some macaws owned by the creator of True Blood and Six Feet Under were responsible for disrupting Quentin Tarantino with their "obnoxious pterodactyl-like screams." In 2011, Tarantino sued Ball because he "robbed [him] of the ability to find peace in his home." They ended up resolving the suit out of court.
Mario Batali: A man who lives next to Batali's restaurant Babbo sued the chef late last year because Batali didn't soundproof the restaurant as he said he would. Also, the neighbor said the garlic stench was awful.
Justin Bieber: He allegedly egged a neighbor's house early last year. In 2012, he made life hard for poor Dax Shepard and Kristen Bell, who compared living next to Bieber to "living in Lebanon."
Chris Brown: Given all of his other faults, it's no surprise to learn that Brown is a crappy neighbor who held dog races in an apartment building hallway and regularly parked in handicapped spaces.
Jerry Bruckheimer: "A real theft" is how one of Bruck's neighbors classified his crime. The producer planted a bunch of trees on his property in Ojai, California, eliminating the view of the Topatopa Mountains for the homeowners below. According to the L.A. Times, an elderly couple that "subsist[ed] largely" on their home-grown produce saw a much smaller yield after Bruckheimer's sun-blocking trees were planted.
Plaxico Burress: The former New York Giant who once shot himself in the leg allegedly allowed his dog to get loose and attack a neighbor in 2013. She sued and so did her husband, who claimed he missed out on his wife's "services." Ewww.
Deepak Chopra: The New Age guru found himself on the wrong end of a lawsuit in 2000, after a very un-Zen dispute with his neighbor over trees. The neighbor said Chopra had men trespass on his land and chop down hedges that blocked Chopra's ocean view. The neighbor sued for $35,000.*
Billy Corgan: According to actor and Corgan's neighbor Eric Dane, the Smashing Pumpkins front man ignored warnings about the instability of trees on his land and one of those trees crashed through Dane's roof, nearly killing his wife, Rebecca Gayheart.
Sean Connery: In court papers that called him a "rude, foul-mouthed, fat old man," downstairs neighbors of Connery accused him of trying to run them out of the six-story townhouse they shared in Manhattan. Shoddy renovations allegedly led to damage to the downstairs neighbor's home, Connery didn't pay maintenance, and worst of all, he was a "bully."
Foxy Brown: In 2007, Brown threw her Blackberry at neighbor Arlene Raymond, leading the Brooklyn woman to file a restraining order against the rapper. Three years later, their feud was reignited when Brown and Raymond began arguing about a loud car stereo and Brown bent over, lowered her pants, and mooned Raymond.
Robert Downey Jr.: There are a lot of people who'd love to unexpectedly find RDJ sleeping in their house. His neighbors who were treated to that surprise in 1996 are not among those people. They called the police on the intoxicated Downey, who made funny faces at the neighbors' daughter as he was being taken away in handcuffs.
Flesh-N-Bone: On the Fourth of July in 1997, five months after Bone Thugs won a Grammy, a neighbor called the cops on Flesh-N-Bone, the one with pigtails, and said he heard gunshots. Police found "a homemade explosive device and shell casings," according to ABC News, and a few days later, Flesh-N-Bone threatened to kill the guy.
David Fisher: Trent Kort from NCIS landed in jail in 2011 after an argument over hanging wet towels led to Fisher choking out a neighbor. The felony battery charges were eventually dropped, and Fisher maintained he was acting in self-defense after the neighbor insulted Fisher's dead mother.
James Franco: As the people who live next to James Franco wrote in an email to Curbed, they "like some of his movies," but they don't like living next to a home that seems to house "a MAJOR production company." Their driveways are blocked, their yards are used for meetings, and they're made to feel weird when they walk to their cars. Not cool, Franco.
Anthony Michael Hall: In 2011, Farmer Ted was arrested after he cursed at a neighbor, threatened to "beat him to a pulp," and later knocked on his door and invited him to a street fight.
Hulk Hogan: Animal lover that he is, Hulk Hogan had a veritable zoo at his Belleair, Florida, home in 2005, when the head of his homeowner's association complained to town officials about the "dogs, rabbits, ferrets, chickens and roosters" that cause "loud and frequent noise and an unsanitary stench" at the Hogan residence.
Lenny Kravitz: In 2004, Kravitz was sued by an insurance company that was seeking to recoup the $334,000 it paid out to the owner of the apartment under his. The damage was a result of an overflowing toilet that was "blocked, clogged and congested with various materials." So mysterious.
Jude Law: Perhaps the NYU students who had a view of Law's Manhattan backyard shouldn't have been spying on him so much. But that doesn't excuse Law for chucking fruit at the kids, does it?
Natasha Lyonne: Fighting with a neighbor doesn't automatically make one a bad neighbor, but threatening to molest a neighbor's dog, as Lyonne did in 2004? That might.
Madonna: It only makes sense that using one's apartment as a dance studio will make life miserable for those in nearby apartments. No one knows that as well as Karen George, who sued Madonna for all the noise and wall-rattling that came with hours of daily rehearsal. The suit was eventually settled.
Tracy Morgan: A fire caused by a malfunctioning light in Morgan's shark tank caused chaos in his Manhattan apartment building in 2009. Though the FDNY put out the blaze quickly, the sprinkler system did the real damage. As Sherri Shepherd said on the The View, her entire apartment in the same building was flooded.
Rihanna: Her drivers regularly used a neighbor's driveway and occasionally drove through his lawn. He sued and she settled.
Axl Rose: One night in 1990, when the GnR frontman was playing his music way too loud, one of his neighbors in a L.A. condo told him to turn it down. Unsurprisingly, he wasn't in the mood to listen. Instead, he snatched her car keys and threw them out of a sliding glass door to the ground below. Then he snatched a wine bottle from her hands, emptied it, and hit her over the head.
Dr. Oz: A man sued Dr. Oz because the doc planted trees that blocked his view of Manhattan and reduced the value of his home by half a million dollars.
Wes Scantlin: Remember Puddle of Mudd? Scantlin is their Kurt Cobain–aping front man, and in 2013, he was arrested after he destroyed part of his neighbor's patio because he said it encroached on his property. As Scantlin said at the time, "It's called a sledgehammer, dawg."
Charlie Sheen: If you live next to Charlie Sheen, he just might make you the inspiration for an unflattering character and put that character on a popular TV show. Ursula Auburn had that happen with the character Rose on Two and Half Men, so she sued Sheen. The case was eventually settled.
Pauly Shore: According to Wes Craven, the weasel was derelict in his home-maintenance duties for years, causing a "slope failure/landslide" on the horror director's land that caused property damage and "severe emotional distress and anxiety" to Craven.
Billy Squier: The kid who wrote "The Stroke" is now an old man who lives in the San Remo in Manhattan. He earned his place on this list for a stubborn insistence on using his fireplace even when fellow San Remo resident Bono objected to the smoke floating into his apartment, where he lives with his four kids. One of those kids has asthma.
Sylvester Stallone: Legendary voice of the Los Angeles Dodgers Vin Scully sued Sly in 1993 because rainwater runoff from the actor's yard was damaging Scully's home. A jury ultimately made Stallone pay Scully $69,000 to repair damage.
* This post has been updated to reflect that self-help author Deepak Chopra had been erroneously cited.