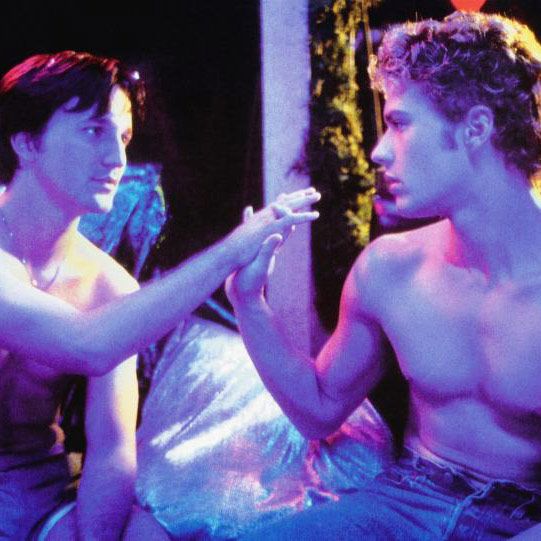 Breckin Meyer and Ryan Phillippe in "54"
Photo: Miramax
In the summer of 1998, writer-director Mark Christopher's 54, a clumsy cinematic paean to New York's legendary disco club Studio 54, was released to dismal reviews, a lukewarm box office, and then promptly forgotten — at least by most of us. But just last week a director's cut of the film, which starred Ryan Phillippe, Mike Myers, Salma Hayek, Breckin Meyer, and Neve Campbell, was shown at the prestigious Berlin Film Festival. That's the sort of honor usually afforded classics like Apocalypse Now or Once Upon a Time in America, not a film with a 13 percent score on Rotten Tomatoes. So how did this movie wind up getting that honor?
When it was released 17 years ago, 54 died quickly, but not exactly of natural causes. The film Christopher originally wrote and shot was a gritty, queer exploration of pre-AIDS hedonism. However, the studio that released the film, Miramax, then run by Bob and Harvey Weinstein and owned by Disney, ordered 40 minutes removed from the 106-minute film as well as 30 minutes of new scenes. The two cuts are so drastically different that one of 54's producers, Dolly Hall, nicknamed the studio cut "55." Christopher's film had been sanitized nearly beyond recognition.
"I've never seen this kind of editing and reshooting on another film I've done," says Phillippe, who played Shane, a Jersey boy seduced by the club's sex-drugs-disco allure. "The characters were fundamentally changed in a way that wasn't true to the original script. Not even close."
In the years since the film came out, bootleg versions of Christopher's original cut have circulated widely, earning 54 a kind of cult status as a lost classic of gay cinema — a status affirmed with the Berlin screening. A digital release is planned for later in the year as well.
"This kind of resurrection does not happen," says Phillippe, "especially for a film that didn't perform particularly well and was picked apart by the critics. What was hard for us was that initially we thought we were making something along the lines of Boogie Nights, you know? Something that was wild and represented the time period."
That was the original goal, anyway. In its most recent incarnation, 54 follows Shane as he trades grim Jersey City for the bacchanal of Studio 54, getting a job at Ian Schrager and Steve Rubell's famed pleasure dome as a bartender. He becomes embroiled in a love triangle with two married co-workers: Anita (Salma Hayek), a coat-check girl with dreams of disco diva-dom, and her husband, busboy Greg (Breckin Meyer). Greg wants to be promoted to bartender, but refuses to drop trou for his boss, the lascivious Rubell (Mike Myers). Shane, however, seduces or sleeps with anyone who can move him ahead, male or female, including a fling with Julie Black (Neve Campbell), a soap-opera star. He becomes 54's "It" boy, and betrays his friends in the process, before a brush with death snaps his life back into focus.
The plot is a classic rise and fall, but set among the glamorous, debauched fantasy world of Studio 54. And as filming commenced in Toronto all those years ago, the studio had reason to be optimistic. "When you walk on the set," says Christopher, "and you have a pregnant woman in a bikini, a goat, a woman with a snake around her neck, a woman with a painted-on dress, and two naked gold guys — how can you not love that?"
Early on during filming, Christopher's editor Lee Percy cut together a scene of Shane entering the club for the first time and sent it to Miramax.
"The studio went bananas," says Christopher. "They loved the movie. They came to the set to visit, it was amazing."
Like Studio 54 itself, the film was suffused with homoeroticism. "It was the first time I had to go to the gym for a movie," remembers Breckin Meyer, "because the wardrobe was a satin pair of running shorts and an Italian horn necklace — and we were filming in Toronto in the middle of winter."
One of the film's key scenes was a kiss between real-life best friends Phillippe and Meyer — Meyer's first onscreen kiss. The scene was later cut — deemed too risqué for the mass-market crowds to which the studio hoped to appeal.
"There was a part of us that was a little sad nobody ever got to see it," says Phillippe of the kiss, which was restored for the director's cut. "We did something that was relatively bold for two young male actors, and we took pride in the places that the original story went. So, it's nice that people finally get to see Breckin and me kiss."
After shooting wrapped, Christopher and Percy assembled a rough edit of the film, which they screened for Miramax in February of 1998. Christopher says the studio loved that cut, but still wanted to audience-test it. Phillippe was a relative unknown when cast, but the teen horror hit I Know What You Did Last Summer, released while 54 was being shot, had turned him into a burgeoning teen idol. Mike Myers was fresh off of Austin Powers, and Neve Campbell had just scored with Scream 2, a role that had helped move her away from her prim Party of Five image. A cast that felt iffy when filming began suddenly seemed like a box-office draw, particularly for teens. (Not exactly Christopher's intended audience.) Miramax first test-screened the film at a mall in Long Island. It went badly. The crowed found the characters "irredeemable," reported Entertainment Weekly, and "loathed" the scene where Meyer and Phillippe kiss.
"This was a dark movie," says Christopher, "and it shouldn't have been tested in those places. Audience test-screenings are blunt instruments. You hear about things that 'test through the roof' and no one goes to see them. Boogie Nights tested terribly. But New Line left that movie alone and let it be its dark self."
Miramax wasn't content to do the same with 54. Disney, which owned the company, was also pressuring the studio to tone down the film's gay content and drug use, and make the characters more likable. A Miramax editor was assigned to re-cut 54, and writers were hired create new scenes and an explanatory voiceover for Phillippe's character.
"The ambition changed behind the scenes without us being included," recalls Phillippe, "and suddenly there is this edict to gut the [director's] intent and modify how Mark wanted to tell this story. Breckin and I were so young, we thought, Is this just how the movie business is?"
The version of 54 that hit theaters was scrubbed of all traces of Shane's bisexuality. The film's focus shifted to a romance between him and the soap-opera star Julie Black, and alterations were made to make Shane more sympathetic. Whereas Christopher's story originally had Shane stealing money from the club, now Greg was the thief. The changes, including that didactic recurring voiceover, went on and on.
Some of those shifts even hurt the movie's basic continuity. "We had to be shirtless almost the entire time," Phillippe says of the first period of shooting, "so we'd been in really good shape and had grown out our hair. A couple months went by after we passed production — we'd stopped going to the gym, our hair was cut — then we got the phone call: 'You're going to have to go to the set in two weeks and get back into those tiny silver shorts and be half-naked again.'"
"We both looked like we had some terrible disease that had taken away all our muscle mass," says Meyer. "We're in these wigs — I look like Unfrozen Caveman Lawyer from SNL and Ryan looks like Harpo Marx."
The powers-that-be tried to explain to the film's stars why the shifts were happening. "Harvey had to come in to the trailer," says Phillippe, "sit down, and have this whole talk about why these changes were being made … Then we were sort of relegated to — Well, you have no voice any longer. That's certainly what happened to Mark. He was told it wasn't his movie."
Christopher, who by this point just wanted the movie to get made and released, says that the process was, simply, "very difficult."
54 premiered in August of 1998. Stephen Holden's New York Times review called the film "timid" and "meandering" (at just 93 minutes long). Though he noted "it feels like a crudely patched-together collection of notes for a project that got lost on the cutting room floor." The total box-office take was a piddling $16 million.
Christopher, though, knew that, at some point during the trying process, he'd made a better movie than what critics and audiences had seen. "The head of the New York Film Critics Circle saw my cut of 54 and nominated Mike Myers for an NYFCC award," he says, by way of proof. "Then the studio cut the movie and when it was released, they pulled the nomination. That was painful."
Phillippe had to endure his own critical lambasting. "I was nominated for a Razzie," he says. "I wonder if [Mark's] cut went out, if I wouldn't have been assaulted as heavily."
The month after 54 premiered, Christopher returned to the editing room to reassemble his cut, as a kind of memento. "I wanted to make sure that I had it," he says, "even if it was for myself."
Post-54, Christopher's film career stalled. He'd been set to direct HBO's The Mayor of Castro Street, a Harvey Milk biopic to which Robin Williams was attached. That project was cancelled. From there, Christopher worked on TV and taught film at various universities. He directed the 2005 indie comedy Pizza, and the 2007 short Heartland, and is now working on a new project for Warner Bros.
During those years of rebounding — and unbeknownst to Christopher — a VHS bootleg of the two-hour-long 54 rough cut began to circulate among film geeks, and, despite being distorted by its poor technical quality, it became the focus of a word-of-mouth campaign: This movie was really good. Petitions to Miramax to release 54 as Christopher intended it began to appear online, and in 2008, the New York LGBT film festival Outfest had a "secret screening" of the director's cut — its first public showing since the Long Island test-screening ten years before."They sold out immediately,"says Christopher of the Outfest airing. "There's been an appetite for this cut for a long, long time."
"The director's cut captures the freedom of the time," says Phillippe, "but also the impending sobriety that would come with AIDS. It resonates." Driven by character and atmosphere rather than soapy plot, Christopher's film is permeated by a melancholy that adds depth to the ecstatic party scenes. Mike Myers nails the pathos and charm behind Rubell's 'luded-out lechery, while Phillippe's measured performance, finally given space to breathe, is vulnerable, amoral, and sexy. There are no easy heroes or villains in this 54, only people looking for something they'll likely never find.
A number of bloggers who attended the screening reported on this much-improved version of a largely forgotten film. Towleroad wondered if the cut was "a lost gay classic?" Christopher remembers that the cut was later screened at another under-the-radar film festival, this time in Italy, on a loop until dawn.
These sorts of one-off recognitions were great, but Christopher wanted to get his film in front of more eyeballs. For years he and his 54 co-producer Jonathan King had lobbied Miramax to allow them to reassemble, remaster, and then release the director's cut on DVD (one at a higher quality than the circulating version), and in 2014, King pitched 54: The Director's Cut to Zanne Devine, Miramax's executive VP of production and development. Devine, whom Christopher calls the film's "goddess," gave the green light.
Christopher's version had only existed in low quality on VHS, and there were no time codes to indicate where each shot began and ended. There was also no edit decision list. To get the info they needed to re-create the director's cut from the original footage, Christopher and his team had to find the film's dailies. Production supervisor Nancy Valle discovered them in a warehouse in the California desert, on a palette labeled to be destroyed.
"Had she not found them that day, there would have been no director's cut," says Christopher. Once all the appropriate footage was assembled, the reconstruction could begin. The team managed to reassemble 36 minutes of the 40 minutes Miramax had cut, and jettisoned all the studio-mandated reshoots.
Although Christopher removed the studio cut's overbearing voiceover, which was made to recur throughout the film, he took the opportunity to take another stab at the opening narration, and asked Ryan Phillippe to re-record his part.
"It was interesting," says Philippe, "as a 40-year-old man right now, doing a voiceover for a film I did when I was 22. It felt like watching someone else." The release of the director's cut, he says, is a "moral and occupational victory." Indeed, The Guardian, writing about the Berlin premiere, offered a verdict of four out of five stars, and dubbed the film "an act of jubilant resurrection."
Harvey Weinstein, too, is glad to see this version of 54 have its moment on the dance floor: "54 was ahead of its time," he offers."I'm glad the times have caught up and the marketplace has changed. We're thrilled Mark Christopher got to restore the film and [by] the great response the film has received in Berlin. Miramax, after all, green-lit his script. I hope that a whole new generation will discover Mark Christopher's director's cut. I can't wait to see it."
For his part, Christopher bears no grudge."Harvey and Miramax took the chance on my script back in 1998," he says."I understand the decisions made back then and don't harbor any ill will toward Harvey. I'm thrilled that we are able to present the film without edits or restrictions."
Thrilled, and a little shocked. "I still can't believe it," admits Christopher about his film's unlikely second life. "Usually director's cuts come from Orson Welles or famous movies like Blade Runner. That this happened," he says, "is kind of amazing."