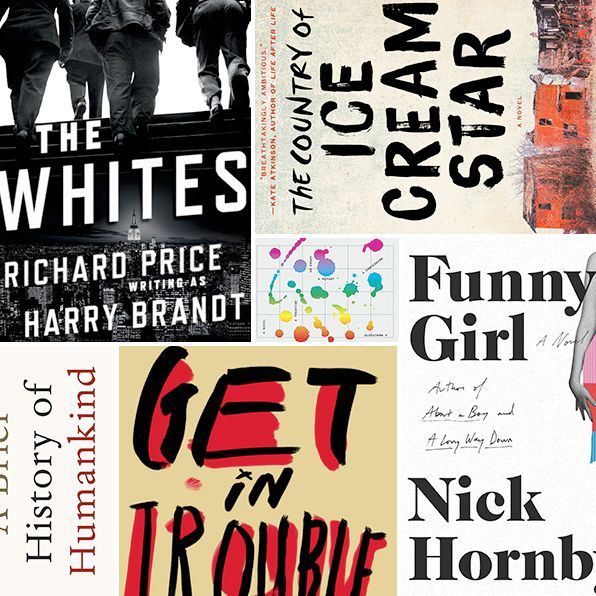 Each month, Boris Kachka offers nonfiction and fiction book recommendations, and you should read as many of them as possible.
Get in Trouble: Stories, by Kelly Link (Random House, Feb. 3)
Link's first non-YA collection in a decade is a haunted house built with blunt sentences and teeming with dark shadows, sudden shocks, and secret rooms. Behind one door is a pair of tabloid-famous ex-lovers reuniting on the all-nude set of a ghost-hunting show. Behind another, six astronauts tell ghost stories — but are they ghosts too? In other rooms, people vacation in "pocket universes" or envy each other's animatronic boyfriends. But fear not: Link is always in control, an emotional realist with a steady hand and a generous heart.
Red Notice: A True Story of High Finance, Murder, and One Man's Fight for Justice, by Bill Browder (Simon & Schuster, Feb. 3)
Fewer and fewer of Putin's adversaries are living to tell their tales. Browder, the grandson of a leading American Communist who made it his mission to drag Russia into modern capitalism via an activist fund (and make billions in the process), dedicates this testament to his late accountant, Sergei Magnitsky, whom Putin jailed and probably killed for exposing the corrupt pillaging of company assets. Browder, now an exile convicted in absentia by a Russian court, turns his crusade into a swashbuckling story that's been justly compared with Michael Lewis's Liar's Poker.
Funny Girl, by Nick Hornby (Riverhead, Feb. 3)
A wide-angled period piece set in tectonically shifting 1960s London might seem like a departure for the author of High Fidelity and five other narrowcast novels. But the arc of Barbara Parker, a former Miss Blackpool bent on becoming the Lucille Ball of the BBC, is as bittersweet and pop-addled as anything else he's written. The era and the theme (surfing the crest of a revolution, then getting dumped in its wake) are pure Mad Men, but the pulpy warmth and sprightly dialogue are classic Hornby.
The Country of Ice Cream Star, by Sandra Newman (Ecco, Feb. 10)
Slipping through the cracks between dystopia and YA melodrama, Newman emerges with something entirely original (except for one obvious model, Russell Hoban's Riddley Walker). In a post-collapse America, people die of "posies" around age 20 and speak a childish pidgin of the author's fearless invention. It's tough going at first, but by the end of chapter one, protagonist Ice Cream Fifteen Star's narration reads like saw-toothed poetry. The ensuing picaresque sometimes feels familiar, but the language and the atmosphere — an earthbound surrealism reminiscent of Beasts of the Southern Wild — are more than enough to compensate.
Sapiens: A Brief History of Humankind, by Yuval Noah Harari (Harper, Feb. 10)
The Israeli historian behind this full-throated review of the species (in the sense of both an overview and a critique) may have been blurbed by Jared Diamond, but his conclusions are at once balder and less tendentious than those of his famous colleague. Dividing mankind's revolutions into "cognitive," "agricultural," and "scientific," he's never shy in his opinions (agriculture was "history's biggest fraud"; "amortal" cyborgs are in our future) but always willing to admit he doesn't know it all. And for a society built on the stories it tells itself, not knowing is part of the fun.
Satin Island, by Tom McCarthy (Knopf, Feb. 17)
If Don DeLillo had reached his peak in the age of the TED Talk, he might have made something like this British writer's fourth novel, which tethers dark comedy to the self-serious systems-novel genre. Our narrator, U., is a corporate anthropologist working on a project he isn't allowed to tell us about. There's something menacing about his bloodless eloquence on, say, the aesthetics of an oil spill. But there's also something hilarious about using Deleuze to explain denim-crease patterns and asking oneself, during a chat, "Was I lying to him? As I spoke, I didn't even know."
The Whites, by Richard Price (Holt, Feb. 17)
Seven years after his encyclopedic Lush Life, Price comes out with the first in a planned series of thrillers under the transparent pen name Harry Brandt. It was meant to be quickie entertainment, but Price took his sweet time anyway, enriching this story of a half-feral band of cops bonded by vengeance with depth, melancholy, and those famously keen eyes and ears. Rice also happened upon a suddenly timely theme: Anyone struggling to understand the us-versus-them mindset afflicting some cops might as well start here.
Girl in a Band, by Kim Gordon (Dey Books, Feb. 24)
For a generation weaned on chunky, distorted riffs, the marriage at the heart of Sonic Youth — between frontman Thurston Moore and front woman Kim Gordon — felt like a cooler and more egalitarian update of Kennedy's Camelot. Its dissolution in 2011, on account of Moore's midlife infidelity, was a shock. A little less surprising is the fact that his better half can process it with a balance of bitterness and introspection, rawness and eloquence, producing something at once deeply personal and broadly instructive on rock 'n' roll's surprisingly persistent sexism.