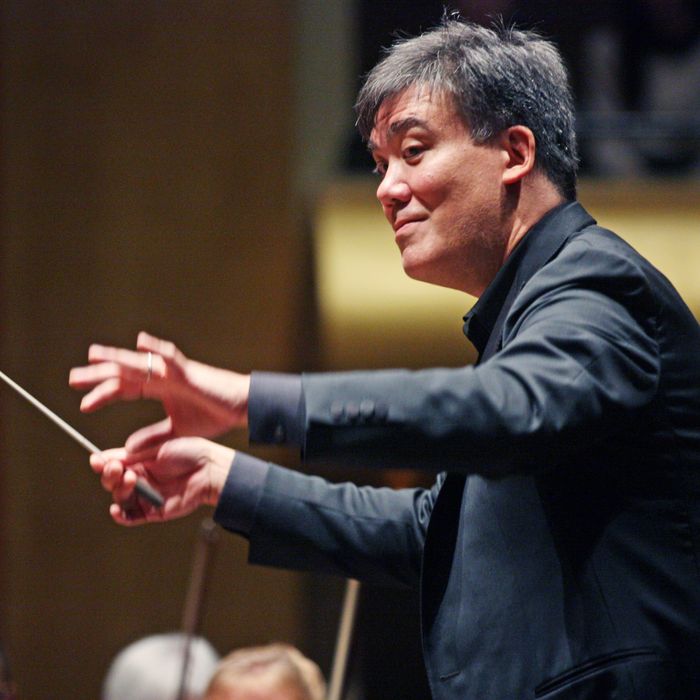 Alan Gilbert: two years and out.
Photo: Hiroyuki Ito/Getty Images
Alan Gilbert will step down as music director of the New York Philharmonic when his contract expires in 2017, leaving the orchestra to navigate a turbulent patch that is likely to last for several years. The organization will be hunting for his replacement, planning a renovation of Avery Fisher Hall, searching for temporary quarters during construction, and facing another round of labor negotiations — all while trying to close a stubborn budget deficit that reached $2.1 million last year.*
The first native New Yorker, the first Asian-American, and the first child of orchestra members to conduct the Philharmonic, Gilbert will leave an institution that is far more nimble and progressive than the one he took over five years ago. The orchestra has expanded its artistic ambitions on Gilbert's watch, casting itself as both protector of tradition and nimble pioneer.
"We've accomplished a lot," Gilbert said. "The orchestra's changed in a lot of ways — ways that a lot of people said wouldn't be possible when I started. The chemistry's very strong. But it will have been eight years, and it's harder than it looks."
During Gilbert's tenure, the orchestra launched a biennial new music festival, struck a three-year deal with Lincoln Center to stage an opera each summer, started a collaboration with musical institutions in Shanghai, and, closer to home, colonized venues like the tiny Subculture and the immense Park Avenue Armory for events that would once have seemed the province of BAM or experimental theater companies. That record will likely shape the search for a new music director, who will be under pressure to keep the entrepreneurial energy high. "Alan has changed the DNA of this place, " said executive director Matthew VanBiesen. "That philosophy feels normalized as part of the culture here now, which is a great accomplishment of his, and the default setting is to be innovative."
Gilbert's departure means that he'll skip the headache of reconstructing the acoustically troubled and aging Avery Fisher Hall. After years of discussions, decisions, and postponements, the Philharmonic has set a target date of 2019 to begin the two-year rebuild, even though it has not yet picked an architect to design the interior. Gilbert said he would remain involved in the planning but that he didn't want to commit to the orchestra for another six or seven years. "The music director should carry it through the reopening, and I think that person should be somebody else," he said.
Power shifts take time in the classical-music world, and Gilbert still has enough time on the clock to keep shaping the institution. Concertmaster Glenn Dicterow and principal trumpet Phil Smith both retired last summer after more than three decades with the orchestra, and Gilbert will have a say in hiring their replacements. Even after his contract expires, he is already scheduled to return for a Leonard Bernstein centennial celebration in 2018, and for that year's new music biennial.
Gilbert said he has no specific plans for his post-Philharmonic life but that he looks forward to having more time for opera. He's currently conducting Don Giovanni at the Met — "and having such a good time." Compared to analogous posts in Europe, the job of music director at an American orchestra is all-consuming, he said, and he'd "have to think more than twice" before taking on a similar role outside of New York.
"I'm very happy working in Europe and I have good relationships with a number of orchestras there." As it happens, the top job at the Berlin Philharmonic will be available once Simon Rattle steps down in 2018. Gilbert said that fact played no role in his decision.
Update, 12:47 p.m.: *This figure has been corrected.