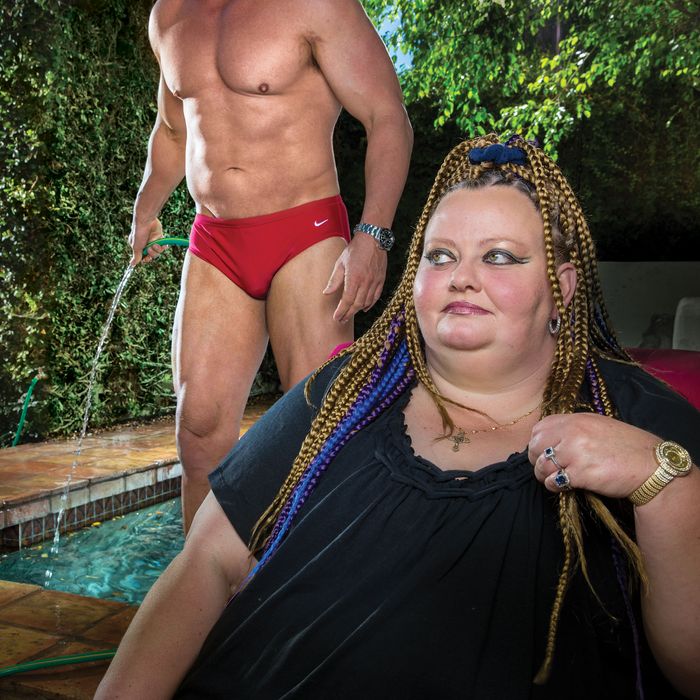 Tina Engler and her friend Christian at Black's home in West Hollywood.
Photo: Jeff Minton
Jaid Black, the "queen of steam," isn't feeling well, so she's dispatched Christian, a muscular, handsome 40-something, to greet me at the front door of her West Hollywood home. It's tempting to refer to Christian as a manservant, because a beefcake butler whose modeling bio boasts of a knack for finding G-spots would fit tidily into this story (and he does ask if we need anything), but in fact, he's an aspiring actor and personal trainer to A-list talent agent Kevin Huvane. He's also a friend of Black's who's willing to fetch the chocolate-caramel creamer for her coffee.
Black, 43, whose real name is Tina Engler, sits outside on this sunny day in November near a half-filled pool with a fountain that recycles murky water, a casualty of the state's epic drought. An author and the founder of Ellora's Cave, a digital-first publishing company that specializes in women's erotic literature, she rises from the table to greet me wearing a Jimi Hendrix tee and black lounge pants, her dirty-blonde hair arranged in cornrows with electric-blue extensions. An orange-and-white tabby extends his regards as well. "Henry," snaps Engler, as the cat jumps onto the table beside me, "she does not want your butthole in her face."
Engler is an underappreciated pioneer, a self-proclaimed feminist in furry-cat slippers. To put her crowning achievement demurely, she challenged the book-publishing industry's denial of women's appetite for sexually explicit books. She wrote tawdry, lowbrow novels, and published hundreds of others, that freed romance from its lame euphemisms well before Fifty Shades of Grey, and she did so in a digital format long before the Kindle and the iPad allowed e-books to flourish.
To put it less demurely: There were readers out there, lots of them, who didn't want to read about thick manroots. They wanted hard cocks. So that's what Ellora's Cave gave them. Easily and often.
Lately, though, things have gone limp. As recently as 2012, Ellora's Cave was netting more than $10 million per year, an unfathomable sum to Engler when she started the company in 2000 as a way to self-publish. Most of the money was flowing in through Amazon at a rate as high as $500,000 or $600,000 per month, according to Patty Marks, Engler's mother, who works as Ellora's Cave's CEO. But in 2013, revenue dropped by more than $2 million, a trend that continued in 2014 and seems destined to continue this year.
For this, Engler holds Amazon responsible, claiming that it's started competing with Ellora's Cave titles by offering similar works by other authors, many of whom self-publish via Amazon's Kindle Direct Publishing (KDP), at free or discounted rates—even when customers search specifically for one of her company's books. Engler's eyes well up at the first mention of the online-retail behemoth. "Without them, I never could've risen to the heights that I did," she says. "It's feels like we're going through a painful divorce."
Engler lights a Benson & Hedges menthol—the first of many. She informs me of her panic disorder and agoraphobia, which has contributed to a bad case of writer's block, as she can no longer "separate arousal from anxiety." A desire to ease that psychological burden is part of the reason why, three years ago, she began splitting her time between California and Akron, Ohio, where Ellora's Cave is based, and where her mother and Engler's two daughters, ages 24 and 17, still live. (She met, then married, her husband, David Roy Keen—who is not the girls' father—while he was in jail for homicide. They'd been pen pals. "There was something lonely about him that I latched on to," Engler says. Keen is incarcerated in Florida.)
But the West Coast relocation has not been the cathartic experience Engler hoped for. She has recently come under fire from some authors and former editors for bringing a defamation suit against a popular blogger, Jane Litte, who questioned Ellora's Cave's business operations—in effect accusing Engler of being a secretive and bullying middleman, not unlike Amazon.
"I've fallen out of love with this industry," says Engler glumly. "People who don't know it probably think it's syrupy sweet. I wish."
Minus the manservant and public feud, Engler's experience is instructive of the tenuousness of digital-book publishing and how beholden it is to Amazon. Big-name authors like James Patterson and publishers like Hachette have lamented the company's practices, but smaller entities like Ellora's Cave are at greater risk of seeing everything they've built disappear.
The apple in Ellora's Cave's origin story is sort of a cross between the one that tempted Eve and the one that landed on Newton's head: In 1996, while living in Tampa and working as a reservations agent for Continental Airlines, Engler discovered a book by Johanna Lindsey called Prisoner of My Desire, a historical romance published in 1991. Looking for some escape from a "depressing" life, Engler could not turn the pages fast enough when it came to the story of the "little wench" Rowena and her beloved Lord Warrick. She devoured the rest of Lindsey's backlist in a month, with one complaint. "A lot of times the characters just shut the bedroom door," she recalls. "Like, really? Let's have blow jobs, or something."
Engler started playing around with her own ideas, including a book about a woman who becomes the sex slave of a barbaric alien. That book, The Empress' New Clothes, was rejected, along with a few of Engler's novels, by Harlequin, the imprint long synonymous with the genre, and the romance divisions of New York's big-five (then, six) publishers. According to Engler, the feedback was uniform: No one wants to read anything so graphic. (Most C-words you can think of appear approximately 30 times each in Empress, and the oral sex that Engler found glaringly absent from earlier bodice-rippers is commonplace and reciprocal.) "I was like, Either I'm a sexual deviant, which is always a possibility, or they're wrong," says Engler of publishers' reluctance to print raunchy material. She sips from a can of Grapeade. "Turned out they were wrong."
She decided to create a website and digitally release the books herself for $4 or $5 apiece. Engler could accept only PayPal, and in the beginning, she would email customers files individually. She also flooded sites like Amazon, which back then sold the books on CD-ROM, with positive reviews of her own work. Engler estimates that she made $40,000 after the first year, and come 2003, revenue was up to $1 million. Along the way, she hired part-time contract editors as well as her mother, who'd worked in the financial-aid office of several private colleges, to help manage the money.
Cris Anson, a Pennsylvania-based author, discovered Ellora's when one of its editors visited her writers' group in 2003. Like Engler, Anson had been turned away from New York publishers for being "too racy." She has since published 15 titles with Engler, most of which feature BDSM elements, and has met with modest success. "I've never made less than a hundred dollars a month, but I've made considerably more," she says.
Ellora's Cave's royalties system entitles authors to between 40 and 45 percent of their books' profits, considerably higher than the industry standard of 25 percent for digital sales and more than double the percentage for print sales at major publishers like Harlequin (now owned by HarperCollins). For a best-selling author like Laurann Dohner, whose popular "New Species" series explores lust amid nefarious scientific experimentation, this could mean revenue in the ballpark of $100,000 per month.
By 2010, the industry was changing radically, although no one quite understood it yet. The e-book market was getting more crowded, and romance led the way—and still does. By some estimates, e-books account for almost half of all romance sales, and data from Nielsen puts those figures well ahead of digital sales for every other genre. Meanwhile, self-publishing platforms like Amazon's KDP, Apple, and Kobo helped authors do exactly what Engler did: bypass traditional publishing gatekeepers and hope for a hit.
Bella Andre, a Stanford grad and former musician, got her feet wet writing novellas for Ellora's Cave before turning to self-publishing. "They were the forefront of digital romance," she says of the company. "I just could never write dirty enough for the audience." Like Engler, her real success began when she left the New York houses behind. So she started self-publishing, collected 70 percent of every book sold, and now claims to earn "a solid seven figures a year" writing approximately four books annually—a far cry from the $20,000 per year she was making from the big five.
The flip side of Andre's success—which, though not singular, is rare—is what Engler calls the "unedited slush piles" that self-pubbing has permitted. For every romance writer who prefers the comfort of working with an editor, it appears there's another who wants to churn out copy and collect some money. That creates a surplus of choice for consumers, and makes it hard for publishers to build brand loyalty. Marks says that initially, such preponderance made little difference to Ellora's Cave's bottom line. It wasn't until late 2013 that she noticed a plummet in sales via Amazon, the company's biggest distributor. It had been pulling in roughly half a million dollars a month, but suddenly that figure dropped 60 percent. According to Engler, there was no precipitating event, unlike with Hachette Book Group, which last year engaged in a well-publicized dispute with Amazon when the retailer demanded Hachette lower the price of its e-books. Hachette refused, and Amazon delayed deliveries of its books and refused to accept preorders of its titles.
I reached out to Amazon to ask why, if I typed Jaid Black's name into the search engine, the first two books to pop up would be by different authors and available for free (the same for Laurann Dohner). Amazon declined to comment. Engler said that when she or Marks has made similar inquiries, "we got the corporate Kool-Aid: 'We're here for the consumers.' " Engler believes Ellora's is a victim of Amazon's "Gazelle Project," a term coined by publishing insiders after CEO Jeff Bezos said that Amazon should "approach these small publishers the way a cheetah would pursue a sickly gazelle" and reduce visibility of books from publishers that didn't adhere to its financial demands, according to Brad Stone's 2013 book, The Everything Store: Jeff Bezos and the Age of Amazon. But Amazon made no demands on Ellora's Cave, leaving Engler and Marks to wonder if their downward turn is the result of dealing with a distributor who doesn't seem to mind if its smaller e-book partners disappear, thus clearing the way for its own publishing efforts.
Then again, it's not entirely clear whether Amazon's hyperaggressive approach or Ellora's Cave's failure to anticipate marketplace changes is to blame for the latter's troubles. Amazon has access to sales data, so theoretically it knows which digital-first authors would be worth signing up for KDP, therefore squeezing out other publishers. But self-publishing has been an emerging competitor for some time, and Ellora's Cave hasn't seemed to respond nimbly. The company is due to renegotiate its contract with Amazon in May and hopes, obviously, to seek more favorable terms.
In the meantime, Ellora's is not in a good position to be so sharply undercut on price. In August 2014, the company let go 15 contractors, mainly editors and a few cover artists. Marks sent an email, later leaked, that informed its authors of the downsizing and the drastic drop in Amazon sales, and encouraged them to send readers away from the retail giant and to Ellora's official site or other third-party vendors instead.
More trouble, of a different type, arrived a month later via the aforementioned blogger, Jane Litte. Dear Author, a romance-industry blog run by a lawyer who writes under the Litt pseudonym, shared emails from authors who hadn't been paid by Ellora's Cave for months, some of whom were afraid to speak out for fear that they would never see their money. Litte referred to Marks's leaked email, though she didn't mention Amazon's alleged role in Ellora's Cave's troubles, and instead implied a mishandling of revenue and general malfeasance and suggested the company was on its way to bankruptcy. Ellora's Cave says it was never asked to comment.
A mild panic ensued. Some authors demanded that Ellora's Cave return the rights to their books, while others took to their own blogs to vent grievances over late royalty payments and backdated checks. Engler responded with a defamation lawsuit. (The case is ongoing.) Not only were these authors afraid that Ellora's Cave was going to go bankrupt and leave them stranded without income, authors unconnected to the company were whipped into a First Amendment froth over what it would mean if Engler were able to silence—via its defamation lawsuit—the blogger, Litte, who reported on the company's troubles. The situation escalated as each side accused the other of bullying, and the online climate quickly turned toxic. Someone with the Twitter handle @pubnt, whose bio specifies that they are "not associated with Ellora's Cave," has nonetheless been picking fights with and occasionally "doxxing" (posting private information publicly online about) some of the company's detractors. Engler claims she has no idea who the person is but says Litte has made a lot of enemies.
Litte cannot speak to me due to the pending litigation, but from Ellora's Cave's perspective, the Dear Author post contained damaging falsehoods—the company says it's in no danger of bankruptcy and admits that, while royalty payments have been delayed, it's still meeting its contractual obligations. It blames any missed payments on faulty accounting software that has made it cumbersome to manage the more than 800 authors who receive checks every month but says the kinks are almost worked out. Ellora's Cave believes that Litte chummed the waters, resulting in its being bombarded with emails from angry authors worried about the company's solvency.
The aggrieved authors and former editors tell a different story. They maintain that it was Ellora's Cave's lawsuit, filed two weeks later, that galvanized them, especially because it contained language that suggested Ellora's Cave wanted the names of people who had posted anonymously in the Dear Author comment section. On her blog, Courtney Milan, a successful self-published romance author and former law professor who has never published with Ellora's Cave, started parsing the legalese for readers and encouraged authors to speak up on Twitter about issues they've had with the company. "The point of this suit," says Milan, "was to prevent people from speaking."
A few authors I spoke with in early December were in the process of buying back the rights to their books and complained of ongoing communication problems with the company. One longtime former contract editor had been paid "most" of what she was owed when she was let go. But several people said they wouldn't have publicly discussed their issues had they not felt compelled to stand up for free speech and effectively support Litte's claims. There's skepticism as to whether Amazon could be solely responsible for the loss of revenue, or if Ellora's Cave's real nemesis is its own mismanagement. "Absolutely not," insists Engler, "and this will come out in court."
Engler has taken the situation personally. She feels she helped make a lot of writers good money over the years, which is a point many of her detractors, including Litte, concede, and which is probably why there's a luxury vehicle parked in the driveway with the license plate RNMKR.
"It's the culture we live in," she says. "We love to watch people rise from nothing. And then we love to tear them down." Engler did not attend the most recent RomantiCon, an annual convention held in Ohio for employees and fans of Ellora's that features vendors hawking sex products, stripteases by male dancers who double as Ellora's cover models, and much-needed workshops on feasible sex positions—too often Engler has given edit notes explaining that a woman cannot be bent over a horse unless her partner is very tall or the horse is very short.
She sometimes laughs at the outrageousness of the erotica world, but Engler also says she's considering leaving day-to-day operations to her mother. It's unlikely that the Amazon situation will improve, although the retailer has showed signs of being willing to unflex its muscle. Late in December, Macmillan became the latest major publisher, after Hachette and Simon & Schuster, to reach an agreement with Amazon that limited discounts on the price of Macmillan's e-books—which is no great help to Ellora's Cave. Still, in a letter to agents, authors, and illustrators, Macmillan CEO John Sargent admitted, "We need broader channels to reach our readers."
Engler can surely relate. These days when she's not feeling nostalgic for her pre-publishing years, she spends her time thinking about "new ways to create income for Ellora's"—she says, taking a pull on her cigarette—"that don't involve Amazon."
*This article appears in the February 23, 2015 issue of New York Magazine.