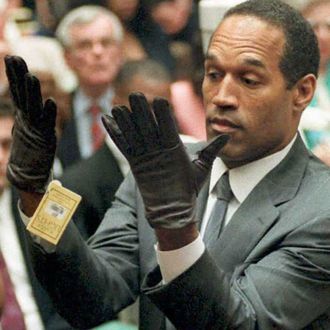 Photo: Vince Bucci/Getty Images
The more we learn about Ryan Murphy's American Crime Story, the more we're convinced it will be a campy, TV cult classic. The true-crime anthology will cover the O.J. Simpson murder trial in its first season, subtitled The People vs. O.J. Simpson. Vulture caught up with the show's writers Scott Alexander and Larry Karaszewski (Big Eyes, Ed Wood, The People vs. Larry Flynt), at the Independent Spirit Awards to discuss how the story will take shape.
"It's going to be a hoot," Alexander told Vulture of what to expect from a cast that includes John Travolta as Robert Shapiro, David Schwimmer as Robert Kardashian, Sarah Paulson as Marcia Clark, and Cuba Gooding Jr. as O.J. Simpson. "The strange thing about the trial is that they [the real-life characters] all shoved themselves onto television and so a lot of lawyers ended up becoming 'personalities,' which is very unusual. So everybody in America knows this entire cast of lawyers and witnesses and hangers-on."
Alexander and Karaszewski said that in addition to writing for the likes of Travolta and Gooding Jr., they are having fun playing with the trial's cultural and historical impact. "The show is about how it affected us all; that's why we feel like ten hours is the right format to do it in," said Karaszewski, who expanded on the lighter elements of the show.
"One of the running gags in our script is that [because] they knocked out all of the daytime television for the trial, we have a very minor character who's into the soap operas and is very, very angry they pulled all of her shows," Karaszewski explained. "But by the tenth episode, she's watching the O.J. trial as if it's a soap opera."
American Crime Story is tentatively set to premiere in early 2016.