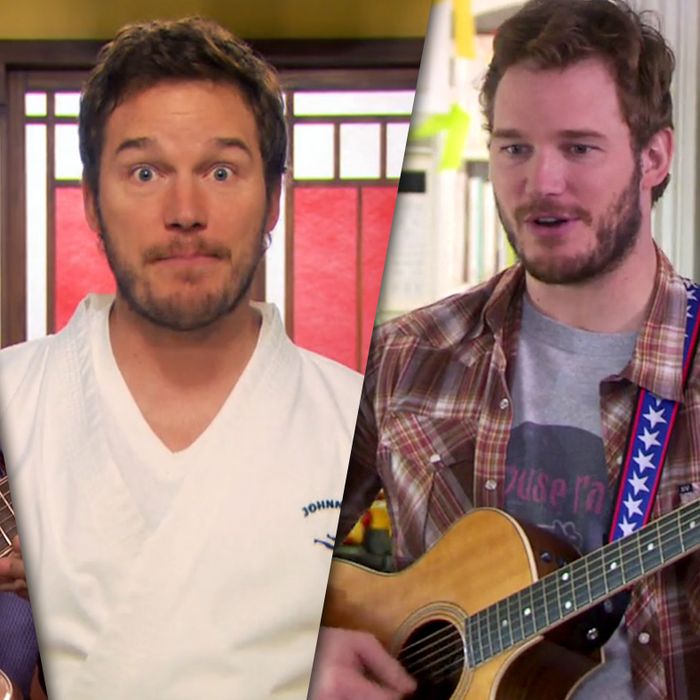 Andy Dwyer, the dopiest, most lovable staff member of the Pawnee Parks Department, devoted husband to April Ludgate-Dwyer, and assistant to Deputy Director Leslie Knope, has had countless shining moments as a vocalist and guitarist. Vulture tallied up every time Andy blessed viewers with his golden pipes and excellent strumming skills in all seven seasons of Parks & Recreation, which leads one to wonder: Why wasn't "5,000 Candles in the Wind" nominated for an Outstanding Original Music Emmy?
"CANVASSING" (SEASON 1, EPISODE 2)
1. Leslie and Ann get back from canvassing for the park meeting to find Andy, in two full-leg casts, singing "My Own Worst Enemy" on a karaoke game, with April playing drums and Mark playing bass.
"BOYS CLUB" (S1, E4)
2. One of Andy's song plays on his boom box as he washes himself in a kiddie pool. "You hear that? I wrote that for Ann," he tells the camera. His neighbor Lawrence tells him to turn it down, and Andy refuses, so Lawrence takes the boom box away.
"ROCK SHOW" (S1, E6)
3. Because of his two broken legs, Andy has been unable to play with his band. Ann mentions that he has been singing songs about whatever has been near him. (Specifically, he's been singing a lot about sandwiches.)
Later, we finally see Andy out of his casts and onstage performing with his band, Scarecrow Boat — er, Mouse Rat.
"HUNTING TRIP" (S2, E10)
4. Andy gets put on hold, so he comes up with a song to go to the hold music that goes a little something like, "I am on hold with the State Parks Department / I am on hold / so suck on my butt."
"THE SET UP" (S2, E13)
5. At his shoe-shining post, Andy tells April he's been "writing a lot of songs about shining shoes lately." A young romance blossoms.
"GALENTINE'S DAY" (S2, E16)
6. Andy and his band practice "Under My Skin" in preparation for the upcoming Valentine's Day dance.
7. Mouse Rat performs at the Valentine's Day dance. Andy isn't sure how well they're doing because hardly anyone is at the dance.
8. After performing "Flip Flop," things start to heat up a little bit with the senior crowd at the dance. There's a lot of slow dancing.
9. Andy sings an upbeat version of "The Way You Look Tonight" and dedicates it to April.
10. Mouse Rat plays a more polished version of their song "Under My Skin" toward the end of the dance.
"THE POSSUM" (S2, E18)
11. Andy informs the possum, Fairway Frank, of his destiny via song with, "Fairway Frank / you're gonna die / you're gonna fry / oh, yeah."
"THE TELETHON" (S2, E22)
12. Mouse Rat performs "Sex Hair."
"THE MASTER PLAN" (S2, E23)
13. Andy performs a song he wrote for April called "November."
"ANDY AND APRIL'S FANCY PARTY" (S3, E9)
14. Andy performs at his surprise wedding to April.
"LI'L SEBASTIAN" (S3, E16)
15. Andy performs the touching tribute "5,000 Candles in the Wind" in honor of Li'l Sebastian, the beloved miniature horse of Pawnee.
"DAVE RETURNS" (S4, E15)
16. With Duke Silver on the saxophone, Leslie's campaign song "Catch Your Dream" becomes a huge success.
"EMERGENCY RESPONSE" (S5, E13)
17. Mouse Rat performs at Leslie's fund-raising gala.
"LESLIE AND BEN" (S5, E14)
18. A "5,000 Candles in the Wind" reprise is performed at Leslie and Ben's wedding, with Donna on the lead vocals and Andy on the guitar.
"GIN IT UP" (S6, E5)
19. Upon his return from London, Andy performs "Someone's Back From London" for a very surprised April.
"NEW BEGINNINGS" (S6, E11)
20. Craig Middlebrooks (Billy Eichner) interrupts Andy as he sings to April, "April's sittin' on my lap / I shouldn't tell that I have to take a crap, oh no / I should just go."
21. April watches Andy practice "Sex Is Cool" with his band. He suggests they finish their set with "Drunk Off Our Asses" and perform the 20-minute-long "Sex in Space."
22. At a children's birthday party, Andy runs his performance by April first. He wants to sing "Sex Bears," a "kid-friendly" reworking of the classic "Sex Hair."
23. Andy, performing as Johnny Karate, realizes the lyrics "It feels super good, I want to do it all the time" don't necessarily have to apply to sex and finally settles on "Pick Your Nose." He finishes his kids'-party set with "Everybody Pees the Bed" and "Don't Play With Matches." Burt Macklin makes his triumphant return to "investigate stinky feet for the FBI" and performs "Stinky Feet Patrol."
"PROM" (S6, E17)
24. Andy reworks a song he wrote 15 years ago for his prom date, Sarah Weiss, "You're as hot as the sun, but you're as cold as ice / Let me take you to paradise / I wanna roll the dice / It'll be twice as nice / Sarah Wei— April Ludgate, will you go to prom with me?"
"FLU SEASON 2" (S6, E18)
25. Scott Tanner (Wilco's Jeff Tweedy) sings along to "Karate Chop Master" with Andy.
"MOVING UP" (S6, E20)
26. "5,000 Candles in the Wind" makes another return at the Unity Concert featuring Ginuwine, Wilco, Letters to Cleo, and Mouse Rat.
"THE JOHNNY KARATE SUPER AWESOME MUSICAL EXPLOSION SHOW" (S7, E10)
27. Andy performs the Johnny Karate theme song.
28. Johnny Karate teaches us some "Karate Moves to Success."
29. Johnny Karate performs "Time to Go."