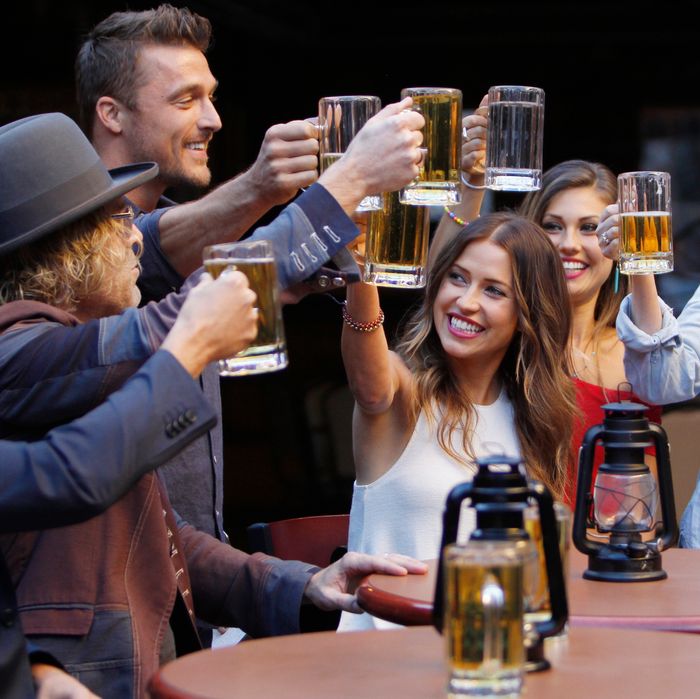 Feel the freedom, y'all.
Photo: Richard Carlson/? 2015 American Broadcasting Companies, Inc. All rights reserved.
I'm going to Tarantino this recap. Let's begin with a beautiful, unexplainable final image: Chris gets into a helicopter and Ashley I. and Kelsey are wandering around the South Dakota Badlands weeping and talking to themselves. If you predicted this episode would end like that last week, you're a goddamn psychic, and please tell me what wins Best Picture at the Oscars so I can win my family's annual Oscar bet.
We pick up exactly where we left off last week: Kelsey is rolling around the floor in the middle of her panic attack, but she is lucid enough to say some brownies tasted store-bought and demand that Chris be brought to her side like the lead in a lesser Sondheim musical.
I'm not a psychiatrist, but I'm pretty sure Kelsey is living with a condition defined in the DSM-V as "straight-up whackadoodle." To talk about anything that happens in this episode, we must first engage in a thorough discussion of the particular brand of peanut sauce that is Kelsey. In the words of the poets Kanye West and Jay Z, that fish cray. What she order? DELUSION. If you can bring yourself to rewatch this slow, meandering episode, drink every time Kelsey describes an emotion and you're not sure if she's telling you how she feels or reading the script her evil scientist overlord programmed into her cyborg CPU-brain hybrid. She says "I am a woman" like she's reminding herself of that fact.
This week, she tells the other ladytestants she's blessed with eloquence and uses big words, and that's why the other ladytestants don't understand her. Later in that same conversation, she says, "in the grand scream of things."
Kelsey describes her own life as "beautiful, tragic, and amazing." This woman is a guidance counselor with a dead husband. How amazing can her life be? It's like she thinks she's the lady from The Blind Side and Chris is Michael Oher. Kelsey is what all those conservative pundits are talking about when they warn against telling your child they are special too much. Kelsey spends the majority of this episode carefully protecting her image and reputation.
Much like Fosca, the audience (both us at home and the other ladytestants) cheers at every meltdown, just waiting for her to die already. There has been a turning point among the ladytestants at this point. They've split themselves into the ones who are there for the right reasons, and … Britt and Kelsey. The hatred of the other ladytestants is interesting because Britt and Kelsey are actually just employing the strategies to which any at-home viewer would ordinarily react with a, "Well, that's a good strategy." Kelsey is doubling down on the "have the saddest story" play, and Chris appreciates her attempts to emote. As for Britt, Britt is just a stone-cold fox and Chris is horny for her.
Oh yeah, everyone went to South Dakota where it's romantic, and Chris says, "This is where Calamity Jane did her business," because he doesn't actually know what she did blah blah blah Chris is an idiot. #GreatFacesGreatPlaces #VisittheMountRushmoreState.
The ladytestants on the group date have to write a country song. Carly, who is a singer by trade, loses to Britt because she wakes up with glitter eyeballs, and Chris spirits Britt away to a Big & Rich concert, where he gives her a rose onstage and makes out all over her face. The other ladytestants on the group date can't stand Britt because her eyeballs are more glittery and she's a fake bitch.
That's the cardinal theme on this season of The Bachelor — being a fake bitch. Almost every woman on this show spends her confessional time complaining that Britt and Kelsey are as fake as a Chanel bag with two Ns and throwing more side-eye than Nicki Minaj next to Miley Cyrus at the Grammys. It's kind of amazing that anyone is accused of being fake on a reality show about falling in love with a stranger. Everything happening around you is fake. Big & Rich don't really care if you run through the streets in South Dakota to get you to "feel the freedom." There is no bed waiting for you in the Badlands on your date. Those old white men's faces aren't really in that mountain.
(I have just been informed that Mount Rushmore is in fact a real thing and America is totally cool with carving the faces of old white men into mountains on the land of Native Americans seized by the American government. It would seem that similar monuments to great Sioux leaders have not been constructed, however, because they don't receive funding.)
In the only triumph against fake bitches, Ashley I. and Kelsey go on a two-on-one date with Chris in the middle of the Badlands, where Ashley I. lets it all out. She tells Chris that all the other ladytestants hate Kelsey, that she's a fake bitch who isn't here for the right reasons. Chris confronts Kelsey and she says that she's prepared to be a wife because she's already been one (BECAUSE HER LAST HUSBAND DIED. HAS SHE TOLD YOU THAT YET?).
Chris tells Ashley I. that she wouldn't fit into his lifestyle (BECAUSE HE'S A FARMER. HAS HE TOLD YOU THAT YET?), so she throws Britt under the bus, too, because her eyeballs are so glittery that Chris and his boner are blinded. A random ABC employee picks up Ashley I.'s suitcase and all the ladytestants are bereft. Then, suddenly, another nameless, faceless ABC employee enters and picks up …
… Kelsey's suitcase.
Kelsey has been eliminated. Chris pulls the same line on her that my own date, Hi, Jim, pulled on me last week, saying he's "just not feeling it." Where Jim dropped me off at my condo in his Honda CR-V, Chris got in a goddamn helicopter and left Ashley I. and Kelsey in the Badlands, presumably to die. The two women were last seen weeping loudly and Kelsey's measured and totally-not-insane voice echoed out across the majestic landscape: "My story is beautiful, tragic, amazing. I'm immeasurably blessed. I have no regrets, because I challenged myself to the adventure of love."
Ashley I., meanwhile, tries to contour with Rockyford Ash, a thick layer of volcanic ash deposited there 30 million years ago.